Moot Court Team: 'Complete Cinderella Story'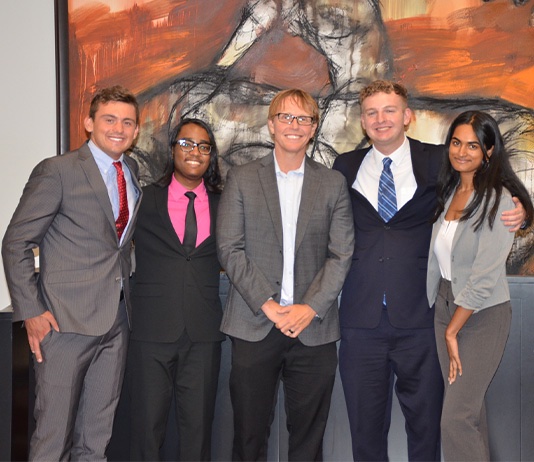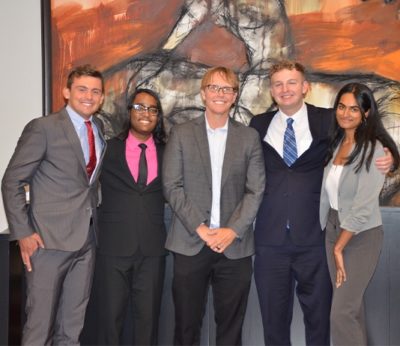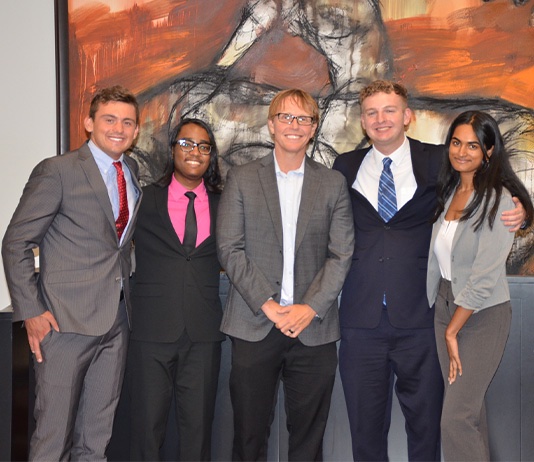 Sven Smith, PhD JD, Stetson associate professor of sociology and team director, simply calls the events of Nov. 12-13 a "complete Cinderella story."
"I was thinking, 'This is amazing,'" he said, later adding, "It's a true underdog story. It's the most wonderful thing I've been associated with at Stetson."
As the story goes, early in the Fall 2022 semester Smith pulled together a group of talented students, including one who was especially young at age 16, and started Stetson's first moot trial competition team. There was no funding or any kind of tradition for the activity on campus. That was soon to change.
Last year, just about to start college, Tristyn Rampersad '26 met with Smith about prelaw at Stetson. They were discussing the prospects of making Stetson Rampersad's college choice, and Smith was asked about a starting a moot court team. His response to the student: "I will create a moot court team if you come here. We will start it together."
Flash-forward about three months, and that moot trial team received a last-minute invitation to compete at the University of Central Florida in the American Moot Court Association's Atlantic Regionals Tournament against well-established, top-rated teams from across the country, such as the University of Chicago (ranked No. 4) and the Air Force Academy (No. 2). That's when Cinderella emerged.
"The team just kept progressing, kept advancing," described Smith, who also directs Stetson's mock trial team.
On the first day of a two-day tournament, there are generally 25 to 35 teams that play against one another on a lotto system for several rounds of Appellate Debate. The teams amass points the first day from each round, and teams with the greatest aggregate points advance to the next round. That next day is often referred to as a "Sweet 16" tournament with single elimination.
"We barely scored enough points to make it to the Sweet 16 on the second day," Smith continued. "But even as the 15th seed, when they got into that second round, they just destroyed top programs. I was so impressed by them."
The team — Rampersad and Colin Snyder '23 — took second place and will be attending the National Tournament in Baton Rouge, Louisiana, Jan. 14-15.
Smith labels Rampersad a "phenom" and calls Snyder a savvy veteran who is "ready now for the law school undertaking." Camilo Arado Lilleslatten '23 and Tejal Ram '23 were other members who helped the team prepare for the competition, which required only two participants.
'Legal Science'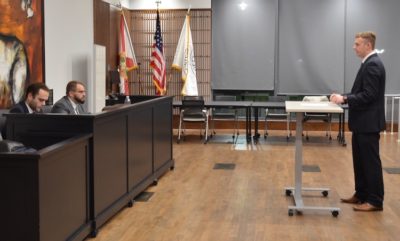 A little context: Moot court usually simulates the proceedings of an appellate court. As such, it's all about legal appeals. Unlike a mock trial, moot court does not simulate a jury or bench trial, so there is no showing of evidence or taking of testimony.
The American Moot Court Association is the largest intercollegiate moot court organization in the United States. It establishes the rules of competition and supervises regional and national tournaments that are open to all college and university students. Last year, 500 teams registered to compete in the regional qualifying tournaments in attempt to win a bid to the National Championship Tournament.
During the competition, each judging panel (usually consisting of judges or attorneys) interrupts participants during the presentation of their argument, and the participants must be prepared for those questions and know how to answer them cogently and politely.
To prepare during the fall, Smith met with the team every Monday morning, 8:30 to 10:30, constructing briefs and legal arguments and then helping the team defend them. Team members, as a way of practicing for the different judging panels they would have to face, argued to Smith and other appellate attorneys who work at the law firm where Smith still is employed part time in trial and appellate practice.
"Moot court is pure jurisprudence," Smith said. "It's challenge is to utilize legal science. You're just making legal arguments; that's it. Everybody has the same fact pattern; teams construct their argument from the law for both sides beforehand, and you find out before each round whether you will be the petitioner or respondent."
Remembering Hoosiers
Smith's description of his team's success also comes reminiscent of a Hollywood script, the 1986 movie Hoosiers. That's the story of small-town Indiana high-school basketball team that surprisingly advanced all the way to the big-city state tournament, eventually winning it all (inspired in part by Indiana's 1954 state championship).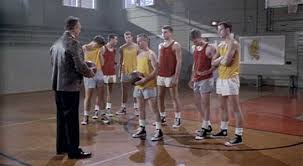 At the UCF tournament, Smith showed his team the movie scene where the coach [played by actor Gene Hackman] walks on the basketball court at the huge arena, where the state tournament was played, and begins to measure the height of the rim and the distance to the free-throw line. The distances were all the same as the team's small-town gym. The movie's message, repeated by Smith: Despite the fancy setting, there are no differences once the competition begins; the rules and regulations are the same.
Smith's words to his team: "It could be the Taj Mahal or the U.S. Supreme Court and you're still going to make the exact arguments. If you have the structure we teach here at Stetson, and you work hard, you are going to be successful. It doesn't matter how much glitz and glamor you have around you."
He added, "It probably didn't matter at all to them, but that's the kind of story this is. … All four of them work really hard, and whether there were any wins, I'm so inspired by their tenacity and commitment!"
Their Own Stories
In reality, the students have their own scripts to follow.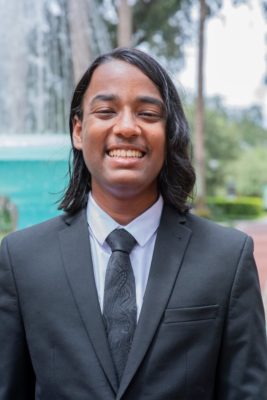 Rampersad, the originator of the moot court team and also a member of the mock trial team, is a philosophy major. He arrived on campus after having success with moot court competitions in high school. "Not only do you get a chance to write a legal brief," he commented, "you also get the chance to defend those arguments against a panel of justices who can ask any questions at any time during your speech when you're trying to defend your argument."
Rampersad concluded: "I want to take advantage of all the opportunities available to me. And it's never too early to start preparing. Since my goal is to get into law school, I wanted to make sure I'm taking those steps necessary."
Snyder is a political science major with a plan to attend law school after taking an upcoming gap year. His chief reason for dual involvement on mock and moot teams: "I love trial work."
"Mock trial allows me to focus on my presentation skills and apply the rules of evidence, the law and communicate complex facts to a jury who has never heard of the fact pattern before," he said. "Moot court, on the other hand, allows me to focus on the mathematics of the law and create logical arguments for a panel of judges who are familiar with the case law and the fact pattern. I chose to do both because I absolutely love oral advocacy on both the trial court level and the appellate court level. They allow me to work different muscles of argumentation."
Smith explained that the inception of moot court was similar to mock trial, both based upon a long tradition of faculty-student collaboration and experiential learning at Stetson.
"Another phenom, some years ago, approached me as a freshman [Daniel Humphrey] and said, 'I'd like to start a mock trial team.' So, we did! All of these current students' successes and newly gained confidence are attributable to that student. moot court, like mock trial, is from the students' dreams," Smith said.
"Faculty at Stetson find the energy of the students and construct a machine based upon that initial energy. It's wonderful to get to play a part."
-Michael Candelaria