Many Gathered At Stetson University For The Annual MLK Signature Kickoff Events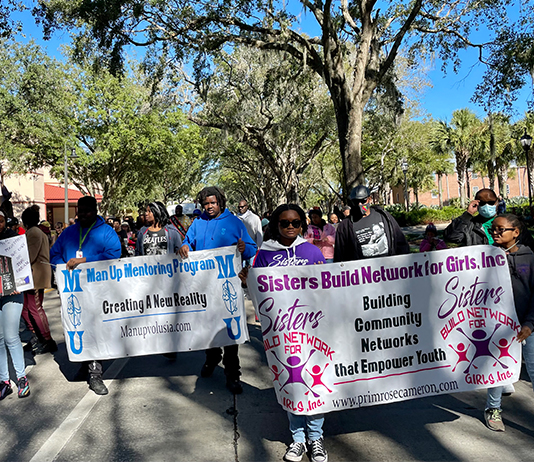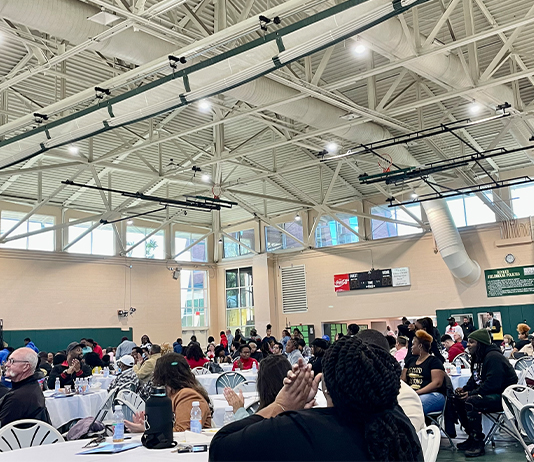 Several hundred attended Stetson's annual kickoff breakfast on Monday, Jan. 16, in the Rinker Field House honoring the life of Rev. Martin Luther King Jr.
"It is an honor to see so many young people in the audience because you are the future of this country," said Mike Chitwood, Volusia County sheriff.
Stetson's ROTC presented the colors and the crowd joined in on the Pledge of Allegiance followed by the Negro National Anthem, "Lift Every Voice and Sing."
Jojo O'Neal, Star 94.5 celebrity radio DJ, hosted the program featuring vocal selections from the MLK Youth Choir, proclamations from DeLand Mayor Chris Cloudman, '12 and greetings from Jason Umberger, DeLand chief of police.
Stetson's Akeem Todman, director of Diversity & Inclusion, delivered greetings to the breakfast attendees. He shared the connection between the legacy of King and the Diversity & Inclusion work at Stetson through the lens of building bridges within the community.
"I really learned a lot about the fight for justice in the DeLand area," said first-year student Diana Godhino, a public management major. "I liked the variety of speakers and presenters."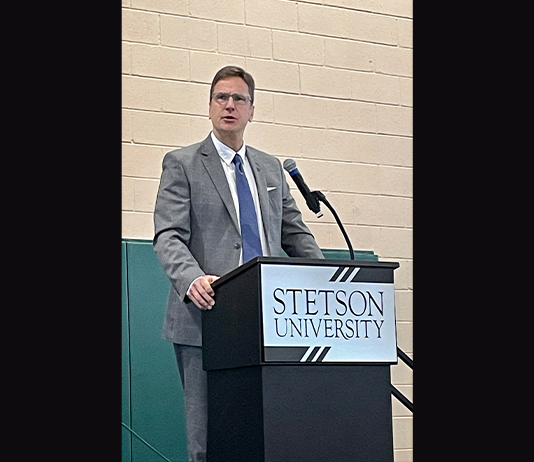 Kevin Winchell, director of Community Engagement, introduced President Christopher F. Roellke, PhD.
"Each of us carry a light that burns for one cause or another. What I love about the MLK Breakfast is that it connects each of our lights so they'll burn brighter, together – students, faculty and community members, each burning away the economic and social injustices that have harmed too many for too long," Winchell added.
Roellke encouraged the collective Stetson and DeLand community to honor the life of the civil rights leader, by cultivating relationships, providing equitable education for all and demonstrating kindness.
"Let us allow our students to provide rich content from divergent perspectives," Roellke said. "Let us care deeply for each individual person and unleash their creativity and foster their insatiable curiosity to promote their personal and intellectual growth."
After the recognition of sponsors, the audience joined hands and sang, "We Shall Overcome."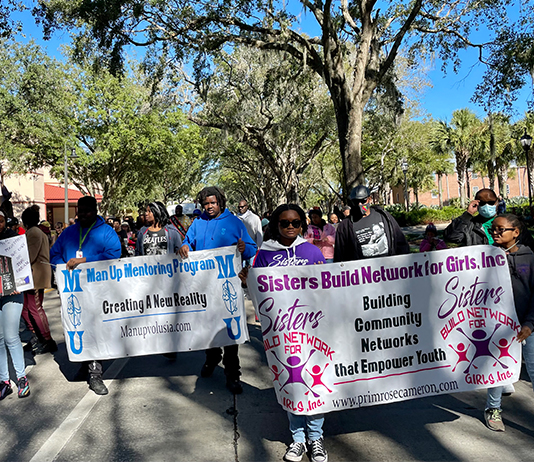 "There was such a great spirit of community and hope for the future," said Jeremy Posadas, PhD, Hal Marchman Chair of Civic and Social Responsibility.
Hari Pulapaka, PhD, associate professor of Mathematics, shared his excitement for this event and felt honored to celebrate the Jan. 15 birthday and life of King, at Stetson.
The signature breakfast event was followed by a memorial march down Woodland Boulevard to Earl Brown Park where the celebration continued at the Business Expo.
For more events visit MLK Week of Action.
-Alicia Scott