Stetson University Celebrates Martin Luther King, Jr. All Week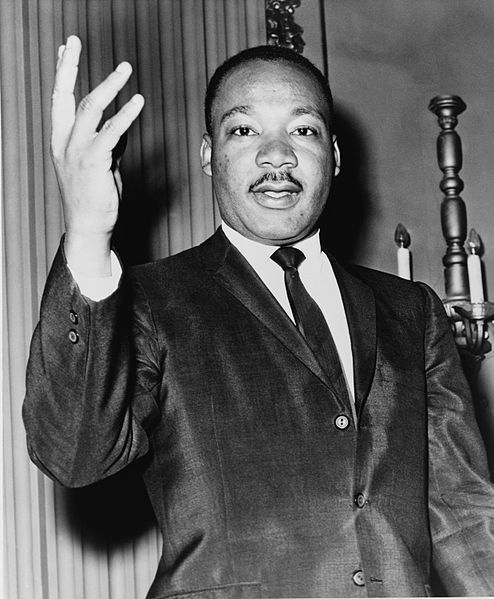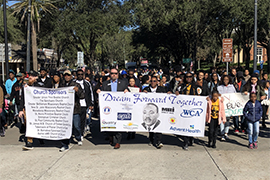 Stetson University joins the DeLand community to celebrate the legacy and dream of civil rights activist Martin Luther King, Jr., PhD.
This year, Martin Luther King, Jr. Day is Monday, Jan. 16 and kicks off with the annual breakfast at Stetson University's Hollis Center, Rinker Fieldhouse from 9 to 11 a.m.
All Stetson faculty, staff and students are encouraged to engage in campus activities related to the theme "A Week of Action." Cultural Credit is available.
Martin Luther King, Jr. Events
Here is a list of scheduled events. For more information, visit www.stetson.edu/mlk
Monday, Jan. 16
9 – 11 a.m., Annual Breakfast –Gather for a community breakfast. The Breakfast features powerful performances and speakers who share their views on King's legacy and the future of our community. The keynote speaker for this year's Breakfast will be Stetson University President Christopher Roellke, PhD. Doors open at 8:45 a.m. and ceremonies begin at 9:00 a.m. The breakfast is free for Stetson students, faculty and staff to attend, although seating is limited and tickets are required. To ensure that there is enough food for everyone, no one will be admitted without a ticket. Fill out this form to request a ticket.
11:15 a.m. – noon, Annual March – Join the Stetson community for the annual MLK Civil Rights March from the Museum of Art to Earl Brown Park.
Noon – 3 p.m., Business Expo at Earl Brown Park – Learn about local nonprofits and businesses, enjoy games and more. The event is free and open to the public.
Tuesday, Jan. 17
7– 8:30 p.m., Things We Don't Talk About At Dinner Race Edition – Lee's Garage (CUB 261) Join the Stetson community for dinner and practice having productive conversations about difficult topics. Seats are limited. Please arrive by 7!
Thursday, Jan. 19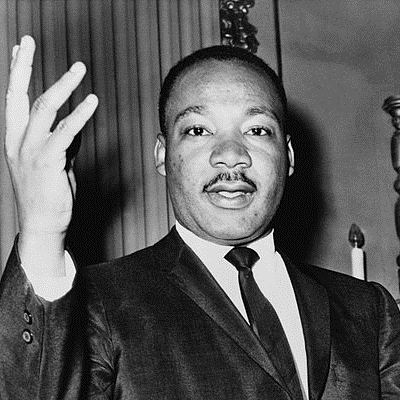 11:30 a.m. – 1 p.m., Life & Legacy Celebration – Stetson Room (CUB 203) The Office of Diversity and Inclusion formally invites you to The Annual Dr. Martin Luther King, Jr. Life and Legacy Celebration. Rajni Shankar-Brown, PhD, professor and Jessie Ball duPont Endowed Chair of Social Justice Education will be the keynote speaker. Shankar-Brown is set to deliver an original poem in honor of the occasion. This reception celebrates the life of the civil rights icon and provides an opportunity to reconnect as a community to reflect and strategize on how to make the Stetson community more inclusive and safer for all. Lunch will be provided. Registration is required. Click here to RSVP.
Friday, Jan. 20
11 a.m. – 2 p.m., Racial History of DeLand Project Launch – Stetson Room (CUB 203) For several years, many local organizations and Stetson students, faculty and staff have been collecting information and conducting research – through newspaper articles, oral histories, Census and property records and many other sources – to offer more accounts of DeLand's Black history. At this meeting, many of those groups will share their work and identify how they can help build a centralized repository of these records and collections that can be used to educate the public about the racial history of DeLand. Food and refreshments will be provided. Seating is limited, so registration is required. Doors open at 11:00 a.m. and the program will begin at 11:30 a.m.
Saturday, Jan. 21
9 a.m. – Noon, MLK Day of Service – Habitat for Humanity (2743 Pine Tree Rd., DeLand FL 32720) Work with other Stetson students and community volunteers to help Habitat for Humanity build a home for a local family! No experience necessary – training will be provided. All you need are close-toed shoes, clothes that can get dirt and your own transportation to the build site. Water and sunscreen are recommended as well. Food will be provided. Email Alicia Harrington, coordinator of Community Impact, at

[email protected]

with any questions. Registration is required; after you register, you'll be sent an email with additional information about the event, including a waiver that must be completed.
-Alicia Scott