Campus to Career Kicks off with Compelling Events at Law School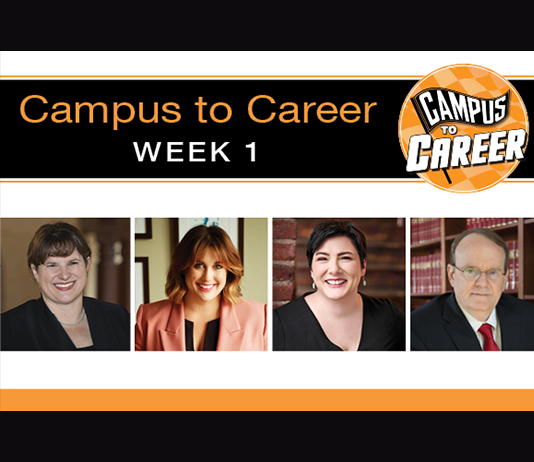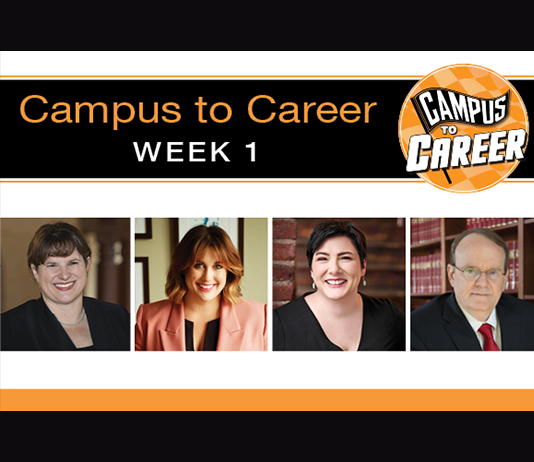 What was previously a shorter event featuring tabling and panel discussions has evolved into a multi-month experience full of meaningful conversations and immersive exercises.
Produced by Stetson Law's Office of Career and Professional Development, Campus to Career aims to help law students map their transition from the classroom to professional life after graduation. The first week of programming showcased a broad range of speakers, from a leading advocacy professor to a "death doula" offering advice on dealing with the emotional challenges that arise from working with clients dealing with trauma or end-of-life issues.
A lighthearted lesson in advocacy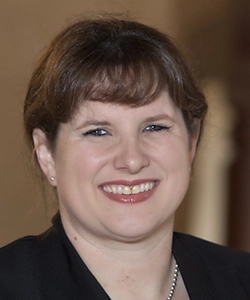 As the first week of the Campus to Career experience opened, Law Professor Brooke Bowman, director of Stetson Law's Moot Court Board invited students to watch a live moot court practice of the Hunton Andrews Kurth National Championship team. It was an engaging demonstration of argument fundamentals, to help prepare students for the kinds of arguments they can expect to present in courses like Legal Research and Writing II – and someday, in the courtroom.
An added bonus for those who attended the popular session: because students can feel stressed about presenting oral arguments, desserts ("stressed" spelled backwards) were served.
Advice on "compassion fatigue"
On Thursday, students heard a compelling and thoughtful presentation on a difficult topic from Brenna Galvin, the managing shareholder and elder law attorney at Maser Amundson & Boggio, P.A. Her practice focuses on estate planning, life care planning, veterans benefits, special needs planning for individuals with disabilities and more. She is also a "death doula" with deep expertise in helping clients and their loved ones work through end-of-life issues and other challenging issues.
She said such work can be emotionally taxing, especially as clients and their families begin to expect more from the legal professionals they hire.
"Our society's changing," she said. "We look to experts for more than just signing documents or pushing paper."
A consequence of this, she said, is a condition called compassion fatigue, which can have a toll on physical and emotional health. It's so common among legal professionals that the American Bar Association even has a definition for it.
It seems inevitable for practitioners in areas like elder law and estate planning, Galvin said, but with thoughtful lifestyle choices like a healthy diet, ample exercises and occasionally unplugging, it is possible to mitigate compassion fatigue.
"To get through it, we have to adopt some strategies for wellbeing," she said.
Meaningful work in the nonprofit space
Many students go to law school because they want to change the world – and it can be done, said C. Grace Juneau Whiting, a lawyer who is CEO of the National Academy of Elder Law Attorneys, and Hugh Webster, a nationally recognized lawyer and advisor to nonprofit organizations, associations and individual executives. The two discussed the rewards of leadership and advocacy in the non-profit sector.
They also spoke on the ways a J.D. can help an aspiring nonprofit executive excel (a lawyer's attention to detail, for example, can help such entities avoid costly errors) and recounted their own journeys from law school to becoming trailblazers and thought leaders.
The way professionals work may be changing – even in the legal and nonprofit worlds, they said, but some things remain critical to success. Maintaining a strong network, seeking mentors and a no-job-is-too-small attitude were among them.
Learn more about the Campus to Career experience and see the full schedule.
–Media contact: Kate Bradshaw
[email protected] | 727-430-1580