Stetson Day at the Capitol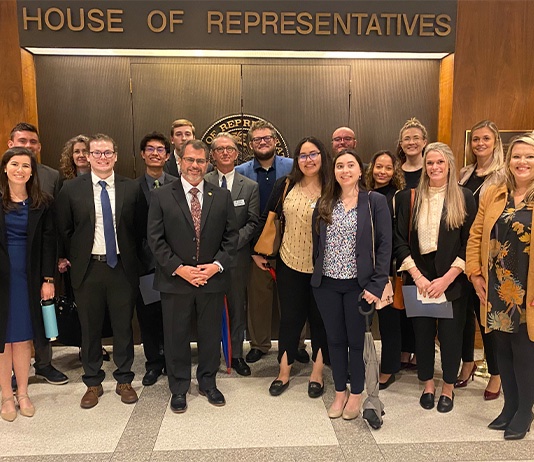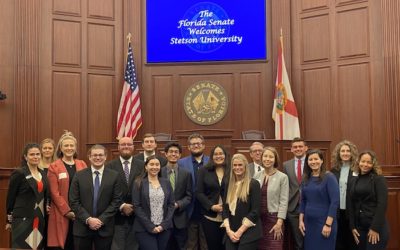 "Stetson Day at the Capitol." Has a nice ring to it, right? And, following a successful trip last month, you're likely to be hearing that phrase again.
On Jan. 24-25, a contingent of Stetson administrators, trustees, faculty, students and staff — led by President Christopher F. Roellke and Board of Trustees member and double-Hatter Lila Jaber — traveled to Tallahassee to meet with legislators, tour facilities, gain insight and share information about Stetson's activities and impact in DeLand and Gulfport.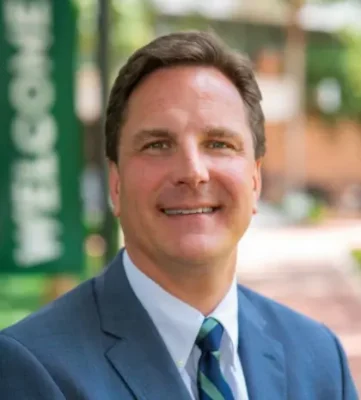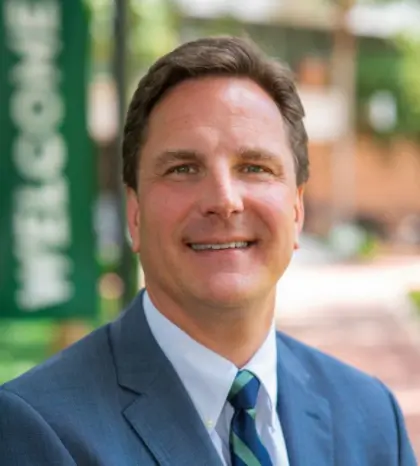 "The Stetson Day at the Capitol was truly wonderful and catalytic for our university," commented Roellke. "Our faculty, students, alumni and our graduates working at the Capitol had the opportunity for meaningful and authentic interactions."
Aside from Roellke and Jaber during the first-ever official event, the Stetson group included, among others, Elizabeth Skomp, PhD, dean of the College of Arts and Sciences; Krista Bofill, executive vice president and vice president of Development and Alumni Engagement; professors in the Department of Political Science (David Hill, PhD; Steven Smallpage, PhD; and Kelly Smith, PhD); and Jaclyn Lopez, assistant professor of law and director of the Jacobs Law Clinic for Democracy and the Environment at the Stetson University College of Law.
In addition, undergraduate political science students Ariana Motta, Camilo Lilleslatten, Gabriela Melendez-Rodriguez, Bruno Soto, Selah Williams and Liam Leider participated. Similarly, law students Mia Hartley, Stefanie Stockwell, Rebecca Schulga, James Meslener and Maxwell Pyles made the trip.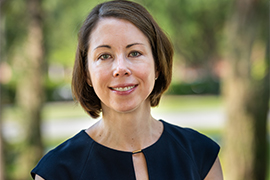 Some alumni and Stetson graduates who work at the Capitol also were present.
"There has been longstanding interest in establishing an event of this type," said Skomp. "I'm delighted that plans came to fruition and that Stetson Day at the Capitol will now take place annually. We have a tremendous opportunity to tell Stetson's story and to foster our students' learning and engagement along the way."
'Behind-the-Scenes Look'
An evening reception on Jan. 24, held on the 22nd floor of Capitol, set the stage for the show, tell and learn that followed the next day, which began with tours of the Senate and House of Representatives chambers, as well as a mock session for the students.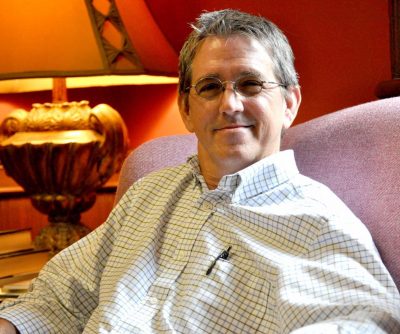 "It really was a hands-on, behind-the-scenes look at the Florida Legislature," said Hill, professor of Political Science and associate dean of the College of Arts and Sciences. "The students represented Stetson very well and were genuinely excited. Then the other part for the students is to hopefully inspire them. We have an impressive history of people moving from Stetson into the Florida Legislature and, therefore, having an impact on our state."
The Stetson contingent also met with several legislators, including Rep. Chase Tramont, Rep. Tom Leek and Rep. Webster Barnaby. The group even witnessed a peaceful protest outside the Senate chambers regarding higher education, led by lawmakers.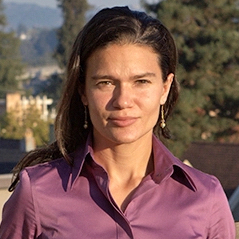 Lopez described the activities as "really excellent learning opportunities" for the law students.
"As law students, they know their state laws are important, and they want to understand how they are created and implemented," Lopez said. "Being in Tallahassee and speaking with lawmakers in the candid ways they shared information with us, they saw what it's really like to be a lawmaker."
Legacy of Legislative Leadership
Stetson, of course, has a legacy of legislative leadership in Tallahassee, most recently with Sen. Kathleen Passidomo, a Stetson College of Law alumna (1978), in November getting unanimously elected president of the Florida Senate for the 2022-2024 term. Other recent Florida Senate presidents from Stetson are Mike Haridopolos '92 (2010-2012), Andy Gardiner '92 (2014-2016) and Joe Negron '83 (2016 to 2018).
Also notably, Hyatt Brown, a longtime Stetson benefactor, was a member of the Florida House of Representatives from 1972 to 1980 and Speaker of the House from 1978 to 1980. He has served on Stetson's Board of Trustees since 1981. Three Florida governors are from Stetson, too.
In the end, while Stetson certainly took the opportunity to share its university agenda with legislators, students were able to receive a rare glimpse of the government in action.
"We were there to raise our profile," Hill said. "But we were also there to give these students a look at something pretty cool and inspire them, to plant the seed. This is an event we are going to do on an annual basis."
"It is clear to me," concluded Roellke, "that Stetson's rich history and track record in civic engagement will continue to be enhanced by this important event."
-Michael Candelaria