Renovations Are Underway On Stetson's Historic Chaudoin Hall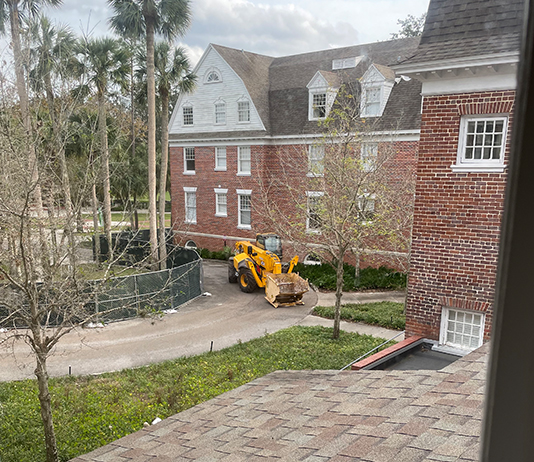 Stetson University's historic Chaudoin Hall is undergoing an $8.7-million renovation to add modern upgrades for the all-female residential hall, including washers and dryers on every floor and an elevator.
This renovation project is a major endeavor that began late summer 2022 and is on track for completion for fall 2023 move-in.
Chaudoin Hall renovations include an overhaul of enhancements that will increase the comfort and safety of the three-story living space while preserving its historic charm.
The overhaul includes the addition of an elevator, energy efficient insulation, new HVAC and fire sprinkler systems, ADA compliant accessibility ramps along with floorplan changes that feature two shared bedrooms and one shared bathroom for each four-person suite.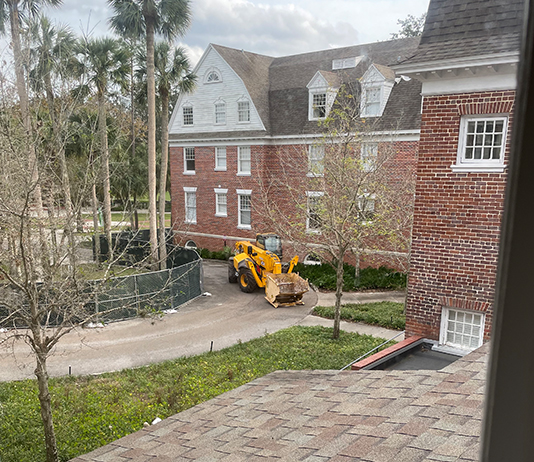 "Demolition is currently in progress right now removing interior walls and ceilings and construction will start right after that, so that students can move-in in August," said Scott Thacker, associate vice president for Facilities Management.
Built in 1892, Chaudoin Hall, located on Woodland Blvd. between historic DeLand Hall and Emily Hall was named for Stetson trustee W.N. Chaudoin. Chaudoin Hall is the oldest residential living and learning facility on Stetson's campus.
Refinishing the historic interiors such as the grand staircase and millwork is also a priority.
The redesign will have a 2-bedroom apartment for a full-time staff member and each floor will have a laundry room with 3 pairs of washers and dryers and collaboration spaces for lounging and studying.
"The addition of an elevator will make living in Chaudoin much smoother and easier for students," said Lauren O'Toole Watkins '19, manager of Social Media & Interactive Marketing at Stetson. "I loved living in Chaudoin for two years and I can only imagine how great it will be with the new renovations."
The benefits of renovating this historical building links current students to the historic past of Stetson's residence halls.
Would you like to be part of Chaudoin's history and renovation? Visit www.stetson.edu/chaudoin.
-Alicia Scott