Centurion Sales Program Continues to Blossom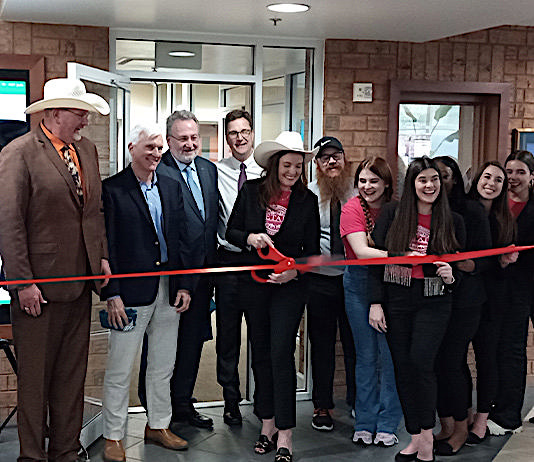 The long-stem white roses on display Jan. 19 in the lobby of Lynn Business Center clearly symbolized both the significance of the event taking place and the extra effort it took to make the celebration happen. The roses were stamped in faraway Ecuador with the logos of Stetson and one of the university's newest partners, Details Flowers Software.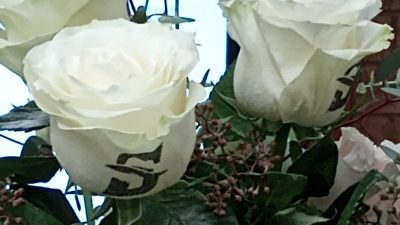 At a ribbon-cutting ceremony, Details Flowers Software, based in nearby Ormond Beach, introduced its newly branded sales labs as part of the School of Business Administration's Centurion Sales Program.
Details Flowers Software is an online platform that simplifies payments, ensures profitability by paying close attention to each arrangement and streamlines the proposal process. An entrepreneurial success established in 2015, it joined NASCAR, Synergy Billing and Watson Realty as financial sponsors and mentor partners of the fast-rising Centurion Sales Program.
Specialized Training Labs
The Centurion curriculum focuses on real-world applications and critical thinking through experiential simulations and recorded role-plays. The sales labs, in turn, provide an ideal setting for such training.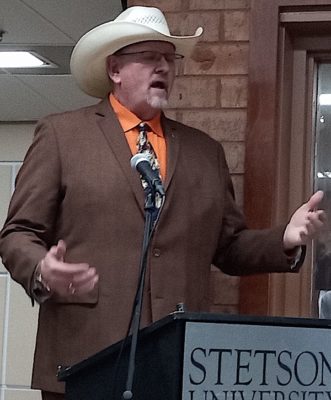 "The epicenter of the Centurion Sales Program is its innovative facilities, featuring specialized sales training labs outfitted with state-of-the-art audio and video equipment," explained John Riggs, DBA, professor of Practice in Marketing and founding director of the Centurion Sales Program. "Within these labs, students develop and hone their skills in sales, practicing sales calls and role-plays with customers."
At the podium during the event, Stetson President Christopher F. Roellke, PhD, added, "The Centurion Sales Program is a great example of bridging gaps between theory and practice, where students are learning tremendous skills and get to immediately apply them in real-world settings."
Notably, the School of Business Administration mandates that, to earn a degree, every business student who graduates must complete two experiential learning requirements in addition to all the coursework.
Ascending Sales Program
The Centurion Sales Program was launched in 2017, thanks to the generous support of Leopoldo Fernandez Pujals, a Stetson alumnus and highly successful entrepreneur who has owned two major businesses in Spain, Jazztel and Tele-Pizza, and led both companies into the Spanish stock exchange index, the IBEX 35. In 2019, Fernandez fully endowed the program, which is named in honor of his father, Genaro Fernandez Centurion.
The sales program has steadily moved up the rankings among schools internationally, advancing from No. 33 to No. 10 in the past year. Last spring, for example, the program's Competition Team took home awards in all categories at a sales competition in Oklahoma City, placing second overall.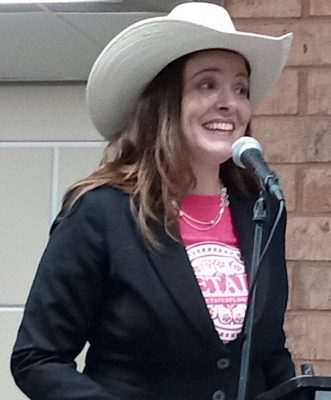 Riggs cited community partnerships like Details Flowers Software as a chief reason for that success. In this case, serendipity played a role, too.
By pure happenstance at a wedding in 2010, Corrine Heck, founder of Details Flowers Software, met Bill Andrews, PhD, a Stetson associate professor of Management. At the time, Heck was an event planner with only a seedling idea about innovative software that could revolutionize the floral industry. Andrews shared his Stetson connection with Heck, took note of her enterprising business hopes and stayed in touch.
Today, Details Flowers Software is the official software and key procurement tool for the American Institute of Floral Designers National Symposium. Meanwhile, the Stetson Centurion Sales Program has a new partner, with Heck representing the same commitment that has driven the program forward. Heck is a regular guest speaker on campus at entrepreneurship classes and MBA courses. Both of Heck's daughters attend Stetson. Also, the Society of American Florists recently recognized her for "tireless dedication to the floral industry" and inducted her into the Professional Floral Communicators – International.
Stamp this as a budding relationship.
"We are thrilled to partner with Stetson University to bring more interest to the floriculture industry," said Heck. "Not only will it give students an opportunity to apply their sales skills to real-life floral customers, but it will also give my team an opportunity to learn from millennials who offer a different perspective on social media, marketing and trends coming up the pipeline."
-Michael Candelaria