5 Minutes With The Hand Art Center's New Director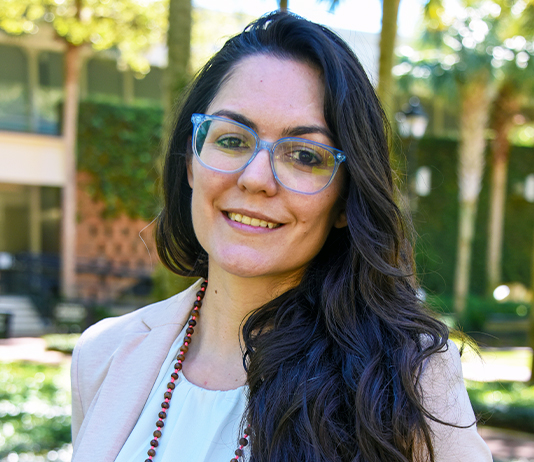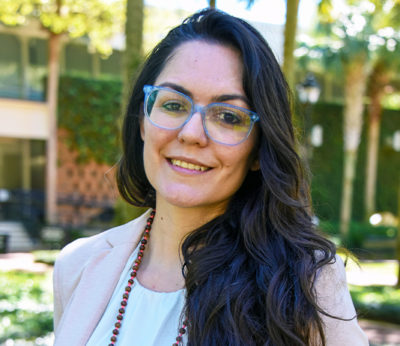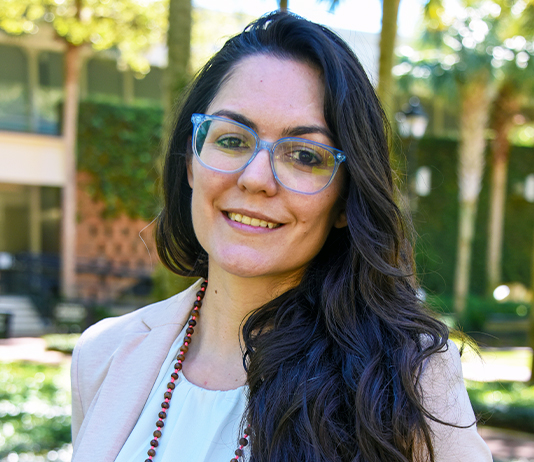 Natalia Marques da Silva, PhD, director of the Hand Art Center, began her journey at Stetson University on Feb. 1. 
She brings enthusiasm and experience to her new position.
Marques da Silva's hands-on approach is deeply rooted in her work in museums, galleries and heritage sites in Haiti and throughout the United States. 
In a brief interview, Marques da Silva shared insight about her background, experience and goals for the Hand Art Center.
What has happened along your educational path?
"In terms of training and education, I have an Art – Art History BA from UCF, 2010; a Museology MA from UF, 2012; and a Doctorate in Cultural Anthropology – Cultural & Sociocultural Studies from Florida International University, 2022. My dissertation research focused on memorialization of enslavement, colonialism and resistance in Guinea-Bissau, where present-day museologists and visitors are grappling with the past and its lingering impacts. This work brings Brazil, Portugal and the United States in conversation due to the advent of roots/heritage travel to Guinea-Bissau. Having the chance to return to a more 'practice'-oriented position (the day-to-day flow of operating the Hand) gives me a chance to localize this research. After all, university museums are well-positioned to facilitate conversations that don't always transcend in the public sphere. Regardless of what is on display, they invite us to critically examine how art and artifacts relate to heritage, struggle, triumph and points of connection/disconnection."
What is it about Stetson that caught your attention?
"The vibrancy of the campus and the Hatters are infectious. It's a point of pride to participate in an environment where curiosity thrives. Just look at all the art around campus!"
Tell me about your favorite experience so far at the Hand Art Center?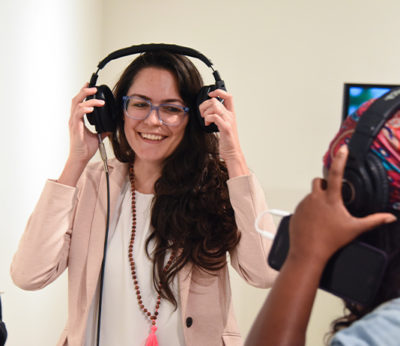 "There are so many! In our most recent exhibition, we had a lot of interactive pieces by current and former faculty. I loved watching people of all ages interact with each piece. One, an augmented reality by Matt Roberts (re: Invasive Species) that transforms people's faces into plastic bags and other items, caught a lot of people off guard. The topic is serious, but the execution is playful. From my office, I would hear bursts of laughter and know someone unexpectantly walked into his virtual world."
What else is on the horizon for you at Stetson?
"I'm teaching Magic, Myth and Witchcraft in the fall and Collections Management in the spring! Join me for these courses or stay tuned for future seminars on other topics. If not, volunteer to watch Au, my frug. I'll really appreciate it!"
In closing, share some of your goals for the Hand Art Center?
"We have an exciting mandate at the Hand: 'provide excellent programing, preserve and protect our extensive collection, train the next generation of gallerist and museologists and positively impact surrounding communities.' My goal is that people say, 'oh yeah, I pass by that building all the time, what's in there?' And that will transition into 'of course I've been to the Hand, I go there all the time!"'
-Alicia Scott