The 2023 Giving Challenge: March 8-9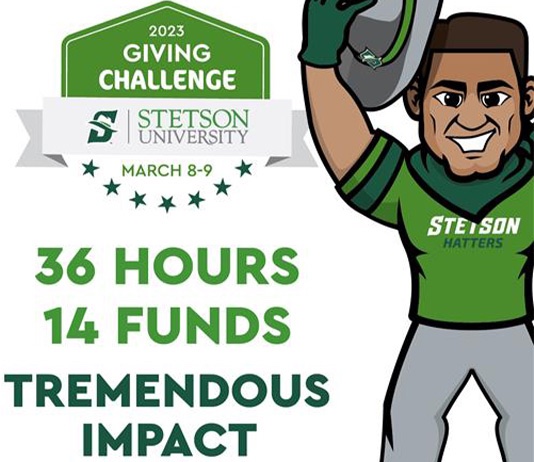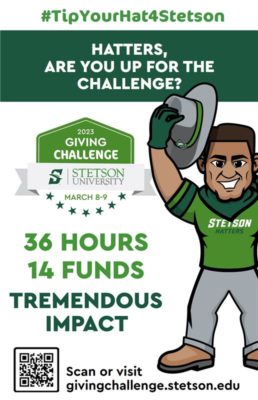 Hatters everywhere: Are you up for a special challenge? And are you up for making a big impact?
Of course, you are! That's what Hatters have done for, oh, 140 years — since the university's founding in 1883.
Stetson's 2023 Giving Challenge, March 8-9, is a 36-hour "giving celebration." It's designed to be an interactive, rewarding and creative way to engage students, alumni, parents and friends to give back in a wholly collective effort. Plus, best of all, donors get to decide where their gifts go to make pinpoint impact.
The campaign has been established to raise money for current Hatters in all areas of the university — scholarship support, fundraising for unique programs, replenishing the Hatter Pantry and much more. Donors decide which specific areas to support by choosing their favorite fund.
On March 8, there will be campus activities, too — such as dunking a "campus celebrity" at Dunkin' for Donors or signing a duck and flocking together at Dunk A Duck. Held on the Libby Lawn, they will be hosted by Green, White & YOU to encourage philanthropic giving among faculty, staff and students.
In other words, this is all about Hatters helping Hatters, says Krista Bofill, MEd, Executive Vice President and Vice President of Development and Alumni Engagement.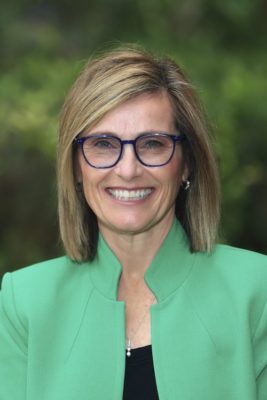 "By giving a gift of any size and spreading the word about the Giving Challenge, you will help inspire others to give and collectively make a huge impact for Stetson," Bofill comments. "Throughout the challenge, we will have matching gifts for different funds and an overall match for the day to take your gift even further. From scholarship support for supplies in the chemistry labs, to technology updates in the classroom and beyond, the Stetson Giving Challenge will provide support campus wide all within a 36-hour giving timeframe."
In addition, if a total of 500 people donate — that's you and 499 others — the university will unlock a $15,000 challenge gift from the Williams Company. (So, please use #TipYourHat4Stetson on your social media to help spread the word. In that way, you'll not only be participating, but also prompting others to do the same.)
The message to all: The Giving Challenge will unite Stetson and its thousands of students, faculty, staff, alumni, parents and other supporters in one event to make a big impact and celebrate the Hatter Community.