The 2023 Creative Arts Senior Exhibition Showcases Studio and Digital Art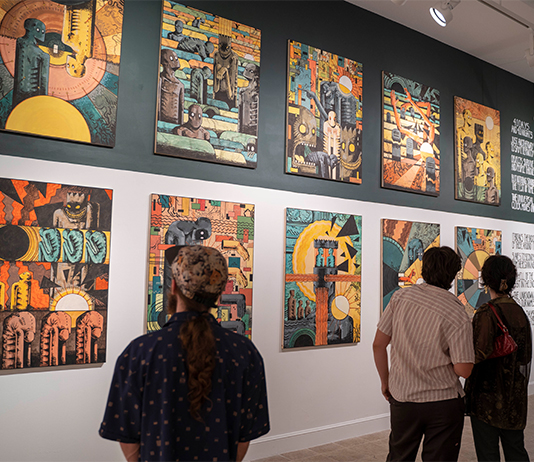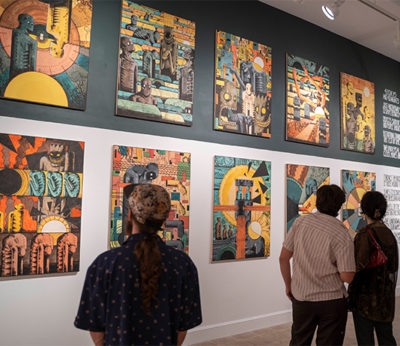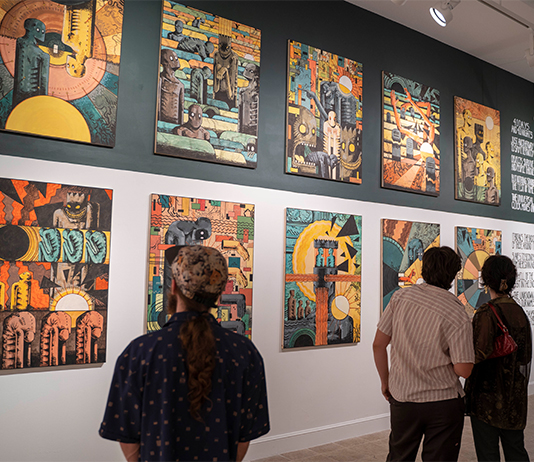 "Emergence" is the name graduating senior artists chose for their 2023 Creative Arts Senior Exhibition.
The joint show between Studio Art and Digital Arts programs is the culmination of a two-course sequence, Senior Project I in the fall and Senior Project II in the spring.
This year the exhibition features the works of 37 students, Stetson's largest number of senior artists, with displays at the Hand Art Center, Sampson Hall and Elsewhere Studio. Public screenings also took place at Second Stage Theatre for works requiring a performance art theater setting.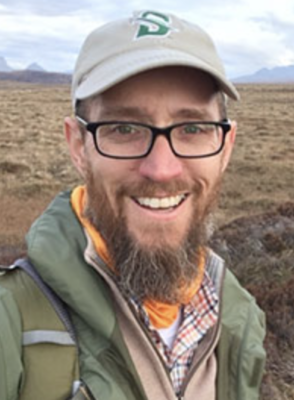 "Emergence" opened on April 11 and runs through May 6, with viewing of artwork at Elsewhere Studio available by appointment after April 28.
Nathan Wolek, PhD, professor of digital arts and music technology, served as the exhibition's curator along with Luca Molnar, assistant professor of art.
"It's a project senior students design and execute over two semesters. It's a personal project to them. We, the faculty, are there to consult with them, advise them on choosing a topic, choosing a path and mentoring them along the way. But it's ultimately a project they are passionate about and can sustain their interest for two semesters," Wolek explains.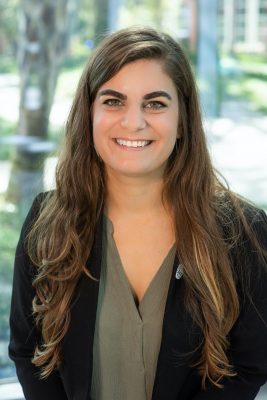 The Studio Art seniors worked in media including painting, sculpture, installation art and mixed media. Of her students, Molnar says they had ambitious projects that engaged with the space.
"I think that is one of the strengths of this group; they really tailored their work to the space of the museum. So it really feels kind of full and specific, and it engages the audience in this direct interaction with the work."
An example is Mario Saponaro's "Eternity Doesn't Last Forever," composed of ten 3-by-4-foot paintings that were scaled to fit specifically in the wall at the Hand.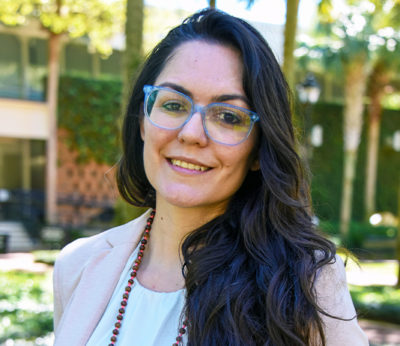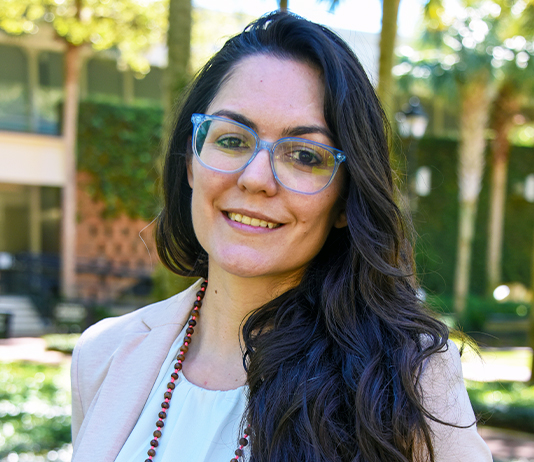 Natália Marques da Silva, PhD, director of Hand Art Center, elaborated on the media in which Digital Arts seniors worked, "We have prints, photography, projections, interactive projections, websites, posters, and product design for t-shirts, jewelry, magazines, cellphone covers and others."
On display in the art center's front gallery are projects with a marketing focus, such as Madisyn Jones's branding materials and graphic design work for the fictitious basketball team Daytona Beach Cyclones.
Another digital art example is Amber Waterman's project that centered around her study-abroad experience. "She took her camera and video camera with her to South America on the trip. Then turned that into material for her exhibition," says Wolek.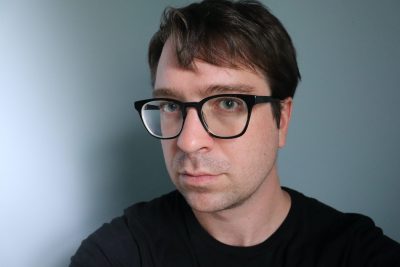 Chaz Underriner, Ph.D, assistant professor of digital arts, praised the seniors for their perseverance.
"Many of them had to make technical adjustments to their projects as they went, which is an inevitable part of being a practicing artist using newer technologies. Many of them also experienced the idea behind their projects shifting and growing as they put more and more hours into it, which is a normal part of being a practicing artist," he points out.
Seven senior artists were recognized with awards.
Recipients of the Ann West Hall Purchase Award are Marisa Luz Ingram, Phuong Nguyen and Austin Hill.
The recipient of the Louis and Elsie Freund Young Artist Award went to Mario Saponaro; his work will become part of the university's permanent art collection.
The Ethan F. Greene Award, which recognizes significant achievement in preparation and presentation, went to Dylaney Sabino, Madeline Morrell and Shamar Rush.
The artists, friends, family and Stetson community members attended an opening reception on April 13.
Of the event, Wolek says, "I think it's the first time since COVID restrictions that it felt like a real, full opening to me. It was the largest crowd since that. It felt like a reopening, returning to the previous kind of energy we would have at an opening."
–Patricia Letakis