A Look at Graduating Seniors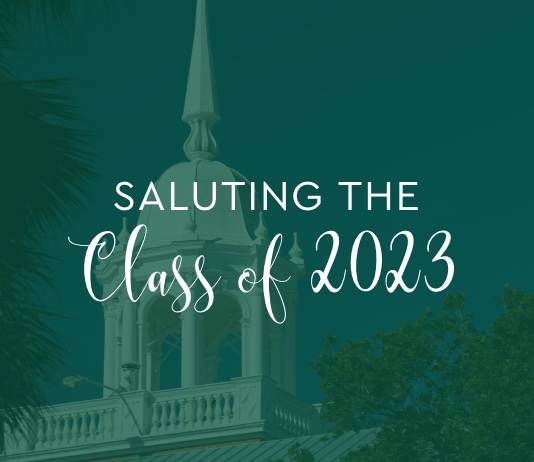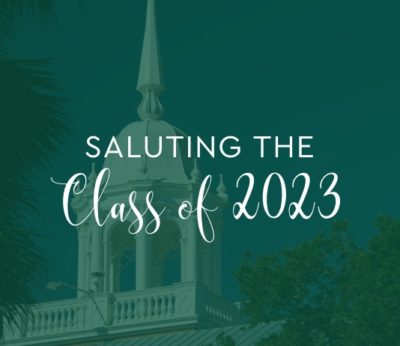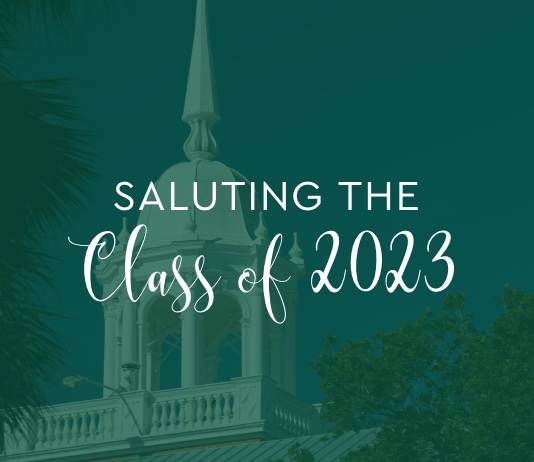 Waverly Mayo
Psychology
The "hometown feel," small class sizes and a top-quality education initially attracted Waverly Mayo to Stetson's recruitment table four years ago at a college fair at Bishop Kenny High School in Jacksonville.
Fast-forward, Mayo found what she termed as the "just right fit" on campus.
"Not only does Stetson have a peaceful and serene vibe around campus, but the professors also really care that I understand what they are teaching," Mayo says. 
Not that all came easily. Mayo found time management a challenge during her first year. She was introduced to the tutoring services on campus and soon realized this reinforced her foundation to handle her psychology classes, and time management ultimately became a strength that helped her move up the ranks in Stetson's Army ROTC program.
"Dr. Barbara Barzilai and Dr. Sarah Garcia were the two psychology professors whose teaching styles were like good mentors," Mayo describes. "Dr. Barzilai recognized and honored that I learn differently, and Dr. Garcia helped me to see the value of graduate programs and what being a clinician is all about. They saw my truest academic potential."
Mayo is a leader, a characteristic that was easy to see in ROTC.
In addition to realizing her potential in the classroom, Mayo earned her way from lieutenant to captain. 
"The [ROTC] Eagle Battalion program here at Stetson taught me how to better myself and push through adversity and challenges to prepare me for success in life," she adds. 
"I was able to go to the Army's Advance Camp in Fort Knox, Kentucky. It was defining because I had to face my fears, own what I needed to improve on, understand the power of positive self-talk on my actions and realize that I am capable of much more than I realized. It truly was a 'make or break' experience that I am grateful for."
Mayo hopes that sharing her journey at Stetson will inspire others.
"I look forward to a new generation of cadets who will seek to develop into the best versions of themselves and make lifelong friends, as I have within ROTC and other college experiences at Stetson," she says.
As Mayo prepares for graduation in May, she has high hopes for the future: "I will happily support Stetson as an alumna. Stetson has prepared me for the Army because every day, I had the chance to live the Army's motto of 'Be All You Can Be' in a 'HatterKIND' of way."
-Alicia Scott
Michael Wojciechowski
Economics and Finance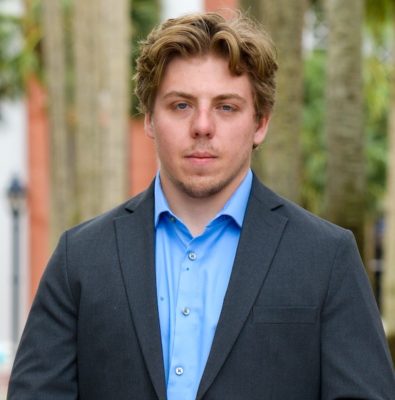 At the very beginning, Michael Wojciechowski recalls the Stetson campus representing what he wanted from a college. Simply, as he describes, it was sort of love at first sight.
"It felt like home. I know this sounds weird because you only visit a place once or twice. But truthfully, that's how I felt," he says. "It was somewhere that I could see myself going to school."
Four years later, Wojciechowski has returned the favor, actually in multiple ways — with the graduating senior serving as a shining emblem for the university, as well as for the School of Business Administration and for Hatter Football.
Wojciechowski, who arrived from tiny Oak Harbor, Ohio, excelled as a double-major in economics and finance. Also, he was a leader in Stetson's acclaimed Roland George Investments Program, helping to win competitions such as the statewide CFA Institute Research Challenge (chartered financial analysts) this February. And he was a standout long snapper on the football team while earning Pioneer Football League accolades for academic performance.
This summer, Wojciechowski is headed to New York, where he'll be working at BNY-Mellon (Bank of New York Mellon Corp.) in the firm's Markets and Wealth Services group. Then this fall, he will attend the University of Indianapolis to pursue a master's degree in data analytics and finish his college football career.
Looking back, Wojciechowski credits Stetson for much of his success, particularly the Roland George program, where students manage a real portfolio made up of $6 million in stocks and bonds. While his two majors effectively provided "baseline knowledge and understanding," experiential learning as a RGIP growth portfolio manager "was probably one of the most influential, but also one of my favorite things that I've done here."
"[RGIP] is so much more than just a finance program where you learn about numbers," he adds. "It's a community. … Yes, you learn the tangible skills. You learn how to build a cash flow model. You learn how to invest in stocks. But it's more about the group of people that we have here."
Not coincidentally, Wojciechowski was a big hit last summer as an intern at BNY-Mellon, prompting his return in June. Out of 30 interns last summer, he was among only a few who didn't come from an Ivy League school.
For Wojciechowski, Stetson was a "feeling," and, just like him, his time on campus turned out to be a winner.
"I can honestly say that Stetson was more of a feeling than anything else," he concludes. "But I'm glad, and I definitely made the right choice. That's the best way I can explain it."
-Michael Candelaria
Jazlyn Garcia
Biology
One thing is for certain: Senior Jazlyn Garcia is a leader.
The Bowie, Maryland, native juggled four years of ROTC training with several promotions, having a campus job and thriving as a biology major. Add in being president of Latinx Student Union (LSU) for the past year and a half, joining ODK National Leadership Honor Society, volunteering for the Good Samaritan Clinic, organizing many multicultural events, and you have a very busy, fulfilled Hatter.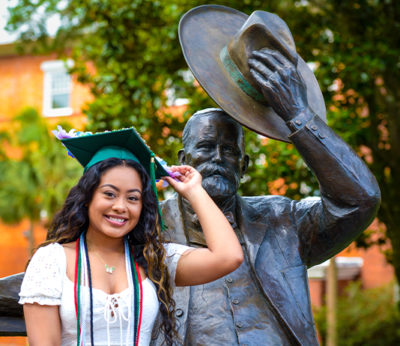 "ROTC has been a constant in my life here and helped me develop as a leader overall," Garcia notes. 
She worked from being a cadet her first year to becoming squad leader as a sophomore. She said her junior year was the hardest: "Because we prepare to go to essentially a basic training, I had various leadership roles here to get ready and training labs that were very difficult."
This ROTC standout continued her journey upward when she was named Company First Sergeant and promoted to Company Commander, in charge of 22 people, during her senior year. She is the highest-ranking ROTC cadet in The Charlie Company at Stetson.
Garcia went up the ranks in her campus job, as well. She was a fitness coach for two years at the Hollis Center and was promoted to building manager during her junior and senior years.
What's next for her? Garcia will graduate as a second lieutenant and awaits orders for her next training camp. She plans to study for the MCAT and get a job in health care during a gap year, and then pursue her long-standing goal of becoming an anesthesiologist.
Of her Stetson experience, Garcia concludes: "I love my department, my teachers. They have always helped me succeed. I don't like being behind or confused, and I'm not shy about asking for help when I need it. The professors have been helpful." 
-Trish Weiland
Aidan Dixon
Bachelor of Music Education
Aidan Dixon came to Stetson with the expectation of developing the skills he needs to become a music teacher. He didn't expect to find family — relationships that were strengthened in the shadow of COVID-19.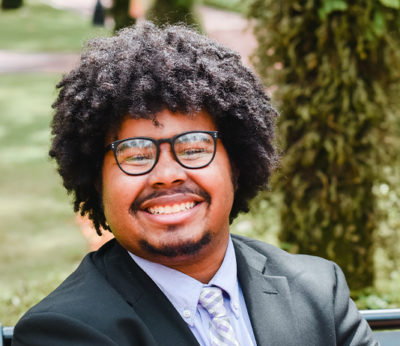 The pandemic posed particular challenges in music education. Overcoming those challenges became a team effort. "It's really awesome to see how far we've come," he says, also pointing to the pride of seeing his cohort "become even greater outside of it."
Dixon credits Kristin Graham, his staff coordinator for FOCUS Orientation, and Douglas Phillips, PhD, associate professor of music and conducting, for their mentorship. With Graham, a former music educator, "it's great to talk techniques." As for Phillips, Dixon's academic advisor, "He's been a well of knowledge that I can always talk to or always call up if I ever need anything."
After graduation, Dixon, a tuba player, will leave his band-directing job at Jackson Heights Middle School in Oviedo to pursue an arts management degree at American University in Washington, D.C. He will also serve as a graduate assistant at the John F. Kennedy Center for the Performing Arts, where he did a summer internship, with hopes of teaching brass lessons on the side.
The teaching experience he gained at Stetson — which began with his first semester — has been a key takeaway from Dixon's undergraduate experience. "It's been a lot of fun for me because it keeps my feet well at all times," he says, "and it keeps me constantly learning about different processes in the classroom."
-Cheri Henderson
Em Fernandez
Bachelor of Music Performance
As an incoming high school senior, Em Fernandez attended a Stetson clarinet clinic that proved providential, paving the way for an undergraduate education at Stetson and helping to make critical connections for pursuit of a graduate degree.
Douglas Phillips, D.MA, associate director of Music and Conducting, along with clarinet professors Lynn Musco, DM, and Jessica Speak, MM, took Fernandez under their wing, helping the young instrumentalist grow as a musician and establish community.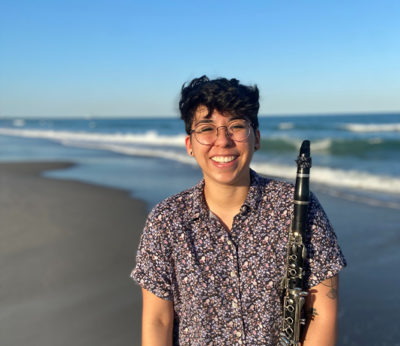 "I've made a great group of friends here that I'm going to continue to have for the rest of my life, and I'm super thankful for that," Fernandez says. "The professors are honestly like our parents away from our home because we all live at school and we're away from our families."
Fernandez benefited from a wealth of opportunities at Stetson, including the ability to perform at Carnegie Hall in March and receiving private lessons under clarinetist Eric Mandat, DMA, of Southern Illinois University, where Fernandez will pursue a graduate degree.
"That built a relationship with him that definitely aided me in acceptance to the university, as well as being offered their graduate assistantship," says Fernandez, who hopes to play in a military band and teach clarinet in the future.
Fernandez, who also served as a FOCUS Orientation leader and an intramural sports supervisor, will wrap up the Stetson experience with yet another opportunity. "Two days after my graduation, I'm going to Italy with our school symphony orchestra to perform at three different locations over there," Fernandez says. "It's going to be really exciting."
-Cheri Henderson