Tri-C is moving to a new home, Multicultural Student Council banquet announces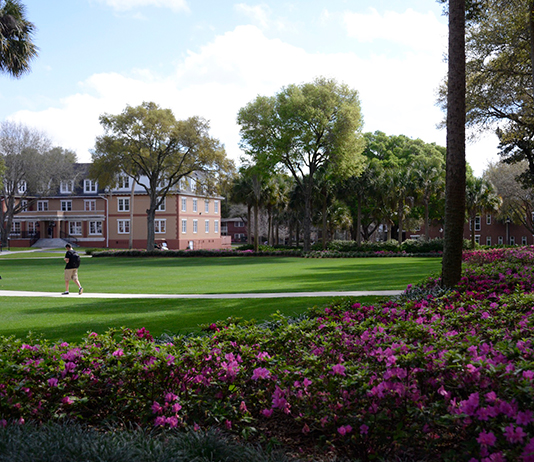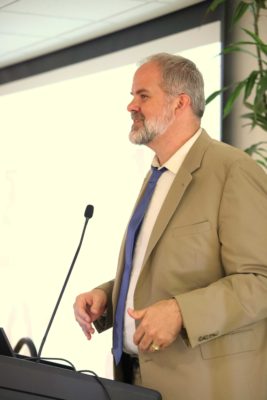 The Cross-Cultural Center, or the Tri-C as it is colloquially known, will move into a new campus home by August – although the basement pub that the building once housed will not be restored.
Larry Correll-Hughes, PhD, associate vice president of Campus Life and Student Success, announced during the annual Multicultural Student Council banquet Monday night that the Tri-C's new home will be in the "beautiful, large, red-brick craftsman house" at 145 Michigan Avenue. Unoccupied since last fall, the two-story building was last home to Stetson's University Marketing Communications, and was previously used for student life as the first-year studies house.
The 70-plus banquet attendees in the CUB's Stetson Room erupted into boisterous applause and whoops upon the announcement.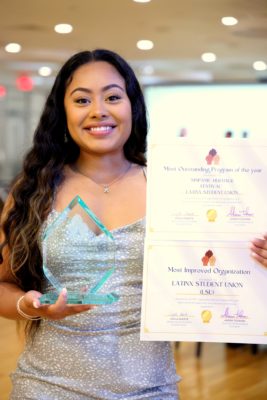 "There was even a pub in the basement years ago (at the new place), but we can't bring that back," Correll-Hughes said.
The Cross-Cultural Center was founded in 1996 at a university-owned house on Bert Fish Drive "for a new concept on our campus . . . as a home and resource center for African-American, Latino and Asian students," Correll-Hughes said. "Over the years it became home for our LGBTQIA students and so many, many others."
The banquet was attended by members of many of the nine student organizations that fall under the Multicultural Student Council: the Arab Student Organization, Asian Pacific American Coalition, Black Student Association, Caribbean Student Association, Latinx Student Union, the Jewish Student Organization/Hillel, Kaleidoscope (Stetson's Gay/Straight Alliance), Muslim Student Association and the Stetson Organization for Native American Revitalization.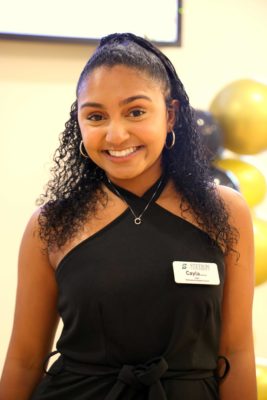 Akeem Todman, director of Diversity and Inclusion, addressed the audience, and Cayla Skeete '24, chair of the MSC, emceed the awards presentation in which dozens of students were recognized for their service in support of their respective organizations, as well as diversity, equity and inclusion initiatives.
The Asian Pacific American Coalition (APAC) and Latinx Student Union (LSU) were co-honored as Organization of the Year. APAC's Michael Nguyen was presented the Outstanding MSC Leader Award, and Nguyen and APAC's Claire Sigl were co-honored with the President(s) of the Year Award.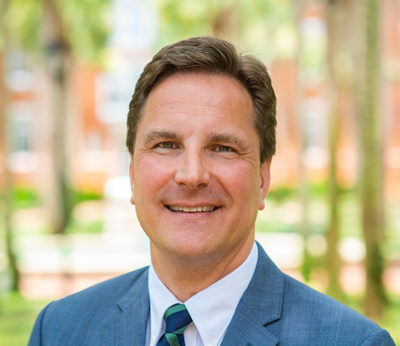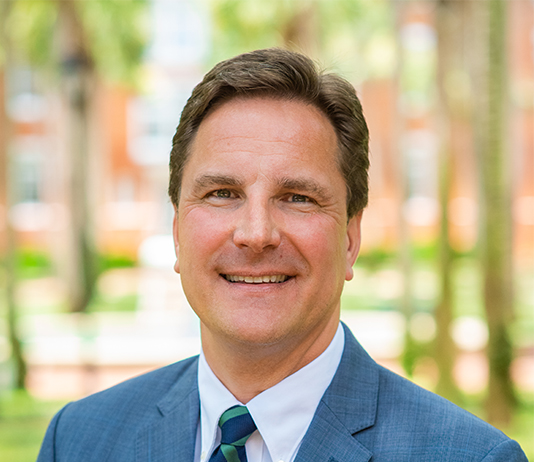 The banquet also was attended by President Christopher Roellke, PhD; John P. Downey, PhD, vice president of Campus Life and Student Success; Rina Tovar Arroyo, chief of Staff and senior development Officer; Estefania Ospina, coordinator of Multicultural Programming and Training; and Meg Young, DBA, instructor of Management, among others.
"When I heard the news (several months previously), my first visceral reaction was 'Yes, about time,' " Todman said in an interview after the banquet. "Students have been asking for this move since I became the director of Diversity and Inclusion in late 2021. Everybody's been talking about the need for a larger space to have more storage room, and to be able to just breathe in the Tri-C without being on top of each other."
In August 2019, the Tri-C moved from its initial home on Bert Fish Drive to a house several blocks away on the same street.
"That was a marked improvement" and the place "had a much more functional layout," Correll-Hughes said. "But we knew it wouldn't be the Tri-C home forever."
During the initial planning of the CUB renovation (which was completed in 2018), there was conversation with students about incorporating the Tri-C into that building, Correll-Hughes said.
"The overwhelming student voice said 'No, it shouldn't be in student union building — the Cross-Cultural Center is special, not just because it's in a home – it is a home,' " Correll-Hughes told banquet attendees.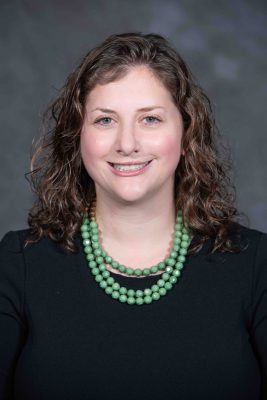 In August 2022, Correll-Hughes met with President Roellke and Lynn Schoenberg, Ed.S., Co-Interim Vice President for Campus Life and Student Success and Dean of Students. Roellke said a university reorganization had freed up some physical space on campus, including the Michigan Avenue house.
"He was excited about what we might do in that space to better serve our students, and then all of a sudden, almost in unison, Pres. Roellke, Lynn and myself said 'Cross-Cultural Center' — emphatically, without question," Correll-Hughes recalled. "With our partners in Facilities Management, we got the needed estimates and we worked with our new VP of Campus Life, John Downey, to reallocate funding to make updates to that building this summer."
Correll-Hughes outlined some of the benefits of the new space: The building is twice as large as the current facility, and will have a large covered porch with comfortable outdoor seating, a large dedicated event room on the main floor that can accommodate 50 people or more, a large interfaith prayer and meditation room, a dedicated workspace hub for the MSC and related organizations, plenty of storage room, a satellite office that will be used by Student Counseling Services, Career and Academic Advising, chaplains and other staff and partners, a staff office for Diversity and Inclusion, a full kitchen, a Hatter Pantry, conference room, a large lounge and dining space.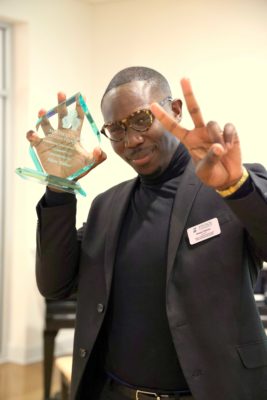 Todman said the Tri-C makes him "think about three other C's: a place to convene, a place to build capacity, and a place to build community. When I think of it as a home like Larry says, I think about those three C's being the center and being the crux of holding students here."
Capacity building, Todman added, is "about getting the tools you need to be a great student and then a great citizen after you leave Stetson."
"I am privileged to be a part of this work," Correll-Hughes told the banquet. "I love space, I love thinking about environments not because they are special but because of what they allow. They allow relationship, they allow connection, they allow support. And they can foster that. I'm so excited about what the new Cross-Cultural Center is going to do for generations to come."
Some of the other awards presented at the banquet included:
* MSC Innovator Award — Wenxena Spencer.
* Outstanding Organization Advisor — Akeem Todman.
* Cecil P. Chik Award — Ruby Moran.
* Pinnacle Award — Jasmine Waites-Reynolds.
— Rick de Yampert