Hari Pulapaka, PhD, Earns Top Honor at National Culinary Convention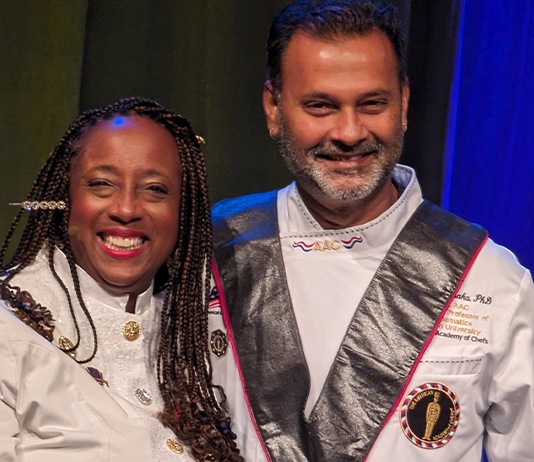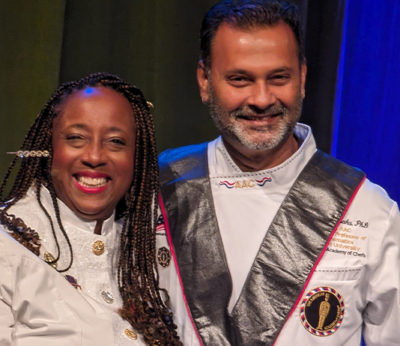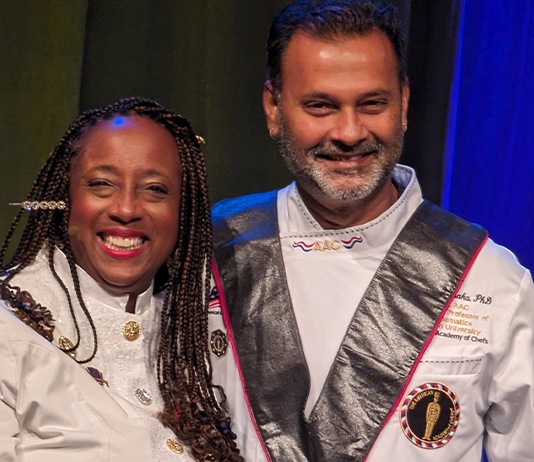 At the 2023 National Convention of the American Culinary Federation (ACF) in New Orleans, Hari Pulapaka, PhD, associate professor of Mathematics and nationally acclaimed professional chef and sustainable food system advocate, was inducted into the prestigious American Academy of Chefs, the ACF's honor society. 
Induction into the American Academy of Chefs (AAC) represents the highest standards of professionalism in the organization, society and industry.
The AAC's primary mission is to promote the education of all culinarians through mentorship, awarding scholarships to students seeking a future in the culinary industry and by providing grants to working chefs looking to further their career.
Pulapaka has been an ACF-certified executive chef since 2012. 
Kimberly Brock Brown, president of ACF, presented Pulapaka with a Presidential Medallion, the federation's highest honor, in recognition of outstanding industry representation and contributions.
Pulapaka was also invited to lead a breakout session that presented a cooking demo and talk, titled "Ten Reasons Why Traceably Sustainable is Also Delicious." 
For the past 15 years, Pulapaka has been a nationally respected advocate of sustainable food systems in his roles as a chef, entrepreneur and author, and he has been at the forefront of issues such as reducing food waste, developing diets for planetary and human health, reducing hunger, promoting sustainable seafood, and supporting traceability and transparency. 
In March, he presented his on-going research, "Bipartite Network Models for Food Systems," at the Southeastern International Conference on Combinatorics, Graph Theory & Computing in Boca Raton, Florida. 
During Stetson's Fall 2023 semester, in addition to teaching Mathematics courses across the curriculum, Pulapaka will return to teaching food-related courses, including the one-of-a-kind, first-year seminar titled "Tasty No Waste Cooking & Eating."
Pulapaka joined Stetson in fall 2000.