Celebrating Hispanic Heritage Month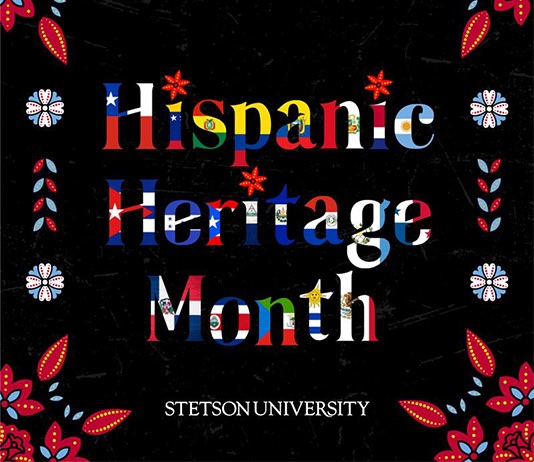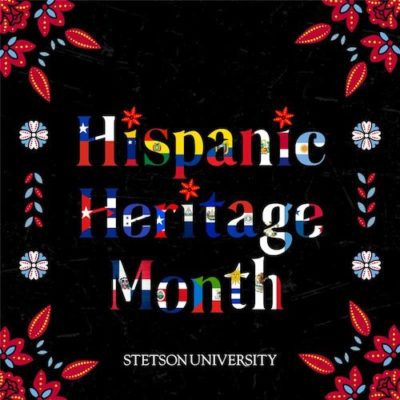 Stetson students, faculty and staff are uniting to celebrate all things Latin during Hispanic Heritage Month, which honors the culture, history, food, music, contributions and diversity of Latinx.
The nationwide celebration, which runs from Sept. 15 through Oct. 15, was established to recognize the traditions and stories of Americans of Hispanic heritage.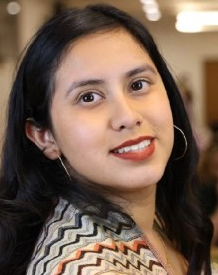 "Sept. 15 is the start of Hispanic Heritage Month but also the independence celebration of Central America — Honduras, El Salvador, Nicarágua, Guatemala and Costa Rica — from Spain," shares Latinx Student Union President Mary Gonzalez.
The International Business major and research assistant describes the celebration as "a lively time highlighting Latinos who made history and a big impact everywhere. There's laughter, dancing, tears of joy and just constant engagement."
Stetson kicked off its celebration Sept. 20 with Dancing Under the Stars, where partygoers learned various styles of dance: bachata, merengue, salsa and samba. Two days later, students received Cultural Credit for participating in Environmental Justice Paint Night, at which they were encouraged to paint an ideal world from an environmental or social justice standpoint. Meanwhile, the duPont-Ball Library is showcasing a special collection of books and DVDs representing Hispanic voices.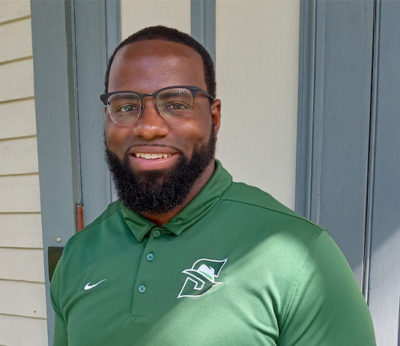 The highlight of Stetson's celebration is the Latin Patio Festival, scheduled for Sept. 28, 5-8 p.m., on the Libby Lawn. "It's a celebration you really do not want to miss," says Davion Belk '16 MBA '20, interim director for the Office of Diversity & Inclusion.
The festival includes dancing, food, face painting and games for which participants receive Cultural Credit. The Latinx Student Union is partnering with Kaleidoscope, Stetson's gender and sexual diversity organization, and the Black Student Union to emphasize diversity among those of Hispanic/Latin descent.
"The vibe of Hispanic Heritage Month is spectacular, to say the least," Gonzalez says.
According to Belk, Hispanics and Latinos represent approximately 19% of Stetson's student population.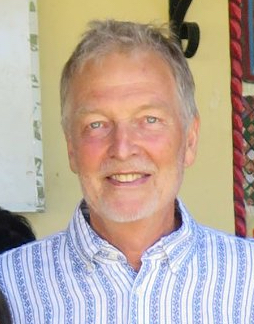 Education is a key component in providing that support. On Oct. 3 at 7 p.m., Robert Sitler, PhD, professor of World Languages and Culture, will host a discussion on DeLand's Mexican community in the Marshall & Vera Lea Rinker Welcome Center. Sitler is also director of Stetson's Latin American and Latino Studies Program.
The heritage-month celebration will continue with a photoshoot on Oct. 6, 5:30-8:30 p.m., in the Sororities Gazebo. The photoshoot is open to all students, staff and faculty and will celebrate the diversity of skin colors, flags and styles among Latinx cultures.
Stetson's Hispanic Heritage Month celebration concludes on the Libby Lawn Nov. 1, 6:30-9 p.m., with Dia de los Muertos, or Day of the Dead. The celebration focuses on "the beauty of grief and loss," Gonzalez describes. Attendees will receive Cultural Credit as they learn about the holiday's symbolism and history.
The university's monthlong-plus celebration is part of its ongoing efforts to promote awareness and inclusivity on campus, cites Belk. "Together, we will ensure that the legacy of Hispanic/Latino Americans and the potential of our future leaders shine brightly at Stetson University," he says.
Throughout the year, Belk adds, the university will foster cultural diversity through heritage-month celebrations to create a "relationship-rich environment — an environment focused on truly getting to know our students and them getting to know the Stetson community. This also helps us understand how best to support each student."
-Cheri Henderson