Celebrating 140 Years: 2013-2022, Decade Of Physical Expansion, Campus Vitality, Significance and Science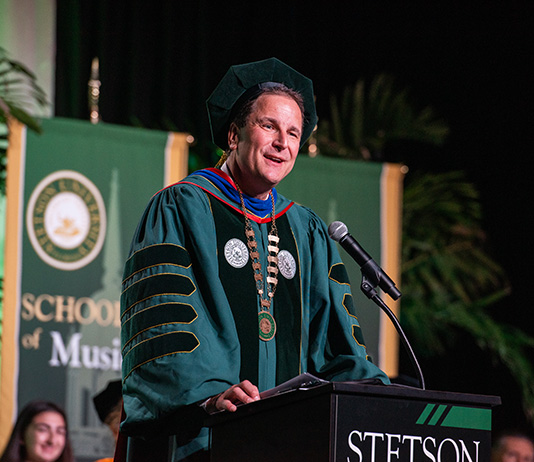 Note: This is the final installment of "Celebrating 140 Years."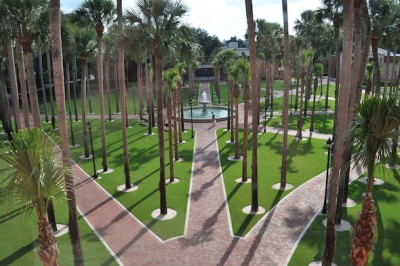 Was this decade a huge success? Absolutely. And let us count the ways.
There was the return of Hatter Football in 2013. Undergraduate enrollment rose nearly 50% to more than 3,000 students, while the university's endowment nearly doubled to $200 million-plus. And the $150 million Beyond Success – Significance Campaign took Stetson to even greater financial heights.
Also, the Institute of Water and Environmental Resilience was established, as were the Brown Center for Faculty Innovation and Excellence, and the Hollis Family Student Success Center. In addition, the Marshall and Vera Lea Rinker Welcome Center opened its doors smack-dab in middle of campus, as did the Sandra Stetson Aquatic Center a few miles from campus.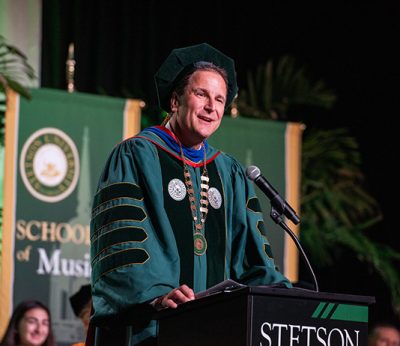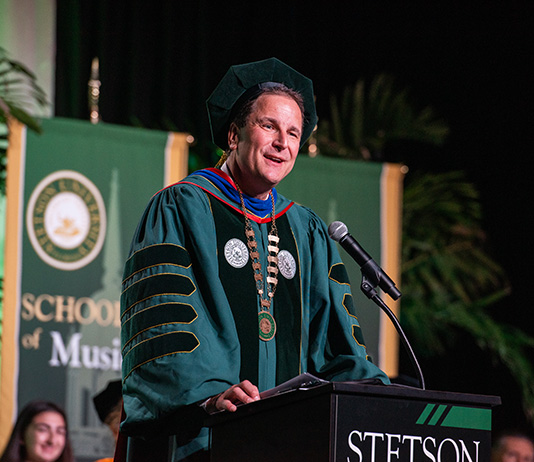 Oh, and Stetson's largest-ever charitable gift came in 2018, leading the way to the creation of a sprawling new science complex that was designed to take the university into the future. The campus weathered the COVID-19 pandemic with flying colors, too.
It was quite a decade, indeed, for the university; for Wendy B. Libby, president during most of the decade; and for Christopher F. Roellke, the president who took office in 2020.
Libby, of course, already had made her mark before the new decade took hold, becoming Stetson's first female president in 2009 and making an immediate positive impact in everything on campus from aesthetics and academics to student life.
Roellke, formerly Dean of the College Emeritus at Vassar College, exhibited an instant energy that is exemplified in his signature "GO HATTERS." He came to Stetson with demonstrated leadership in a wide range of areas, including academic and career advising, international study, accessibility and educational opportunity, multicultural services, campus activities, student employment, religious and spiritual life, campus dining, and campus safety and security, among others. Already, he has showed great historical promise at Stetson.
Return of Football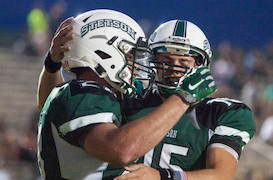 Long ago considered a football powerhouse in Florida, Stetson hadn't fielded a team since the 1956 season. That changed in 2013 with entry into the NCAA's Pioneer Football League and a first game that fall. The Hatters lost that opener, 20-13, to Florida Tech, but a celebratory mood on campus was undeniable — college football was back. In addition, a new NCAA Division I program in Women's Lacrosse was added in 2013.
Undergraduate Enrollment Grows
With the restart of football, it was no coincidence that undergraduate enrollment began to rise, increasing nearly 50% during the decade to more than 3,000 students. Libby had set a goal when she arrived to increase the enrollment of undergraduate students from 2,100 to 3,000 students by 2016. Stetson reached that goal in 2015 and again topped 3,000 in 2016. 
Beyond Success – Significance Campaign
Also in 2015, the university launched a $150 million comprehensive fundraising campaign, its first since 2009. The Beyond Success — Significance campaign came at a time when Stetson was experiencing sharp growth. The campaign closed in 2019 after raising $218 million. Not surprisingly, the campaign brought a flurry of new facilities and initiatives to the university. 
Brown Center for Faculty Innovation and Excellence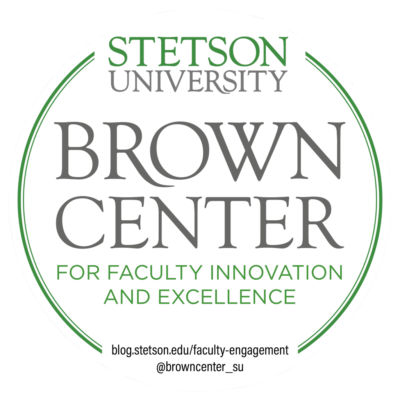 Among those initiatives was the Brown Center for Faculty Innovation and Excellence, which came into being in 2014, thanks to generous donations by university Trustees Hyatt and Cici Brown. Today, the directives for the center remain two-fold: to ensure active and continuous support of Stetson faculty as lifelong leaders and innovators; and to assert Stetson as a national higher education leader by modeling the university's distinctive character of learning and teacher-scholar role for future.
Institute of Water and Environmental Resilience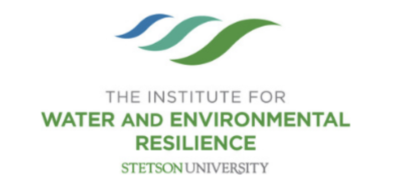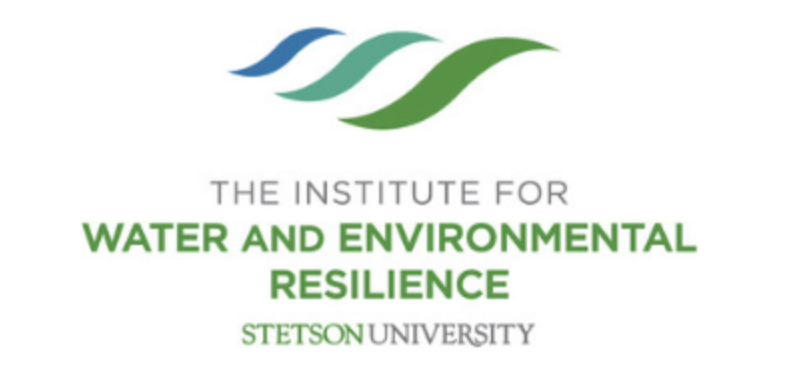 Another top initiative was the Institute for Water and Environmental Resilience, founded in 2015, as a first of its kind at Stetson. The goal was to leverage Stetson's interdisciplinary faculty expertise and engage student learning to inform enhanced stewardship of water and natural resources. IWER was to focus on water and environmental research in order to offer policy options, as well as channel student and faculty research across all university colleges. 
Ultimately, it happened in multiple — actually, millions — of ways. Most recently, IWER was announced as a partner in a $25 million grant from the U.S. Department of Agriculture in support of the "Lake to Lagoon" conservation program in Volusia, Lake and Flagler counties.
Hollis Family Student Success Center
With the opening of the Hollis Family Student Success Center in 2015, students received new resources. Situated in the duPont-Ball Library, initial services encompassed tutoring, academic coaching, and time management and testing skills. Stetson's Student Success Program had launched in 2010, but the Success Center moved the student focus to an entirely greater level with nearly 4,500 square feet of new space. 
These days, the Hollis Family Student Success Center continues to provide a broad range of engaging learning experiences that lead to substantial personal and academic growth. The approach focuses on students' academic, social and financial knowledge needed to become effective global citizens and lifelong learners.
Marshall and Vera Lea Rinker Welcome Center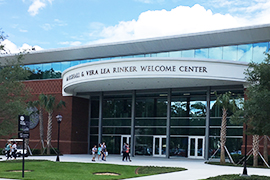 In fall 2016, even more impactful space arrived on campus: the three-story Rinker Welcome Center, measuring 24,000 square feet. The initial purpose was to provide both a friendly first impression on campus and a functional one-stop setting for many essential student services.
Those goals were handily exceeded, with the center becoming an instant icon as well as an emblem of Stetson green — winning awards for environmental sustainability.
Sandra Stetson Aquatic Center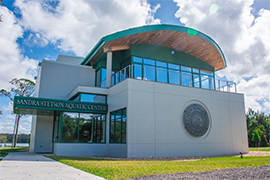 In much the same way, the Sandra Stetson Aquatic Center held its ribbon-cutting in 2019 and quickly emerged as a beacon of an expanding Stetson. On 10 acres along scenic and historic Lake Beresford, seven miles from the campus, the center launched a new era for Stetson's intercollegiate rowing program. In 2013, Stetson joined the Metro Atlantic Athletic Conference. On the first floor of the Aquatic Center, there is a storage bay for dozens of crew boats and training equipment. The crew boats can measure up to 58 feet.
Also, the center houses academic field research conducted largely by the Institute of Water and Environmental Resilience, the chief academic tenant.
Making History with Science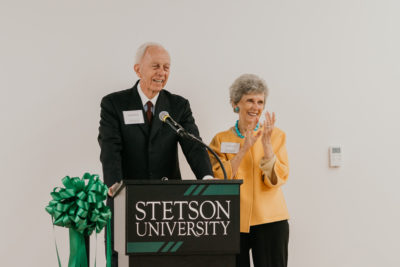 History literally was made in 2018, precisely on April 9, 2018. That's when, once again, Hyatt and Cici Brown stepped forward and announced a $18 million donation to construct a new science building and expand science programs. The Browns called their gift an "investment," one intended to "create spaces and experiences that will allow ideas, learning and interests to converge and evolve into groundbreaking discoveries and innovative pedagogy." 
The results were a 2021 renovation of venerable Sage Hall and the January 2023 opening of the 40,000-square-foot Cici & Hyatt Brown Hall for Health & Innovation. The buildings were connected via internal glass walkways. Further, they have extended the university's reach in the sciences and health sciences, and strengthened interdisciplinary research and study.
Overcoming COVID-19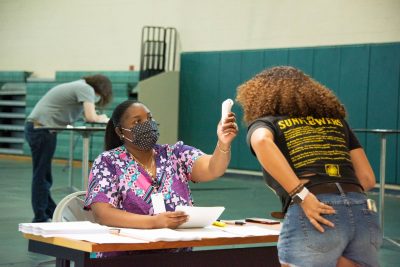 With such innovation in its midst, Stetson, like the world, was dealing with COVID-19 pandemic. Unlike many other entities, the university fared quite well.
As 2021 began, Stetson was busy trying to obtain COVID-19 vaccinations for students, faculty and staff. Nine months later, 70% of the campus community was vaccinated — a significant milestone in the efforts to maintain a healthy campus at a time of crisis. As 2021 drew to a close, face coverings were optional on campus, except in classrooms and based on occupant preference in individual offices and residential spaces. And only a handful of active cases of COVID-19 were reported on campus.
Other Milestones
On Aug. 1, 2014, the policy officially went into effect declaring that Stetson's residential campuses in DeLand and Gulfport were smoke- and tobacco-free.
In 2016, the university's endowment topped $200 million. The endowment at the end of 2022 was $352,639,796.
In May 2017, following lengthy collaborative groundwork by students and administrators, Stetson established the Green Fund, with all students paying a $5 fee each semester to fund environmental projects.
In 2020, the Green Fund came to fruition with its first project: the installation of solar panels atop the newly renovated and expanded Carlton Union Building — resulting in energy savings and cost avoidance for the university. 
During fiscal 2022 (ending June 30), the university established a new fundraising record — raising $52.2 million. That total was eclipsed in fiscal 2023 with a total of $65 million. Approximately 75% of the donations are earmarked for student scholarships.
Note: This is the final installment of "Celebrating 140 Years" — with 2023, of course, representing even more history. To view all installments and learn more about the university's anniversary, visit Celebrating 140.
-Michael Candelaria and Stetson University Archives