Warren and Barbara Carr Continue a Legacy and Add Their Names to the Stetson Room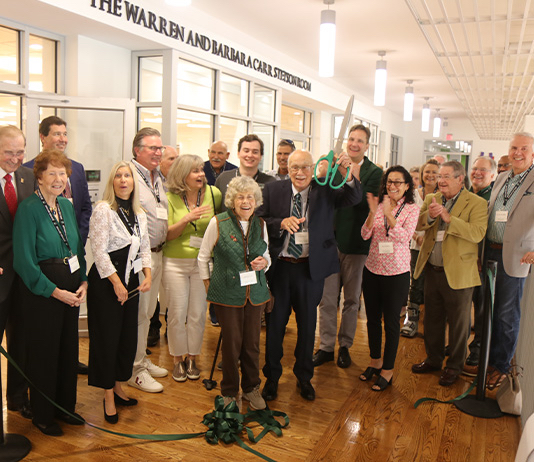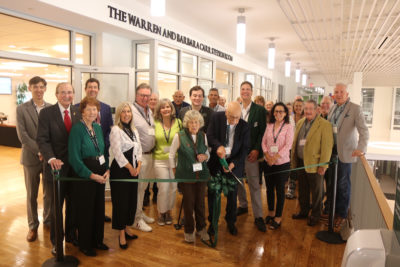 Call this a ribbon-cutting reunion — one that began seven decades ago and has now led to the Stetson Room on campus becoming the Warren and Barbara Carr Stetson Room.
With a shared passion for focusing on their studies while at Stetson, their love of classic cars and a deep bond of Sigma Nu brotherhood, Bill Watson '59 and Warren Carr '59 have a special friendship.
Carr hails from New Jersey and Watson from Jacksonville. Initially living across the hall from each other in the fall of 1955, it wasn't long before the two students struck up a comradeship.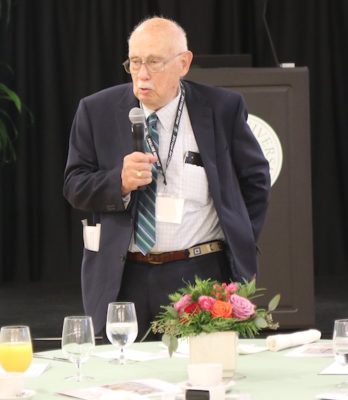 "We were at Stetson to get a good education. And we were told that all the girls liked Sigma Nus. So that was that," Watson said with a chuckle. And, it must have worked, because he found the love of his life, Janelle Willcox Watson '59, at Stetson, and they have been inseparable ever since then.
Watson and Carr each earned a bachelor of science degrees in business. Watson would go on to found Watson Realty Corp. with Janelle in 1965. Carr is still a practicing attorney in New Jersey, and is married to Barbara, a retired nurse, also the love of his life.
"We heard our chances of being successful were better by attending Stetson, so we were here to get a good education," added Watson. "Neither of us like foolishness. We realized after we graduated how much we enjoyed it here."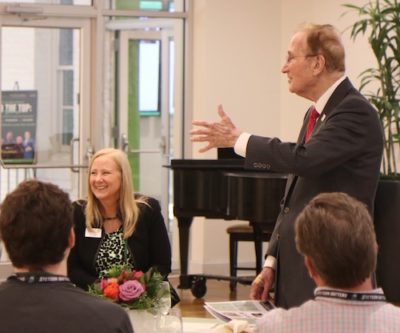 The two were roommates during their sophomore, junior and senior years.
Thanks to this enduring friendship, which started 68 years ago on the Stetson campus, the ribbon-cutting for the Warren and Barbara Carr Stetson Room (located on the third floor of the CUB) on Nov. 4 was no ordinary dedication.
"Sixty-six years later, we now have an official name for this room," stated Beth Maycumber, archivist for Stetson's duPont-Ball Library Archives & Special Collections.
How It Started
"We kept in touch, but Bill really gave me the incentive to give back to Stetson University," Carr explained of his recent charitable gift, standing alongside Barbara.
The result is the Warren and Barbara Carr Stetson Room.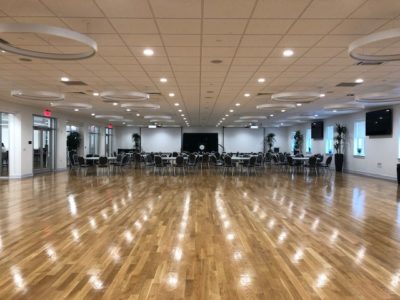 "What's great about this ribbon-cutting today is that this room is an extraordinary space," commented Stetson President Christopher F. Roellke, PhD. "It's used all the time, at all times of day, for so many different events and programs. So much has happened in this space, and we greatly appreciate the Carr's generosity, as well as the friendship and steadfast support that runs deep in this room today."
Outlining the history of what is today called the "CUB," or Carlton Union Building, which opened in 1957 and received a major renovation in 2018, Maycumber noted there was an interesting backstory that almost resulted in no building.
"John B. Stetson had donated several areas of land, but the plot that this building is on was called into question over a misplaced comma in the property deed," Maycumber explained. "It came to light in 1956, after the original building burned down. It was resolved, and now we have a new name for this special room some 66 years after the building was constructed."
Also, Maycumber noted the Stetson Room was actually intended to be a temporary name. She cited the university's Faculty Bulletin (week of Sept. 30, 1957), which referred to a "large banquet room (which has been temporarily named the Stetson Room)."
"I remember that groundbreaking," said Carr.
"That might be me or Frank Ford in that picture at the dedication ceremony," said Watson, as two friends jogged their memories back to May 1956.
Carr was clear about why he and Barbara are giving back to Stetson with this naming gift.
"This is my way to say, 'Thank you' to Stetson," he said. "The real issue is growing up and learning. And we learned at Stetson. It was the beginning of a real education for which I am eternally grateful.
"Professor Roger G. Giles told us investing in real estate was the best way to build wealth. That is I what I did, and this is now my way of saying thank you."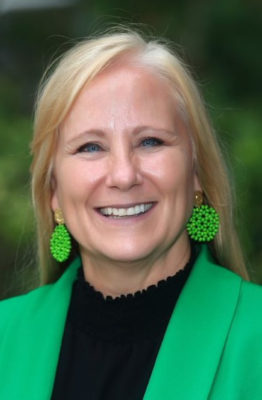 Carr choked back tears as he continued: "It's a real pleasure to look around and see the school that's still here."
"This is a very special place that we all love, and I'm personally so grateful you're all here, to be here with the Carr family," said Rina Tovar-Arroyo, Stetson's chief of staff and senior Development officer. "We are so grateful for everything you have done for our beloved university. This gift is so important and so significant. And the Watson family … you have been our rock for years, for decades, so thank you for everything you've done."
The Reunion
The ribbon-cutting also served as a reunion brunch for some of the brothers of Sigma Nu who graduated from Stetson in the late 1950s and early '60s.
Ross Wager '60 was a business accounting major who remembers attending the last years of football at Stetson before the program went on hiatus.
"I saw those games in 1956, the last before the program stopped at that time," Wager said. "There were a lot of Sigma Nus on the football team then. It's been great to see the football program back! I am really enjoying this time with my fraternity brothers."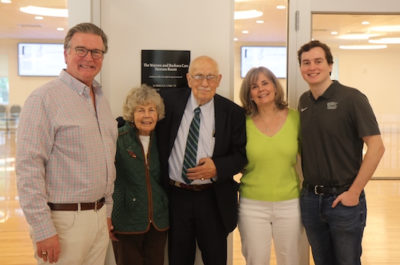 Also in attendance at the reunion brunch and room dedication was current Stetson Sigma Nu member Tommy Ferris.
"The ribbon-cutting showed how relations with the Sigma Nu active chapter and the alumni have strengthened," said Ferris, a junior Business Administration major from Massachusetts. "It also shows how collegiate friendships are long lasting, which is something I knew but never saw before today."
After the ribbon was cut, the celebration of friendship continued in the President's Box at Spec Martin Memorial Stadium for the Nov. 4 football game against Davidson College.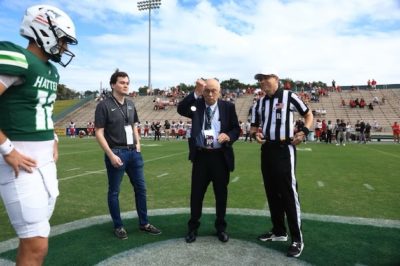 Stetson thanked Carr and his grandson, Philip Nickel '22, by naming them honorary team captains and asking them to flip the ceremonial coin before kickoff (pregame coin flip to determine the game's first possession). Watson, a generous supporter of Stetson Athletics, provided an 1883 uncirculated silver dollar for the coin toss. Stetson Hatters won the toss.
"Our gift to name the Stetson Room is not just about saying 'Thank you' today; it is our way of thanking Stetson for giving me the tools for a successful life," said Carr. "Stetson was my base foundation. I was incredibly well prepared for all that came next in my life: law school, practicing law and investing in real estate. We are so happy to give back to Stetson in this way."
– Trish Wieland