Dispute Resolution Board Wins National Energy Law Competition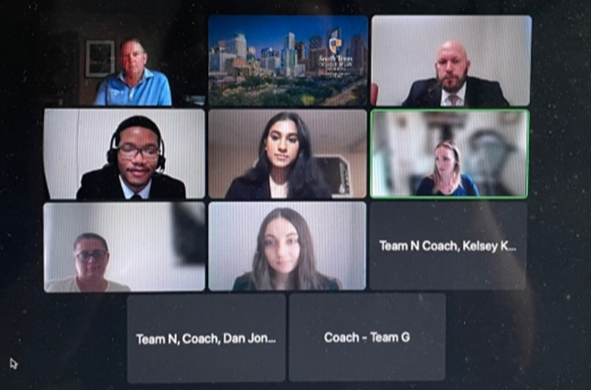 For the first time ever, Stetson Law's Dispute Resolution Board won South Texas University's Energy Law Negotiation Competition. The virtual event took place March 25-26 and featured teams from 18 law schools, including University of Texas, University of North Carolina, and Emory University.
Prior to this year's win, Stetson Law had never before advanced in this competition – let alone won it outright.
Making this victory even more remarkable was the fact that the two competitors from Stetson Law, Andrew Zacherl (3L) and Selina Nadeau (2L), were up against teams from schools that have concentrations in energy law. Nadeau, who has a concentration in environmental law, was competing for the first time.
They went into the final rounds seeded third, having won five of six ballots in the preliminary rounds, and emerged from finals as champions.
Now in its seventh year, the annual Energy Law Negotiation Competition gives participants the opportunity to practice their negotiation skills in a hypothetical setting in Houston, which is often referred to as the energy capital of the United States. The event is judged by oil and gas industry professionals from major law firms and energy companies. In recent years, many of the competition's top-four spots went to schools from Texas, a state known for its oil and gas industry. In 2019, all four schools that placed were in Texas.
Negotiation facts were given to the 18 teams on February 25, which gave them a month to prepare.
Professor Kristen Adams, who is faculty director of Stetson Law's Dispute Resolution Board, said the team's success was "truly historic."
"This was the culmination of Andrew's distinguished work on the DR board, and a truly auspicious beginning for Selina, who was competing for Stetson for the first time," Adams said. "Congratulations, and a special thanks to Coach Bill Greiner."
Learn more about Stetson Law's Dispute Resolution Board.
---
Post date: March 28

Media contact: Kate Bradshaw
[email protected] | 727-430-1580