See Team Ukraine's Message to International Environmental Moot Competition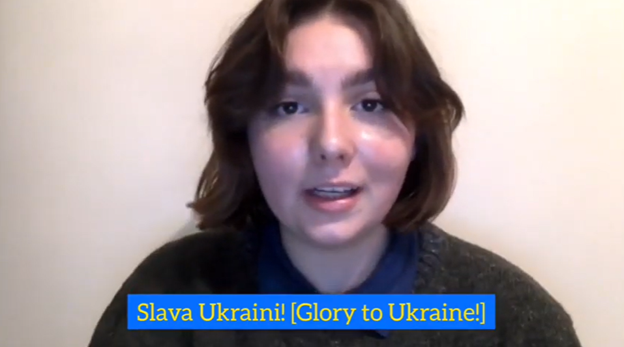 Prior to February of 2022, five Ukrainian women planned to attend Stetson Law's International Environmental Moot Court Competition (IEMCC) finals on behalf of National University Kyiv-Mohyla Academy. The team was planning to join others from Mexico, Northern Ireland, Korea, Singapore, and beyond for the event's 26th edition.
That changed when Russian forces invaded Ukraine.
Ahead of the event, which takes place April 7-9, the team sent a powerful message to participants via a video posted on YouTube. They said that prior to late February, they had been looking forward to competing.
"Unfortunately, it's no longer possible due to the aggression of the Russian Federation against our country, Ukraine," said Maria Stolbova, the team's coach.
The team members said they are all safe, but deeply concerned about their fellow Ukrainians.
This year's theme, Protected Areas & Armed Conflict, was chosen months before Russian President Vladimir Putin began his most recent attack on Ukraine. Teams have been competing over a legal battle between two fictional countries with environmental implications since fall of 2021.
The would-be competitors from Ukraine said they know the environmental hazards of a large-scale attack. Donbas, a heavily industrialized coal-mining region on the country's east end partly controlled by pro-Russian separatists, has been a site of conflict since 2014. As a result, the air and water there have degraded dramatically as abandoned industrial sites degrade and artillery causes critical damage to water infrastructure. The Chernobyl nuclear plant has also been the source of fears over the war's potential environmental consequences.
"Russia's attack on Ukraine is also an attack on the environment," Strolbova said.
The team asked for this year's IEMCC participants to do what they can to support Ukraine.
"These days, Ukraine employs all the methods possible to stop the war and protect its citizens," team advisor Katryna Skichko said. "The support of the international community is especially important for us in this regard. We ask you, the students from all over the world, legal and environmental scholars and practitioners, to support Ukraine."
They implored viewers to spread information about the war in Ukraine, participate in meetings, and support humanitarian and volunteer initiatives helping Ukrainian army, civilians, and asylum seekers.
"So, we want you to defend your position as Ukraine: courageously, clearly, and confidently," team member Valentyna Danyliuk said.
The IEMCC kicks off Thursday, April 7 with this academic year's final installment of the Edward and Bonnie Foreman Biodiversity Lecture Series during which Dr. Dave Pritchard will discuss the current state of the Ramsar Convention, one of the world's oldest environmental treaties.
See the whole video below or on YouTube.
---
Post date: April 4, 2022

Media contact: Kate Bradshaw
[email protected] | 727-430-1580