Stetson Law Student Paper Honored at GRAMMY Week Event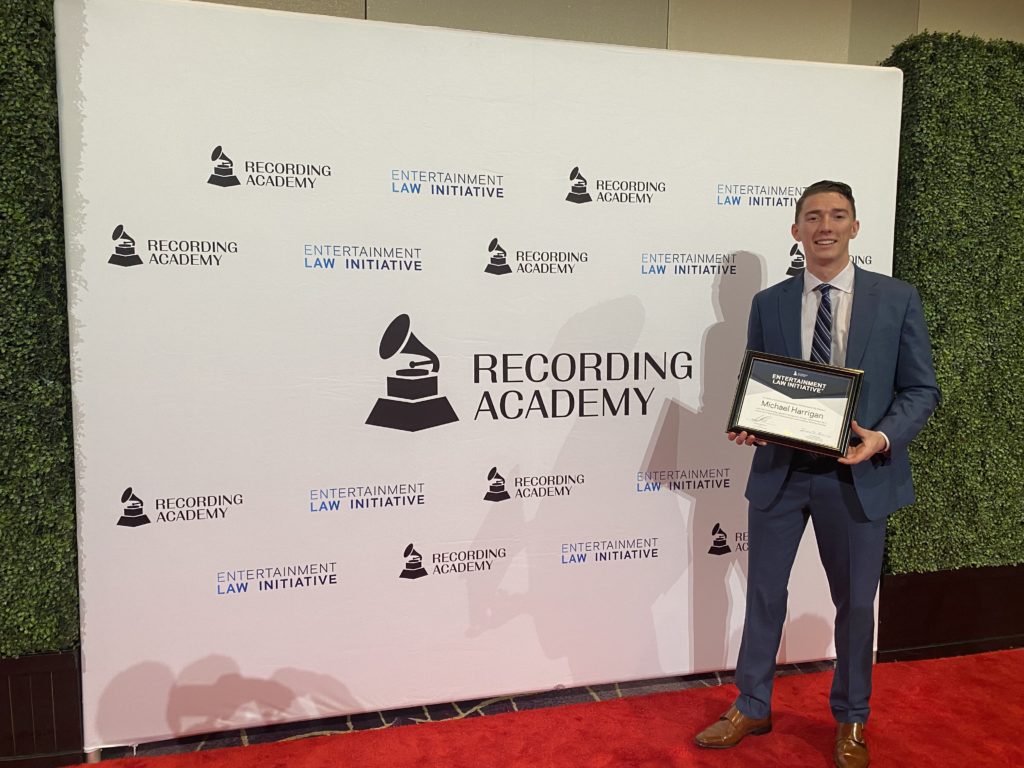 As the Recording Academy showcased recording-industry standouts over GRAMMY Week, a first-year Stetson Law student saw some recognition of his own.
Michael F. Harrigan, '24, was one of two runners-up for a paper he submitted to the American Bar Association's Entertainment Law Initiative Writing Contest, a competition held in the lead-up to the week's events and sponsored by The Recording Academy. Over the weekend, Harrigan flew to Las Vegas to attend the Entertainment Law Initiative (ELI) event during which he was recognized.
As part of the GRAMMY Week festivities, an event was held Saturday night honoring the contest's winners. What makes Harrigan's win particularly notable is that winning essays are typically written by 2Ls, 3Ls, or LL.M. students. As a first-year student, he said he did not set his expectations for winning very high.
As it turns out, he identified a compelling topic around which he crafted a well-researched and written paper.
The topic? The impact that NFTs (non-fungible tokens) and related technology may have on copyright law. Harrigan's paper is titled "Beyond a Reasonable Doubt: How Blockchain Technology Can Shift the DMCA's Burden of Notification Away From Copyright Owners."
"When I began looking for a topic, it became clear that there was a growing buzz around artists experimenting with NFTs, cryptocurrency, and similar technology," Harrigan said.
"The common theme among these artists was that they were all looking to gain more control over the rights and royalties associated with their work. So, this inspired me to write about just one way the current law could adapt to these emerging technologies."
Open to J.D. and LL.M. candidates in the U.S., the contest was judged by a national panel of music lawyers. The timely subject matter combines multiple interests for Harrigan, who is co-founder and vice president of the Stetson Blockchain & Law Society.
"I have always been passionate about Music and Entertainment," he said. "Over the past year, I have slowly realized the implications modern technology is going to have on artists and their rights. I think a lot of law students and lawyers alike will be surprised how emerging technologies, like blockchain and NFTs, will have an impact on their area of practice in the future."
Now in its 24th year, the competition invites students to identify a pressing challenge within the realm of entertainment law and outline a solution in a 3,000-word essay. Prizes ranged from scholarships ($10,000 for the grand prize winner; $2,500 for the runners up), event invitations and mentorship opportunities.
---
Post date: April 6

Media contact: Kate Bradshaw
[email protected] | 727-430-1580