Mullins, Morrissey & Davis Earn Faculty Awards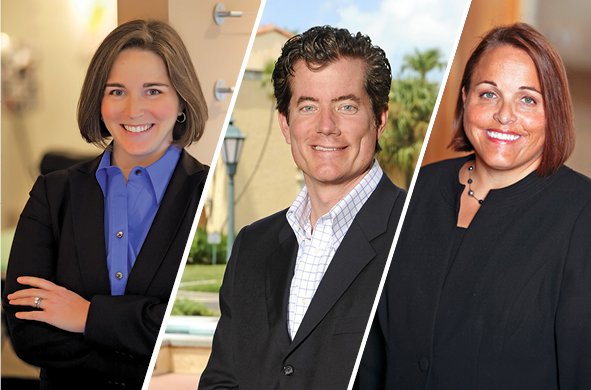 As the 2021-2022 academic year drew to a close, Stetson University College of Law Dean Michèle Alexandre recognized Stetson Law faculty members whose work best reflects the law school's mission. The series of awards honored them for their impact on student achievement and Stetson Law's national reputation.
The Homer & Dolly Hand Award in Faculty Research: Professor Kirsten Davis
Stetson Law alumna Dolly Hand established this award to honor faculty who are dedicated teachers, have recent notable scholarship or creative work achievements in their areas of expertise, and who strive to make a difference within their communities.
Professor Kirsten Davis' work has gone above and beyond those criteria.
In recent years, she has been exploring the role of lawyers as citizens with a special responsibility for justice, a role that every state's ethics rules recognize. Through a lens guided by rhetorical theory, her scholarly, creative, and service work has explored lawyers' professional identity as a rhetorical practice – in particular, the lawyer's ability and obligation to speak as public citizens on matters of public concern, including social justice.
This work includes two scholarly articles, a book chapter, regular posts on LawProf Blog Network Appellate Advocacy Blog, and service that includes participating in the Florida Bar's Special Committee to Review Professionalism in Florida.
The Dickerson-Brown Award in Faculty Scholarship: Professor Anne Mullins
Selected by the Dean with input from the Faculty Scholarship Committee, this award recognizes a faculty member who has published a book in the past two years, or multiple, highly regarded works of scholarship over a two-year period, thereby helping significantly enhance the College of Law's academic reputation.
Professor Anne Mullins, who said she was "thrilled to receive the award," said three projects were critical in helping her earn the recognition. She authored the new textbook Florida Legal Research, which multiple law schools throughout the state have adopted. As part of the Feminist Judgments Project, she reimagined U.S. Supreme Court Justice Clarence Thomas's opinion in Desert Palace, Inc. v. Costa in a way that reached "the same ultimate result but through the application of feminist theory and very different rhetorical techniques." The third project, Unending Conversation, involves working with the Stetson Law Review Forum to "feature essays responding to extant legal writing scholarship."
She said working with students on Unending Conversation has been incredibly rewarding.
"I had the opportunity to work with an exceptional team of Stetson Law Review staffers, led by Liz Kellar, alongside a group of nationally known legal writing scholars," Mullins said. "Every member of the project was incredibly thoughtful, engaged, and hard-working. They really inspired me in my work on the project."
The Excellence in Teaching Award: Professor Joseph Morrissey
This award is given to a full-time professor who has made outstanding contributions in teaching students both inside and outside the classroom – as well as by example. A professor who is part of Stetson Law's business law concentration faculty, Professor Joseph Morrissey was named the 2021-2023 Leroy Highbaugh Research Chair in May of 2021. Under that designation, he is researching and writing a book on surrogacy. He said it's an honor to yet again be recognized for his passion for teaching and mentoring students.
"I'm deeply honored to receive this year's Excellence in Teaching Award," said Morrissey. "For me, working with and mentoring students is the reason I came to academia. It's truly a privilege to be a part of each student's personal and professional development. Moreover it is absolutely energizing to work with our students, who are generally infectiously enthusiastic about the future."
---
Post date: May 13, 2022

Media contact: Kate Bradshaw
[email protected] | 727-430-1580