Honors & Awards ceremony recognizes Spring 2022 grad achievements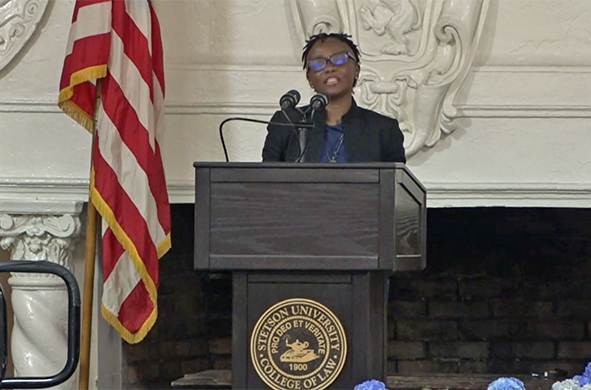 For the first time since 2019, Stetson University College of Law held an in-person ceremony to recognize the graduates who excelled in their academic achievements.
Held in the Great Hall and streamed online on Friday, May 13, the eve of the spring commencement ceremony, the event heralded students who graduated with honors, earned certificates of concentration and joint degrees, participated in advocacy competitions, or worked on one of Stetson Law's academic journals. Over 150 awards were bestowed. Honorees included December 2021 graduates in addition to the spring 2022 graduating class honorees.
"Graduates, being honored today is a defining moment in your legal careers," said Stetson College of Law Dean Michèle Alexandre. "At our Honors and Awards ceremony, we recognize your numerous achievements during law school above and beyond the already very high standards expected of you. Today, we recognize your contributions to this community, and to society at large."
Alexandre urged the honorees to continue going above and beyond what is expected of them as legal professionals in serving their communities – and commended them for helping Stetson Law earn national recognition for trial advocacy, legal writing, and dispute resolution as well as logging thousands of pro bono hours while helping others.
"You have earned this time to celebrate your achievements in law school," she said. "Your law school friends celebrate with you here today, and those at home are rewarded at seeing the years of support that brought you to this moment."
In brief remarks to those gathered, Stetson University President Christopher Roellke, PhD, congratulated the students for persevering despite unprecedented challenges.
"I will give you more remarks tomorrow, but I would be remiss if I didn't tell you the entire Stetson University community is incredibly proud of you," Roellke said. "This has not been easy over the last couple of years, and you have persevered. You were resilient, and you made it. Congratulations."
Next, Dr. Noel Painter, Vice-President and Provost of Stetson University addressed the honorees, noting that the characteristics that helped them earn honors that evening reflect Stetson's values as an institution.
"Today, you are recognized not only because you are aligned with what Stetson is, but because you have excelled at those things that Stetson values: hard work, the highest academic learning, and developing a caring, ethical community," Painter said. "I am proud to be part of a community that celebrates those values, and exceptionally pleased to be here tonight to honor each of you who embody the characteristics that have made Stetson what she is today. Congratulations to each of you."
Law Professor Judith Scully presented the first series of awards, starting with the William F. Blew Pro Bono Service Awards, named for an alumnus and Stetson Law Hall of Fame member.
"All of our students are required to perform 60 hours of pro bono in order to qualify for graduation," Scully said. "These students, however, have gone far beyond the extra mile; and as a group they have selflessly given over 20,000 hours of their time to legal agencies and nonprofit organizations serving low-income communities, the elderly, war veterans and other vulnerable populations."
Law Professor Stephanie Vaughan announced and issued the second half of the awards, starting with the Stetson Law Review awards. Vaughan is chair of Stetson Law's Honors and Awards committee, which identifies students deserving of awards.
The event culminated with the announcement of three major awards: the Walter Mann Award, the Dean's Excellence Award, and the Edward D. Foreman Most Distinguished Student Award.
The Walter Mann award was given to Jessica Lauren Merkel. This award's namesake is perhaps best known for helping organize the College of Law Board of Overseers and serving as its first president.
The recipient of the Dean's Excellence Award was Deja Monét Gordon, who was president of the Black Law Students Association (BLSA) and competed as part of the Trial Team.
Jennifer Lynn Rex was given the Edward D. Foreman Most Distinguished Student Award. This award is meant to honor the "best all-around student" who has shown passion for advocacy and community service. It was established by Bonnie Foreman in her late husband's name. The couple were jointly inducted into the Stetson Law Hall of Fame in 2010. In addition to the award, Rex's name has been cast in bronze and will be secured to the plaque outside the Great Hall, and she was given a $5,000 check.
---
Post date: May 13

Media contact: Kate Bradshaw
[email protected] | 727-430-1580