Spring '22 Graduation Highlights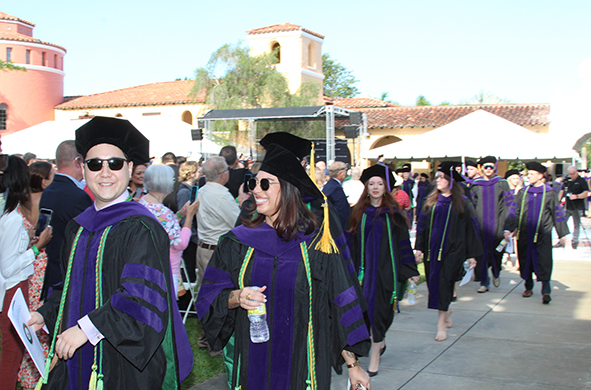 Under bright, sunny skies Saturday morning and afternoon, more than 250 Stetson Law students officially became Stetson Law alumni. Comprising three ceremonies, graduation took place in the Plaza Mayor.
The three ceremonies took place at 8:30 a.m., 10:15 a.m., and 12:00 p.m. Each began with a ceremonial procession featuring bagpipes followed by marshals, graduating students, legacies, faculty, and the platform party.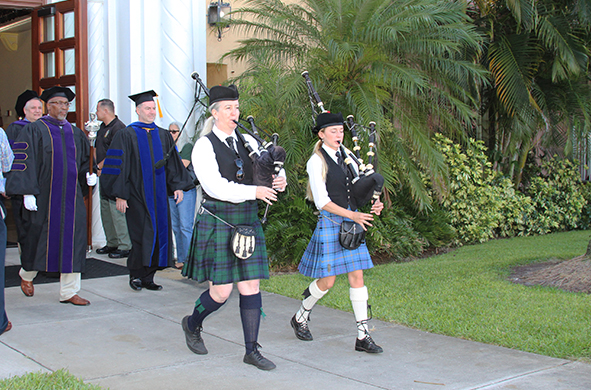 Once all were seated, Stetson University College of Law Dean Michèle Alexandre welcomed the graduates and their loved ones, acknowledge active-duty military and veterans among those gathered, and spoke about the graduates' exceptional resilience and grit, which she said prepares them for meaningful advocacy careers.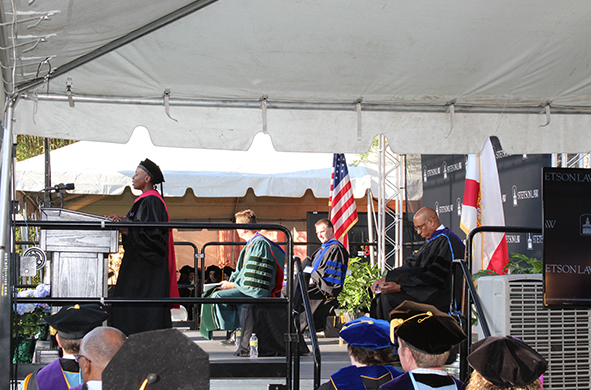 "As I pondered the issues we face today in this increasingly complex world: climate change, global wars, and my conviction has reinforced that you are well prepared to join us in tackling these problems," she said. "That is because you are the embodiment of the qualities that it takes to rise to this moment in our history. You, 2022 graduates, have had to adapt and transcend conditions and a national landscape for which there was no blueprint. You faced it all and excelled."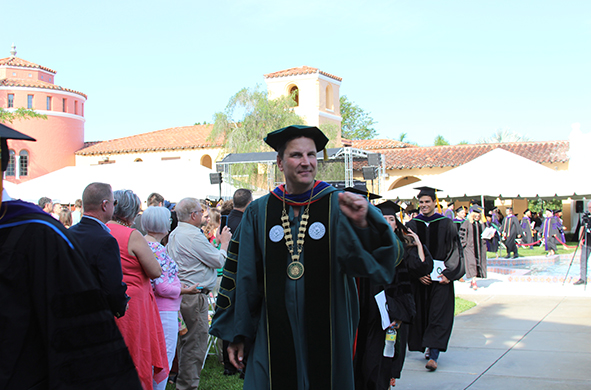 In addition to the rigors of academic life at Stetson Law, the new graduates assembled there faced the unique challenge of attending the bulk of law school amid a global pandemic in a time of political upheaval – something not lost on those who spoke.
"You've made it to the end of a remarkable journey, and I commend you for your resilience, your tenacity and for all that you have accomplished during what I have been calling a 'once-in-a-century set of challenges' for higher education," said Stetson University President Christopher Roellke, PhD. "You made it. You made it through lockdowns, online learning, virtual meetings, lost internet connections, masks, handwashing, and physical distancing. You endured and you made it."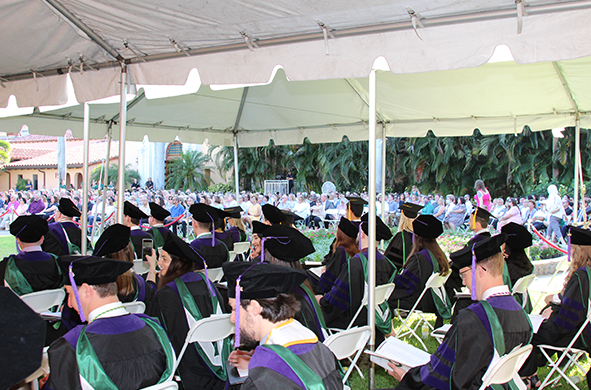 A keynote from the Deputy Secretary of the V.A.
After President Roellke bestowed on him an honorary doctor of laws, Deputy Secretary of the U.S. Department of Veterans Affairs Donald Remy gave a lively commencement address that expressed the gravity of the work the grads will soon be doing as lawyers. But his speech was not without levity.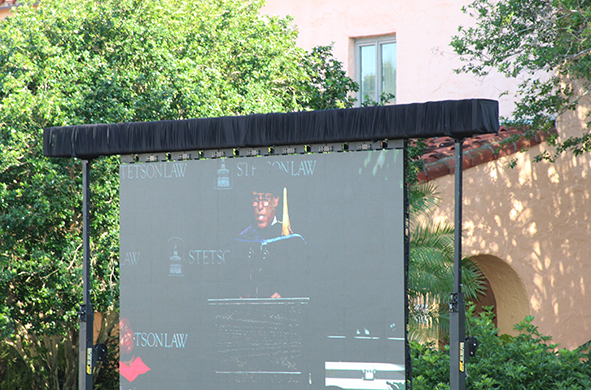 He said his friend and former colleague, Stetson Law Professor Royal Gardner, offered him pointers for giving the address: keep it short, keep it simple, and avoid cliches like telling the students "to be courageous as you go out into the brave new world." It was that last bit of advice, Remy joked, that he couldn't completely follow.
"I'm going to come dangerously close to telling you all 'to be courageous as you go out into the brave new world,'" Remy said. "Because that's part of your responsibility as new lawyers. In accepting this call to become lawyers, to join this profession of law, you have an opportunity, but you also have a responsibility. And that responsibility is to right wrongs. It's to look at challenges both large and small and make a difference. And most importantly, it's to hold our great nation accountable to its promises."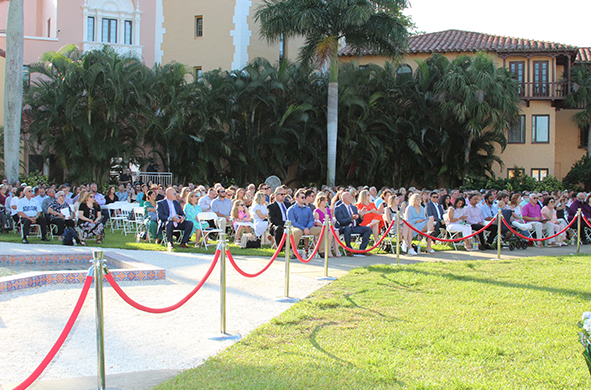 He told the graduates that as lawyers, they help ensure that the words in the U.S. Constitution and Declaration of Independence will never ring hollow – and they will defend the fundamental promises upon which the U.S. was founded.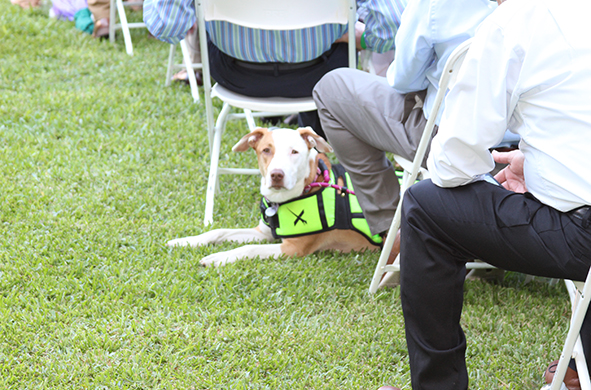 "After three years of law school, you know better than many that democracy isn't destiny," Remy said. "It doesn't just survive on its own. It's on you to preserve and protect it. You know better than anyone that progress doesn't just happen. It's on you to make it happen."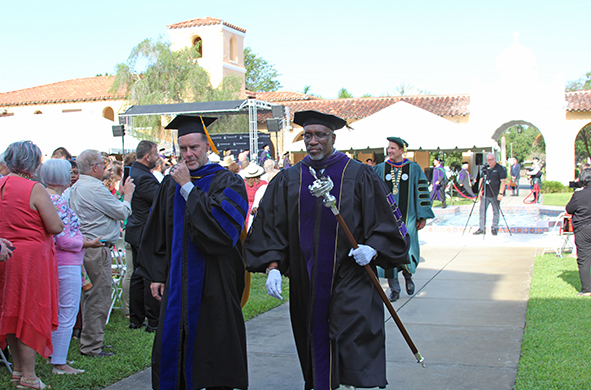 Virtual words of encouragement from key leaders
In short, pre-recorded videos, some of the most prominent Stetson Law community leaders congratulated the graduating classes and encouraged them to advocate for a better world.
Stetson University Board of Trustees Chair Maureen Breakiron-Evans said the graduates join a community of Stetson Law alumni that has spanned a century and urged them to stay connected with the Stetson Law community with which they shared a law school journey in unprecedented times.
"You are graduating at a time of political polarization and fake news," she said. "You've had to navigate through a global pandemic to complete your studies, and that's been challenging for everyone. Your future lies before you as blank pages in a book in which you will write the story of your personal life's journey."
Mitchell Schlermer, current president of the Stetson Lawyers Alumni Association, told the new alumni that this is a monumental moment for their careers and that he looks forward to having them join the ranks of Stetson Law alumni and lawyers.
"Enjoy the moment," he said. "Enjoy bar study, as hard as it might be, because soon you'll have a lifetime of law practice to look forward to."
Tala El-Ghali, who served as Student Bar Association president in her 3L year, encouraged her fellow grads to use their hard-won advocacy skills to fight for a better world.
"Whether you make $40k or $400k, we as attorneys will carry substantial power and influence within our communities, and I encourage you all to make good-faith efforts to exercise this power in impactful ways both inside and outside of the legal profession," she said.
Graduating Classes – By the Numbers
December 2021 Graduates
Total: 33
J.D.: 27
LL.M. in Advocacy: 1
LL.M. in Elder Law: 2
LL.M. in International Law: 1
M.Jur. in Healthcare Compliance: 2
May/August 2022 Intended Graduates
Total: 262
J.D.: 245
LL.M. in Advocacy: 2
LL.M. in Elder Law: 6
LL.M. in International Law: 3
M.Jur. in Aging Law & Policy: 4
M.Jur. in Healthcare Compliance: 2
---
Post date: May 14

Media contact: Kate Bradshaw
[email protected] | 727-430-1580