Stetson Law Community Reflects on Legacy of Theresa Jean-Pierre Coy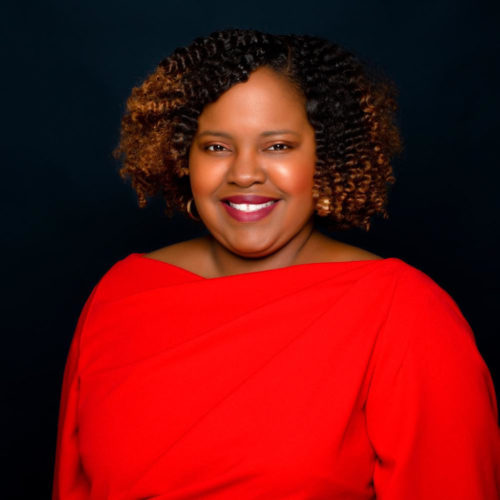 An outpouring of loving tributes and fond memories from the Stetson Law community follows the loss of alumna, adjunct professor, mentor, and all-around powerful presence, Theresa Jean-Pierre Coy. Students and colleagues reflected on her humor, her passion, and her willingness to help students be the best advocates they can be.
Jean-Pierre Coy graduated from Stetson Law in 2004. While on campus, she was active with Stetson's Black Law Students Association (BLSA). After graduating, she returned to campus as a mentor and as an adjunct professor and became known for being generous with her time in helping students.
"Theresa was a friend, mentor, and professor to so many of us within the Stetson Law community and beyond. She is the epitome of what it means to empower and serve, both through her legal expertise and her passion for the 'Beloved Community' that Dr. King asked us all to behold," said alumna Carmen Johnson, who is now Stetson University's Executive Officer for Diversity, Collaboration, and Inclusion.
Ambition, advocacy, & empowerment
In her 18 years as a legal professional, she quickly rose through the ranks to become a high-profile advocate. She worked for the Pinellas-Pasco Public Defender's Office upon earning her J.D. before launching her own practice. In January of 2022, she was hired by the Hillsborough County State Attorney's Office to lead the office's Conviction Review Unit.
No matter her role, she always came back to Stetson Law to help students navigate law school – especially Black female law students, a historically underrepresented group within the legal profession.
"Theresa not only taught us about the essence of being a lawyer, but also how to get a seat at the table and promote diversity within the profession," Johnson said. "Even as she accomplished so many impactful things throughout her life, she constantly checked in to encourage and empower others."
Stetson Law alumna Valeria Obi said she first met Jean-Pierre Coy as a 1L. Well into her career, Jean-Pierre Coy had returned to campus to mentor students. After graduation, Obi said, the two developed a good friendship.
"Our connection came full circle when I was fortunate enough to become her vice president for the George Edgecomb Bar Association (GEBA)," Obi said. "Through GEBA, our relationship grew, and I quickly realized how her humorous personality, insightful words of wisdom, and keen knowledge of the law impacted everyone she interacted with, including myself. The legal profession really lost a beautiful soul and I'm so happy that I was able to know her."
An adjunct who inspired
As an adjunct professor at Stetson Law, Jean-Pierre Coy sought to inspire students to be the best advocates they could be. 3L Deja Gordon, who is the current BLSA president, said she was a "phenomenal mentor" and a "stellar trial advocacy professor."
"As a professor, she demanded that we bring our best to class," she said. "She was passionate about advocacy and every day that she showed up to teach us, she brought all of her life experience and passion with her."
Gordon added that Jean-Pierre Coy, not only showed up for students, but put in the extra mile when asked. As a 1L, Gordon said she asked her to meet for guidance on her law school journey, a conversation Jean-Pierre Coy ended by telling her "I am here for anything you need."
"As a 3L, I can truly say that through this journey, she kept that promise," Gordon said. "She was there for everyone. With each text, each phone call, and each Zoom meeting, Theresa was always there. Losing Theresa is a devastating blow to us all, but her legacy will live on through every person that she touched."
A shining light
Stetson College of Law Dean Michèle Alexandre said Jean-Pierre Coy exemplified the Stetson Law community at its best: driven to succeed, passionate for advocacy, engaged in the community, and determined to help others succeed.
"Theresa's light shone brightly and inspired us all. We are incredibly fortunate to have had such an exceptional person remain a consistent presence in this community," Alexandre said. "Stetson Law is a better place because of Theresa, and we will deeply miss her."
Just weeks prior to her passing, Jean-Pierre Coy delivered a virtual keynote address to students as part of the Office of Professional and Career Development's annual Campus to Career programming. Sharing a screen with her husband, Travis Coy, a Stetson Law alumnus with whom she had a son named Thaddeus, Jean-Pierre Coy urged 1L and 2L students to keep going, and to always take a moment to breathe.
"Her work and enthusiasm for service will continue to live on as we pass on her example to the next generation of lawyers and advocates," Johnson said.
---
Post date: May 18, 2022

Media contact: Kate Bradshaw
[email protected] | 727-430-1580