Stetson Law Student Wins 2022 "LawHER" Scholarship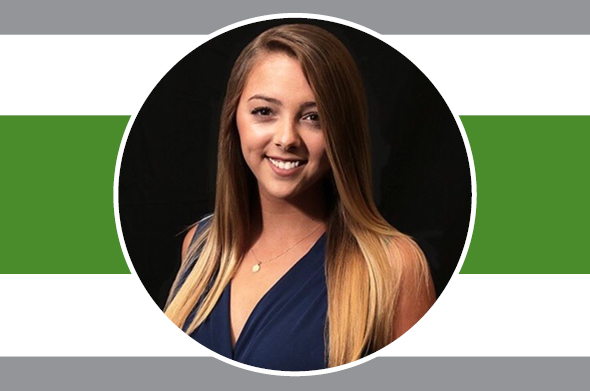 From an applicant pool featuring numerous contenders, Buffalo, New York-based firm Milestone chose Stetson Law 3L Savannah Green as the recipient of its 2022 Trial LawHER Scholarship, an award of $10,000.
Milestone holds the annual competition to empower women who aspire to be plaintiff trial lawyers while increasing awareness in the area of settlement planning. The competition attracts applications from female law students across the country. The application process includes an essay and a video portion – and to those who reviewed the applications, Green's submission dramatically stood out.
"Savannah's grasp on the scope and magnitude of settlement planning truly stood out among the applications we received," said Amy Fogle, CEO of Milestone and member of the scholarship selection committee. "It's encouraging to see the next generation of trial lawyers embracing this crucial step in the civil justice process."
An active presence on campus
Green, who is originally from Pensacola, is incredibly involved on campus at Stetson Law. She is president of the Florida Association of Women Lawyers at Stetson (FAWLS) and serves as editor of the Stetson Journal of Advocacy and the Law. In the classroom, she stands out as a student who is quick to grasp the principles that will form the foundation of her practice.
Green was in Law Professor Elizabeth Boals' Evidence class last fall and is currently in Boals' Evidentiary Foundations class. Boals said she excels in her understanding of her chosen area of study.
"Savannah is an excellent advocate who has demonstrated her mastery of procedural and substantive law in class after class," Boals said. "She is poised, organized and passionate in her courtroom advocacy – so it's no wonder she stood out among a national pool of applicants."
Passion & diligence pays off
Over the summer, Green said she spent extensive time learning about the settlement process of civil litigation. She was able to use that experience and research in her scholarship essay and accompanying video. Her submission featured elements at the core of the award's purpose: well-focused research and a demonstration of passion behind the subject at hand.
"I am incredibly honored and grateful to have been chosen for the 2022 Milestone Trial LawHER Scholarship," said Green. "I am proud to play a role in promoting education around female empowerment in the legal field and the importance of settlement planning in the civil justice system, especially as an eager future plaintiff's attorney."
After she graduates in spring, Green plans to work at Pensacola-based firm Aylstock, Witkin, Kreis, & Overholtz, where she has already accepted a position. She said she is thankful for the recognition Milestone has given her and excited to be part of an effort to empower women in the legal profession.
---
Post date: Sept. 21, 2022

Media contact: Kate Bradshaw
[email protected] | 727-430-1580