Highlights From Stetson Law's Immersive Fall '23 Orientation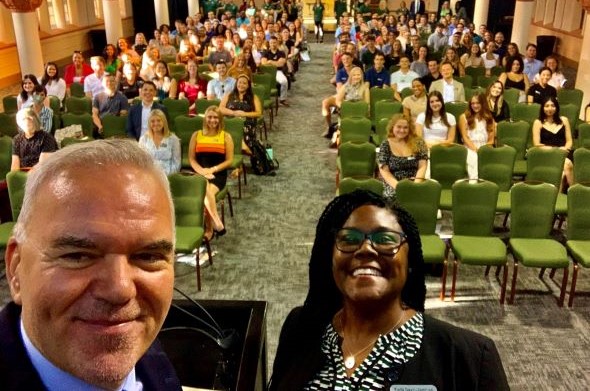 Reflecting a focus on professional development as well as the sense of community on campus, Stetson Law's brand new orientation format introduced Fall 2023 1Ls to life in law school and beyond.
The dynamic, four-day program invited students to immerse themselves in the fundamentals of both law school and the legal profession itself in preparation for the first day of classes. With smaller groups, interactive sessions, and opportunities to interact with professors, key staff members, and classmates, the new format offered incoming students a holistic experience to equip them for the rigors of law school.
"We really wanted to show incoming students that, while law school is very challenging, there is an entire community here that is committed to helping them succeed – and is passionate about doing so," said Associate Dean for Assessment and Professional Engagement Anne Mullins. "This year's Orientation is the result of the very hard work of a large team of people from every campus space, including faculty, staff, and our upper-level students."
The format
Each student was assigned to one of eight Stetson "Inns" consisting of about 40 1L students, 10 upper-level students serving as "Readers," and one faculty member serving as their "Bencher."
The Readers, all members of the Stetson Law Ambassadors, served in a structured mentoring capacity. The Benchers offered leadership, guidance, and support during orientation – and will continue to do so throughout the year. Full-time students arrived on campus each afternoon for refreshments before joining their Inns for a day of compelling programming. In the late afternoon, their part-time counterparts arrived for dinner with their Inns, after which they participated in programming designed with the part-time experience in mind.
Before Day One
Students got to experience the legal profession before even coming to campus.
They completed the Lawyering Fundamentals course online. Associate Professor of Law and Director of Academic Success and Bar Prep Alicia Jackson suggested the BarBri-designed course; Professor Brooke Bowman served as the on-campus professor. The interactive course gave students over 40 hours of experience reading and briefing cases as well as other work they can expect to do in law school and beyond. Assistant Professor Grant Christensen, who meets individually with each of his Civil Procedure students before the semester begins, said the course was "the talk of the 1L class."
Day One: Intro to Stetson Law
To kick off their first day of orientation, students toured campus and met key staff members in the Registrar's Office, the cafeteria, Student Affairs, the Office of Diversity, Equity and Inclusion, the Business Office, Accessibility Resources, and other key departments – and were shown the locations of the dean's office as well as those of their fall semester professors.
Then, the Inns were divided into smaller groups called "Tables," and with a dedicated Reader serving as a mentor. The Tables met to talk about what they expect of each other.
The day closed with an hour spent identifying, prioritizing, and reflecting on their values as they enter law school, and visualizing how they plan to live those values in the coming months.
Day 2: Briefing on life as a 1L
Each section met Dean Benjamin Barros, who talked about what to expect of one another as a learning community, especially when encountering controversial topics. Associate Dean Jason Palmer and other professors then spoke about the 1L academic experience, and Bowman debriefed them on Lawyering Fundamentals.
Over dinner, Readers led conversations about timely topics from generative AI and its impact on the profession to popular culture depictions of lawyers and their work.
Day 3: Exploring, bias, resilience, & more
The third day of orientation was an introduction to the core values of the profession.
Students watched an ABA Chair Chat with Sarah Redfield, author of Extending Justice: Strategies to Increase Inclusion and Reduce Bias. It was their first opportunity to explore issues of cultural competence, inclusion, and implicit bias in their role as law students.
They then had an in-depth look at cultural competence with Dean Palmer, explored the philosophy of law with Dr. Tim Kaye, and took part in a conversation about the skills of self-assessment, adaptability, and resilience with alumna Ashley Ward Singleton and Assistant Dean for Career and Professional Development Cathy Martin.
Days 4 & 5: Celebrating a new beginning
Full time students began the day reflecting on what they're nervous about in law school – and many found that they are not alone – before identifying something they're looking forward to doing this semester and making a commitment to follow through and do that thing for themselves.
They also explored ethical and cultural challenges they might face in law school and how to resolve them, had a lesson in networking, and took an oath of professionalism inspired by the oath that Florida lawyers take.
A reception welcoming them and celebrating the students' entry into the profession followed.
Shorter programming on the fifth and final day of orientation included a tour of the Dolly & Homer Hand Law Library and meetings to plan a volunteer service opportunity.
The Fall 2023 semester begins August 21.
---
Post date: Aug. 18

Media contact: Kate Bradshaw
[email protected] | 727-430-1580