"A Force of Nature": Remembering Dick Jacobs '67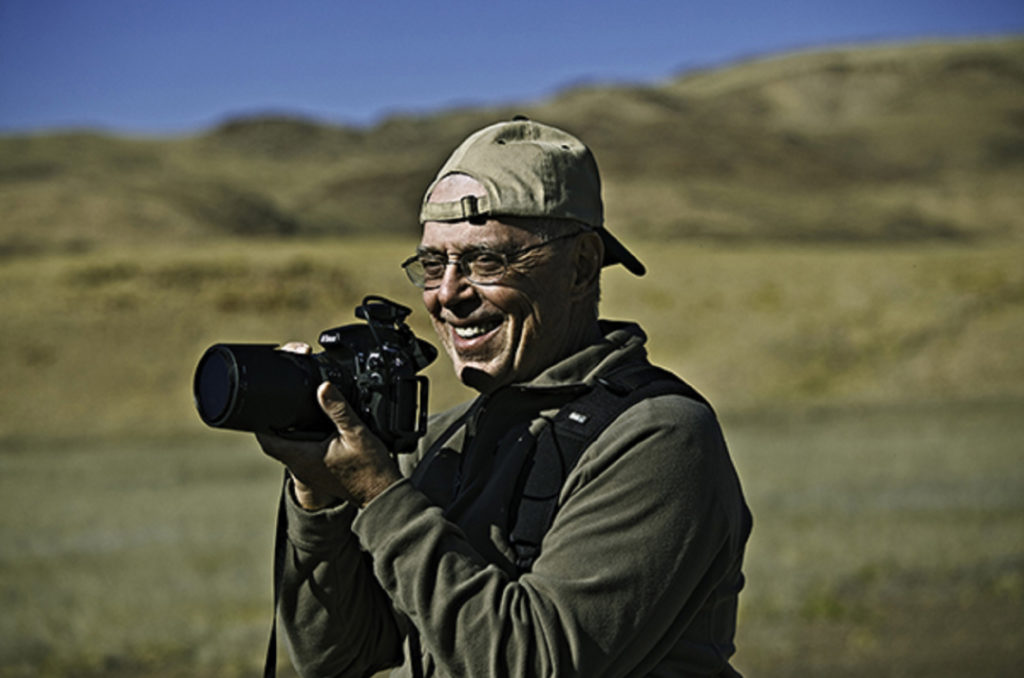 The Stetson Law community mourns the passing of alumnus Richard O. "Dick" Jacobs '67, a champion of the College of Law – and the legal profession itself – whose legacy will not be forgotten.
Driven to succeed and inspire others in his work, Jacobs was generous with his time and support of initiatives that proved transformative at Stetson Law. As a Stetson Law Board of Overseers member, he helped with the land-planning process for the Dolly & Homer Hand Law Library.
"Dick was truly exceptional. He cared deeply about our country and the world that we are leaving for future generations," said Law Professor Royal Gardner, who is co-director of the Institute for Biodiversity Law and Policy. "His drive, enthusiasm, and energy to fight for democracy and the environment – into his nineties – was inspiring."
A member of the Stetson Law Hall of Fame, Jacobs and his wife, Joan Jacobs, worked with Professor Lance Long and others to expand opportunities for Stetson Law students interested in environmental law, including the Dick and Joan Jacobs' Environmental Law Externship Fund. In 2022, he helped establish the Dick and Joan Jacobs Public Interest Law Clinic for Democracy and the Environment.
"Many of our students are here because they want to make a difference. It's a noble but often challenging path," said Law Professor Lance Long. "Through helping create opportunities for students to use their legal education to work for a better future, Dick has inspired them to put their passion to work within organizations that advocate on critical environmental and social causes. The future is brighter because of Dick and Joan Jacobs."
An early love of nature and adventure
Born in Wisconsin in 1931, Jacobs' upbringing was filled with adventure, conquering adversity, and seeing dreams come true.
When he was eight years old, his mother hung a sign from his neck and put him on a train alone to visit his grandfather in Montana, where he encountered the Blackfoot tribe and fished in the Yellowstone River.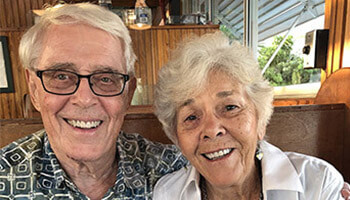 Jacobs attended the University of Wisconsin, earning a Bachelor of Business Administration in January 1954, graduating Phi Beta Kappa. While a student manager of the snack bar at the university, the Rathskeller, he met his wife-to-be, Joanie Swanson. The two were together ever since and married for 70 years. Dick says she raised not only their two children, but him as well – and credits her with helping him realize his dream of going to law school.
After graduation, Jacobs joined the military before building a highly successful career in the life insurance industry. Despite much success and recognition, law school called.
Coming to Stetson Law
Though he was 33, married with two children, and paying a mortgage, Joan insisted he pursue his dream of becoming a lawyer. He enrolled at Stetson Law – and graduated magna cum laude in 1967, the first in his class, and earning the top score on the Florida Bar Exam.
Jacobs' early legal career leveraged his insurance business acumen. He worked with Florida Governor Lawton Chiles, then a young lawyer and a member of the Florida Legislature, on a law allowing professionals to incorporate and have retirement plans, which the IRS did not permit at to the time. Dick's early legal career was as a tax attorney, specializing in organizing professionals' corporations and retirement plans. He co-founded a law firm that grew to about 100 lawyers, with offices in Tampa, St. Pete and Clearwater, and a satellite office in London. He was Chair of the Tax Section of The Florida Bar.
Facing setbacks, sharing lessons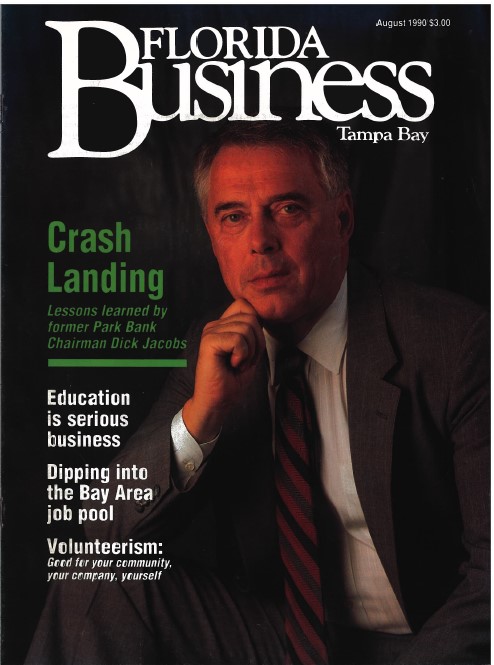 In the late 1970s, he joined with clients to form Park Bank of Florida. It went public and quickly grew to comprise eight offices and hundreds of employees. When it began to flounder, Dick took a leave of absence from his law firm to help save the bank – but to no avail. In 1986, the bank failed.
Though a crushing blow to him professionally and personally, Jacobs came to see the period as the biggest learning experience of his life, one that made him a stronger lawyer – so much so that it inspired his book Crash Landing: How to Survive a Business Crisis. From the ashes of the experience rose a new passion for life outside the office. At 55 years old, he had a chance to reinvent himself through channeling his energy into passion projects such as venture travel and environmental conservation efforts.
"Wet hands, dirty feet"
His travels began with a trek through the Serengeti with Joan. They carried their own backpacks and slept in tents – a rustic departure from the luxe trappings of travel during his big-law days.
Jacobs would later refer to these adventures as "dirty hands, wet feet" experiences offering profound insights into how other populations live. After trekking all seven continents, he developed a deep appreciation for and understanding of our connectivity with – and responsibility to care for – the Earth.
His 2015 book Wonderlust featured his photography and lessons learned from crisscrossing the globe. He gifted proceeds from the project to charity. He closed Wonderlust with a challenge: that we take responsibility for the wellbeing of the Earth and each other. It led him to call Our Children's Trust, a public interest law firm that provides legal services helping youth secure legal rights to a sustainable future. He was instrumental in that organization's 2018 lawsuit on behalf of eight youth plaintiffs arguing the state of Florida is violating their constitutional rights to a healthy environment.
Reconnecting with his alma mater
Through his work on that suit, he began collaborating with Stetson Law Professor Lance Long on a number of meaningful initiatives aimed at inspiring pursuit of careers in environmental law. In 2016, he and Joan created the Dick and Joan Jacobs' Environmental Law Externship Fund to provide financial assistance for students enrolled in the Environmental Law concentration to pursue experiential opportunities – the dirty hands, wet feet experiences he deemed essential for good lawyering.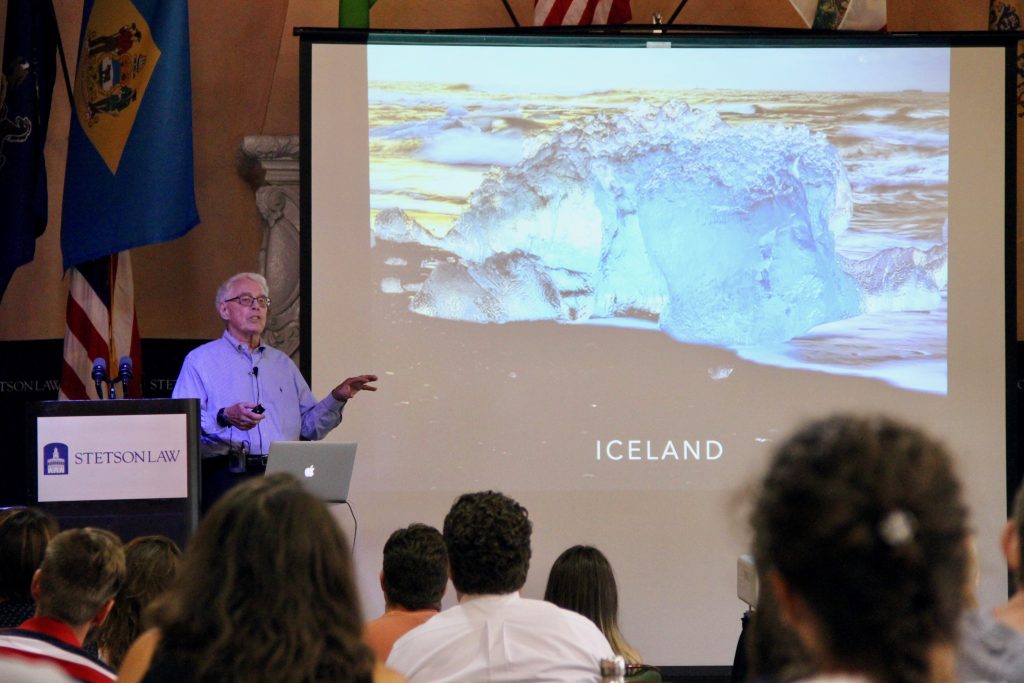 In 2020, Jacobs helped launch The Stetson Environmental Tax Policy Writing Competition: Tax Policy Solutions to Address Sea Level Rise. He believed Stetson Law students could develop innovative tax law policies to fund solutions for sea-level rise – a pressing issue for Florida.
Back into practice
Amid his travel and philanthropy, Jacobs returned to practicing law with Holland & Knight in St. Petersburg, then Trenam Kemker, focusing on health care law. He was editor and prime author of Health Care Law – Mergers and Acquisitions of Physician Practices, a 1,000-page treatise that was core to his new practice. He was named to Best Lawyers in America, as well as a Florida Super Lawyer, in health care law.
In 2011, Jacobs went Of Counsel at Trenam Kemker at the age of 80 before retiring in 2013. At the retirement ceremony, Dick's son dubbed him a "doer if I ever saw one" who "redefined the word 'Now.'" Characteristically, Dick's retirement lasted only two years. In 2015, he reunited with several attorneys from his original firm at Johnson Pope Bokor Ruppel & Burns, LLP, where he remained on staff for several years as Senior Counsel.
Dick's third book, Democracy of Dollars, was released in 2020. That same year, Jacobs was inducted into the Stetson Law Hall of Fame.
An enduring vision
His vision for Stetson Law endures with the Dick and Joan Jacobs Clinic for Democracy and the Environment, which gives students opportunities to work on environmental policy and other valuable hands-on experiences.
"The kids have got to become the difference makers," Dick said of the initiative at the time of its launching. "We just can't keep repeating the past. That's why you go to law school – to be a difference maker."
Those who have worked with him say his legacy will live on through the students whose work he inspired and supported.
"Dick was a force of nature. From his 'dirty hands, wet feet' philosophy, to the sense of urgency he brought to all his projects, aspiring lawyers should seek inspiration from his life and deeds," said Law Professor Jaclyn Lopez. "Dick created opportunities for Stetson's students to channel their passion into meaningful work and through the creation of the Jacobs Law Clinic, helped ensure that the important work of environmental conservation and the preservation of democracy itself – will endure. We mourn his loss and share our deepest sympathies with his family and close friends, but are energized by and committed to honoring his legacy."
---
Post date: Sept. 21

Media contact: Kate Bradshaw
[email protected] | 727-430-1580