Stetson student at Oscars tops news coverage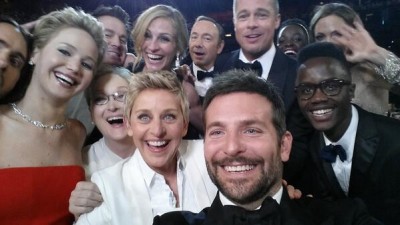 Peter Nyongo's, '17, priceless Spring Break memento (left) includes a selfie with A-list celebrities at the Academy Awards and a respectable list of media mentions. For Stetson, notable national and international media placements for this week include US Weekly, E! Online, Associated Press, The Daily Mail, The Daily Telegraph, New Zealand Herald, Seattle Times, Washington Business Journal, WESH, WKMG, Inside Higher Ed and CBS Atlanta. Top stories for the week of Feb. 28-Mar. 6, 2014, include:
Stetson made national and international news when first-year student Peter Nyong'o attended the Academy Awards in Hollywood with his sister, actress Lupita Nyong'o. Lupita won the Oscar for Best Actress in a Supporting Role for her work in "12 Years a Slave," and in her acceptance speech thanked her brother (who she calls Junior and her best friend). During the event, host Ellen DeGeneres went into the audience to take a selfie with A-list celebrities and Peter is prominent in that photo, standing next to actor Bradley Cooper. The photo went viral when DeGeneres tweeted it from the event. It is the most-retweeted photo ever posted to Twitter (nearly 3.3 million to date) and crashed the social site momentarily. Coverage includes: The Daily Mail (UK), New Zealand Herald, US Weekly, E! Online, Orlando Sentinel, Seattle Times, WKMG, WESH, Daytona Beach News-Journal, The Telegraph (UK), Tampa Bay Times, and dozens of other media outlets.
In a Daytona Beach News-Journal article, Feb. 27, Eric Canny, director of International Learning, says Stetson actively markets the university in other areas of the world and hopes to increase international student attendance to 10-15 percent (up from 5 percent currently).
The Mar. 4 JDJournal reports that Stetson University College of Law's moot court team has been named regional co-champion and will go on to the National Finals of the ABA National Appellate Advocacy Competition.
The Mar. 3 Poynter online references a talk at South by Southwest by Law professor Catherine Cameron and Law alumna Ellyn Angelotti on defamation law in the age of social media.
Law professor Peter Lake is quoted in the Mar. 5 Inside Higher Ed article, "Slap on the Wrist?"
Other Stories in the News
Law professor Rebecca Morgan wrote multiple blog posts for Elder Law Prof Blog including the Mar. 4 "Ann F. Baum Memorial Lecture on Elder Law at Illinois Law," the Mar. 3 "New Factsheets in Financial Exploitation in LTC Facilities, and the Mar. 5 "Surrogate Decision-Making in Hospitals: A Report."
Stetson's Lifelong Learning program will host its first Tech E-Fest Expo at its Center at Celebration campus, according to the Daytona Beach News-Journal, Mar. 2.
Stetson was one of eight universities to conduct an online survey regarding student and faculty use of e-books, according to the Brown University Library News, Feb. 27.
Terri Witek, professor of English, will teach poetry at the Creative Writing Institute at Florida Institute of Technology in March, according to Hometown News, Feb. 28.
The Feb. 28 Targeted News Service ran news of the "Daylong Symposium at Stetson Law Tackles Political Corruption" featuring keynote Harvard Law professor Lawrence Lessig.
The Feb. 28 WMNF News ran a report on the symposium, "Money in politics: legal experts contemplate the four years since Citizens United ruling."
Peter Begalla, adjunct professor of family enterprise, will appear on WOFL's Orlando Matters on Saturday to discuss the growth of small business, according to Orlando Sentinel on Mar. 6.
The Feb. 26 newswire reported in dozens of media outlets that "Stetson hosts best-selling mystery novel author animal rescue advocate David Rosenfelt" in April. The news also ran in AM radio news, CBS Atlanta, KMPH and others.
The Feb. 27 Targeted News Service reports news that "Stetson University Tailors 3+3 Plan to Offer Students Bachelor/JD Degrees in Only Six Years."
The Feb. 28 Water Environment Research reports that "Stetson Hosts Public Lecture on Improving Florida's Water."
Alumni in the News
Grace Kellermeier was recognized for her commitment to education when she was named Volusia County's top teacher for 2015, according to the Orlando Sentinel, Mar. 1. Additional coverage: Sun Sentinel.
Michael Ezzell has been named to lead private capital management business for American Realty Capital Properties and Cole Capital, reported the Staten Island Advance, Mar. 4, and dozens of other local outlets.
Chris Johnson was featured in an Associated Press article Feb. 27 about his role as third baseman for the Atlanta Braves.
Law alumna Diana Hunter was evacuated from the Ukraine during a Peace Corps volunteer trip, according to the March 1 Bay News 9.
The Feb. 28 Tampa Bay Times reports that Law alumna Krista M. Anderson has been named an attorney at Brock Law, Tampa.
Law alumnus Christian Searcy appeared as an expert on the Mar. 2 NewsTalk.
Britt McHenry will join ESPN as a Washington, D.C., based bureau reporter, said Washington Business Journal on Mar. 5. In that position McHenry will serve as correspondent for various news-gathering platforms including SportsCenter, Outside the Lines and sport-specific programs like NFL Live and Baseball Tonight. Additional coverage: BroadwayWorld.com, Futon Critic.