Stetson University Hosts Forum on Amendment 1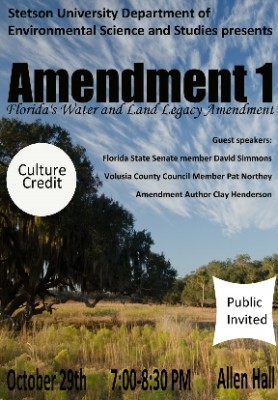 Proposal would dedicate funding to conservation of Florida's water and land resources.
Stetson University will host a community forum on Florida's Water and Land Legacy, also known as Amendment 1, on Oct. 29, 7-8:30 p.m., at Allen Hall, 508 N. Woodland Blvd., DeLand.
Senator David Simmons (R-Altamonte Springs), Volusia County Council Member Pat Northey and environmental lawyer Clay Henderson '77, will be presenting.
Amendment 1 proposes to dedicate one-third of the existing tax on deeds and mortgages (commonly known as doc stamps) to fund water and land conservation programs in Florida. Nearly one million Floridians signed petitions to get the amendment on the Nov. 4 ballot. Last year, the Florida Supreme Court cleared the way for the measure to appear on the ballot.
Simmons, who sponsored the springs protection bill (SB 1576) during the 2014 legislative session, represents Seminole County and southwestern Volusia County.
Northey has been a leader in local conservation efforts including the development of the Coast-to-Coast Connector Trail across Central Florida.
Henderson is one of the authors of the proposed amendment and successfully defended it before the Florida Supreme Court.
The forum is sponsored by Stetson University's Environmental Science and Studies Department and is free and open to the public.