Donald Payne Named to Walter Camp All-America Team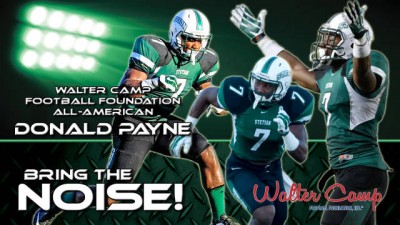 First player in Stetson's history to earn recognition on the Walter Camp Football Foundation All-America team
Stetson University sophomore Donald Payne capped a remarkable 2014 football season by becoming the first player in school history to earn recognition on the Walter Camp Football Foundation All-America team.
The Walter Camp All-America team is considered to be the official All-America team, and has been selected every year since first being awarded in 1892 when the teams were personally selected by then Yale coach. He personally selected the team each year through 1924, prior to his death in March of 1925.
For Payne, selection to the Walter Camp All-America team caps a season in which he was named the Pioneer Football League Defensive Player of the Year. In addition, he finished fifth in voting for the Buck Buchanan Award, which is presented annually to the FCS Defensive Player of the Year by The Sports Network. He was also a Capital One CoSida Academic All-District selection for District 4.
"It is a tremendous honor to be recognized as one of the top players in the nation," Payne said. "People think that, just because we go to a smaller college, our caliber of play goes down, but it doesn't. We work just as hard as everyone else. While this is a great award, my goal is to not get complacent. I want to keep setting higher goals for myself and my team for the future."
During the season, Payne led all NCAA football players with 185 total tackles. His 30-tackle performance in the Hatters' 28-22 victory over Campbell tied the NCAA all-time, all-division record for tackles in a game.
In addition to his tackles, Payne finished the 2014 season with 19 tackles for loss, including 5.5 sacks. He was credited with two forced fumbles and two fumble recoveries, had four interceptions and eight pass breakups to go with six quarterback hurries. In the season opener against Warner Payne got the season off to a good start by scoring on a blocked punt.
Over his two seasons at Stetson, Payne has piled up 298 total tackles and led the PFL in tackles twice.
"Donald is certainly deserving of this prestigious recognition," Hatters head coach Roger Hughes said. "To be named as an All-American puts and exclamation point on his stellar season. The great news for Stetson Football is that he has two more years to play for us."
Walter Camp, "The Father of American football," first selected an All-America team in 1889. Camp – a former Yale University athlete and football coach – is also credited with developing play from scrimmage, set plays, the numerical assessment of goals and tries and the restriction of play to eleven men per side. The Walter Camp Football Foundation – a New Haven-based all-volunteer group – was founded in 1967 to perpetuate the ideals of Camp and to continue the tradition of selecting annually an All-America team.
The Walter Camp Football Foundation is a member of the National College Football Awards Association (NCFAA). The NCFAA was founded in 1997 as a coalition of the major collegiate football awards to protect, preserve and enhance the integrity, influence and prestige of the game's predominant awards. The NCFAA encourages professionalism and the highest standards for the administration of its member awards and the selection of their candidates and recipients. Visit http://waltercamp.us5.list-manage.com/track/click?u=b810683e15b74e3bcc163850e&id=8db20b08e8&e=a9bf00a051.
For more on this story and all Hatter sports, visit GoHatters.com.