SU awarded President's Community Service Honor Roll with Distinction 2014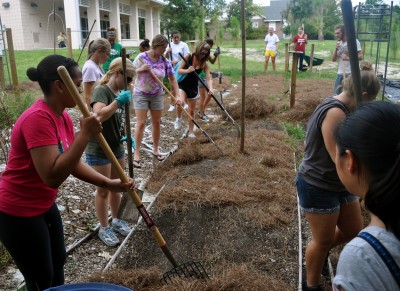 Stetson University is one of only two universities across the country recognized "with distinction" for every category of community engagement by the 2014 President's Higher Education Community Service Honor Roll. These categories, which include Economic Opportunity, Education, Interfaith and General Community Service, are the highest federal recognitions an institution can receive for its commitment to community, service-learning and civic engagement.
"Stetson has a long history of service learning and educating students to be significant, as both leaders and participants in an ever changing world," said Wendy B. Libby, Ph.D., president, Stetson University. "We're honored to receive this prestigious award, and owe much of it to the students themselves. They are the energy driving our commitment."
Approximately 900 institutions from across the country applied for the 2014 President's Higher Education Community Service Honor Roll. Applications are reviewed based on how effectively the institutions work with community members to achieve meaningful, measurable results while placing more students on a lifelong path of civic engagement.
"Our mission at Stetson's Center for Community Engagement is to promote lifelong commitments to social responsibility that create student learning through community impact," said Savannah-Jane Griffin, director of Community Engagement. "This award shows that our students, faculty and staff directly engage in activities that foster all of our values and improve the campus, community and world."
During the 2013-14 academic year, Stetson students, faculty and staff contributed more than 114,000 hours of community service through academic courses and co-curricular programs, and raised more than $55,000 to support local and national non-profit organizations. Several projects highlighted in Stetson's application include:
Partnership with Volusia County Schools: In 2013-14, 190 Stetson students volunteered for over 39,050 hours in local public schools working primarily as tutors, mentors, co-teachers or afterschool program coordinators. Led by the Stetson University Department of Education, these efforts concentrated on local elementary schools with the highest number of at-risk students.
Partnership with The United Way: Stetson students became IRS-certified tax preparers through the United Way's Volunteer Income Tax Assistance (VITA) program, resulting in more than $200,000 of tax refunds for over 200 local, low-income families.
Pro-Bono Service: Stetson College of Law students are required to complete at least 60 hours of legal and non-legal pro-bono work prior to graduation, which resulted in more than 19,000 hours of highly-skilled assistance to legal aid societies, local non-profits and government agencies in 2013-14.
Bonner Program: Stetson's Bonner Program, recognized as one of the premier community engagement programs in the country, provides need-based financial aid packages to more than 60 students in exchange for completion of at least 10 hours of community engagement work each week through a four-year internship with a local non-profit organization – resulting in more than 22,000 hours of work in 2013-14.
"Congratulations to Stetson University, its faculty and students for its commitment to service, both in and out of the classroom," said Wendy Spencer, CEO of the Corporation for National and Community Service, the federal agency which administers the program. "Through this work, institutions of higher education are helping improve their local communities and create a new generation of leaders by challenging students to go beyond the traditional college experience and solve local challenges."
More information about Stetson's Center for Community Engagement can be found here. More information on eligibility and the full list of Honor Roll awardees can be found at nationalservice.gov.