MoveOver. SlowDown. SaveLives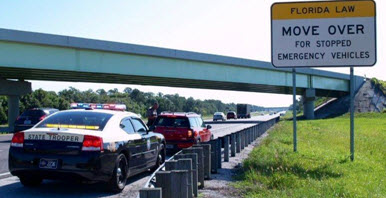 April is National Distracted Driving Awareness month and the perfect opportunity to remind motorists of the many men and women who are at significant risk, working on, or alongside, Florida's roadways. Law enforcement officers still report notable issues with the compliance of Florida's Move Over Law, which requires motorists to move over and/or slow down when passing emergency responder vehicles, including tow trucks and Road Rangers, that have flashing/emergency lights displayed. Last year, the law was expanded to also include sanitation and utility vehicles with flashing lights displayed.
In an initiative led by Central Florida's Community Traffic Safety Teams, multiple agencies from the public and private sector will be working together to promote the Move Over law during the week of April 5 – 11. Message boards will display reminders for motorists along major roadways and law enforcement agencies will be conducting high visibility enforcement. The Central Florida Expressway Authority, Florida's Turnpike, WasteProServices, Waste Management, DBI Services (roadway maintainance company), and numerous law enforcement agencies will be engaged in activities throughout Central Florida and across the state.
In 2014, the United States saw traffic fatalities involving law enforcement increase 33% from the previous year. In 2013, roadway incidents accounted for nearly one out of every four fatal work injuries; representing 22% of all work-related fatalities. There were 145 multiple-fatality incidents, resulting in the loss of 375 workers. Roadway incidents accounted for more than 100 of those. Florida was second in the country (behind Texas) for workers killed in active roadway work zones.
Florida law requires that all motorists:
On a two-lane roadway, are required to slow to a speed that is 20 miles per hour less than the posted speed limit.
Must slow down to 5 miles per hour, if the posted speed limit is 20 miles per hour or less.
Must vacate the lane closest to the emergency vehicle as soon as it is safe to do so, when driving in the same direction on the interstate or other multi-lane roadway. If unable to safely move over, motorists should slow down to a speed of 20 miles per hour below the posted speed limit unless directed otherwise by a law enforcement officer.
Violating the Move Over law puts both the driver and public safety professionals at risk and can result in a fine and points against the driver's license.
Help us share this important safety message. Remember, everyone on the road is someone's mother, father, brother, sister, aunt, uncle, or friend. Let's make sure they all get home safely!
From the Florida Highway Patrol Office
www.CommunityTrafficSafety.org