Spring Break Service in Peru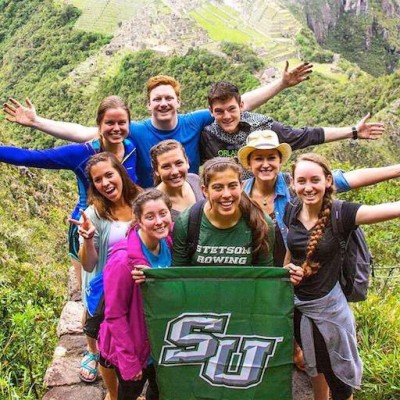 When someone says "spring break" what's the first thing that comes to mind? Wild parties? Vacations on a beach somewhere? To nine Hatters this year's spring break was an alternative to that when they flew down to South America and did service work with children and the elderly in Peru. Eight students and one staff member traveled to the heart of Cusco and worked with a local school where they taught children math and English, built community with elderly Peruvians in a social center, and worked to assist the school in various projects and tasks throughout the week. To view the student-produced video, click here. In the photo, right, the SU flag represents Stetson University, Student Development and Campus Vibrancy, the Center for Community Engagement and WORLD: Rinker Center for International Learning.
In addition to this work, members of the group were also able to immerse themselves in the local culture through attending a soccer game in the city, sampling the various local customary cuisine, and visiting Machu Picchu.
The opportunity to participate in this experience was incredible. The trip explored each of Stetson's three values: 1) Intellectual Development through teaching the students and learning about Peruvian and Quechua culture and history; 2) Personal Growth through the challenges that we overcame emotionally and physically at many points; and 3) Global Citizenship through truly immersing the team into another culture and participating fully and openly in the experience.
This trip was something that started with a conversation between two students and ended with a life-changing adventure, thanks to the partnership and support from Student Development and Campus Vibrancy, the Center for Community Engagement, WORLD: Rinker Center for  International Learning, and President Libby's office.
by Matthew Kurz