Stetson Plans Cutting-Edge Aquatic Center at Lake Beresford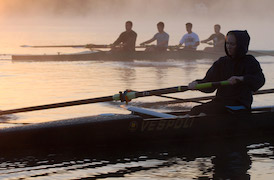 Scullers call it flat water. They prize it for its calm fluidity, and Lake Beresford in DeLand has it for miles. The flat water here rarely ripples unless a rock or oar glides across its surface. University, prep school and international teams travel here to practice and prepare for competition on its deep-green, glassy waters.
Stetson University's 10-acre tract of land at Lake Beresford is also the best place to research and develop innovative technical, social and political solutions to protect freshwater resources and related environmental concerns. Its emphasis is on undergraduate education and community outreach.
Combine the two, and you have the potential for a cross-disciplinary facility that touches sciences, the arts, literature, philosophy, civic engagement, sports and recreation.
That's exactly what the new Sandra Stetson Aquatic Center will do for the university and those living in and visiting Florida.
In short, Sandra Stetson's $6 million gift will build a water research facility and provide a home for the university's women's and men's crew teams.
In addition, a botanical garden of native Florida plants will grace the new, cutting-edge facility.
But the new center will do more than this. It will become a destination for ecotourists as well as a place for public recreation. Even so, the site will be designed for human-powered watercraft on the lake.
Sandra Stetson, a great-granddaughter of Stetson University's namesake, John B. Stetson, has long supported garden, wetland and environmental efforts, most recently through her support of the Naples Botanical Garden that contains plants and flowers from around the world. She has also underwritten a partnership between Stetson and the Naples gardens so that Stetson students can engage with professional botanists, researchers and educators there through summer internships.
Furthermore, some of her family have rowed crew, so she has a real connection to the sport of sculling.
"Sandra is a donor who cares about both things," says Stetson University President Wendy Libby, Ph.D. "Her gift allows us to put recreation and research together under one roof."
Sandra Stetson has suggested that Preston T. Phillips of Bridgehampton, N.Y., the architect who designed both her homes in Naples, Fla., and in Southampton, N.Y., be considered as the project architect. Plans for construction of the Sandra Stetson Aquatic Center are in the earliest stages and no date has been set for groundbreaking, but it is expected that the new facility will open by August 2018.
Libby adds that the gift "strengthens our connection with the family that assured our continuation in the late 1800s."
After all, it was John B. Stetson who contributed his financial support to the institution after founder Henry A. DeLand suffered financial setbacks during a severe freeze in his orange groves.
Sandra Stetson has supported other university efforts including the provision of funds for the duPont-Ball Library on the DeLand campus.
The Sandra Stetson Aquatic Center will also contribute to Central Florida's economic development by attracting high school and college-age rowers from northern locations to train and compete during the winter months.
"I'm excited about the project," says Stetson Crew Coach Mark R. Wilson. "Our rowing teams will finally have a home." He points out that even now Stetson hosts the largest head racing regatta in Florida with more than 1,100 participants and 3,000 spectators.
"We also have 500 visiting athletes from the Northeast, Midwest, Mid-Atlantic and international locations," Wilson says.
"The Aquatic Center will enhance Stetson research at the Institute for Water and Environmental Resilience," says Provost Beth Paul, Ph.D. "The center represents Stetson's core value of being responsible stewards of our natural environment."
Stetson's water institute will remain housed on its DeLand campus while the Sandra Stetson Aquatic Center will serve as its research arm. Particularly, students will take advantage of on-campus science labs and classes while pursuing field study at the Aquatic Center.
"Through the institute and the Sandra Stetson Aquatic Center, Stetson University is poised to emerge as a leader in statewide and nationwide efforts to address the challenges of our strained water resources and associated environmental concerns," says Paul.
"The Aquatic Center is going to make a major difference in what we do," declared Karen Ryan, Ph.D., dean of the College of Arts and Sciences. Ryan notes that the new Aquatic Center is more than a place for science. She envisions a facility where Stetson students can take advantage of the center's recreational opportunities, including canoeing and kayaking.
Another component, according to Ryan, is a community outreach and education function. "The center will host workshops and seminars where noted environmental and policy speakers will give us their viewpoints," she says. "And this new facility will help us marry science with policy creation.
"Our students need to be grounded in both."
Imagine Stetson rowers in their sleek shells skimming across Lake Beresford's foggy waters in early morning. Picture other students taking water samples or researching Florida plants around the new facility. Both university programs will reach significance because of Sandra Stetson's major gift.
Visit AquaticGems video of Lake Beresford, courtesy of Robert Sitler.
by Bill Noblitt