New, promoted administrators announced at Stetson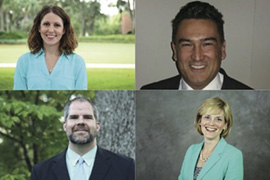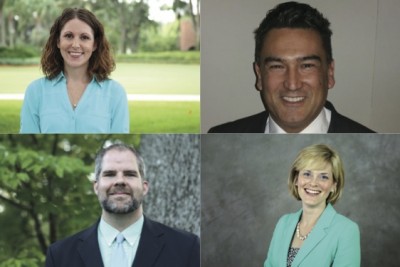 A tip of the hat goes to the following Stetson University administrators recently hired or promoted.
New Hatter Shannon Sheppard, director of Compliance and Title IX coordinator, comes to Stetson with compliance experience from Full Sail University, says Bob Huth, Stetson executive vice president and CFO. "She was discovered by our search committee and recommended by Law Professor Peter Lake, a Title IX expert," Huth says. Sheppard will maintain a compliance calendar for the university. As Title IX coordinator, she will liaison and consult with the Provost's office, Human Resources, Athletics, and will report to newly promoted Associate Vice President of Finance and Risk Management Jeff Margheim. Margheim was tapped for this change in title because he is "compliance knowledgeable and has Enterprise Risk Management experience," says Huth.
C. Drew Macan is Stetson's new associate vice president of Human Resources. "Macan brings private college and human resource experience from the manifold campus Middlebury College in Vermont," Huth notes, "which prepared her for our multi-campus layout." Stetson welcomes Macan's "strategic thinking and Banner knowledge, which is a university Enterprise Resource Planning system used by Stetson," Huth adds.
Jose Bernier, associate vice president for Information Technology and Chief Information Officer (CIO), in the Office of Information Technology, brings expansive global experience from his homelands of Spain, Hawaii and New York. "We are very pleased that Jose is at Stetson University. He is a systems thinker who mentors and develops his staff," Huth says.
Lee Ostrowski, also in the Office of Information Technology, was promoted to director of Infrastructure Services and Chief Information Security Officer. "Lee's experience through Certified Information Systems Security Professional, will help draft and implement standard security policies and best practices at Stetson," says Bernier.
Another "wonderful addition to the Hatter community contributing immensely to maximizing the educational impact of residential living here at Stetson, is Larry Correll-Hughes, Ph.D.," says Lua Hancock, newly appointed vice provost, Campus Life and Student Success. "Larry joins us from Wake Forest University with more than 10 years of higher education experience," says Hancock. "Larry will help move Stetson toward the realization of its strategic map goal to 'emphasize learning in communities,'" she says.
"Colin McFarlane has been promoted to director of Assessment and Operational Effectiveness in Campus Life and Student Success," says Hancock. "Colin will guide, refine and assist campus life and student success, leading to persistence toward graduation, partnering across campus to streamline university processes to increase efficiency for students and staff."
Robin Kazmarek wears a new hat as associate director of Alumni Engagement. "Robin's excellent critical thinking and natural relationship-building, both in and outside of campus, are genuine, cultivated and an asset to our office," notes Woody O'Cain, executive director of Alumni Engagement.
Robert Matusick's title has a new addition to it. He is now director of Public Safety and Emergency Management Coordinator.
David Wood is the new director of Admissions for Executive Business Programs and Executive Program Development. "His official duty station will be in Celebration, but he will have an office space here in DeLand as well," said Joel Bauman, vice president of Enrollment Management. Wood spent 20 years as a readiness manager in the U.S. Army, and comes to Stetson with many years of experience in higher education, having served in top administrative positions at Trine University and Indiana University Purdue, in academic resources, as an academic dean, and as head of the virtual campus and distance learning.
Also within Admissions and Financial Planning, Susan Merchant was promoted to director of Financial Aid, and Beth Ann Kieft was promoted to director of Admissions Communications and Operations.
Vice President of University Marketing Greg Carroll promoted Janie Graziani to assistant vice president of Media Relations, after she joined Stetson's team just three years ago. Joel Jones is now assistant vice president of Creative Services.
"It takes a group to affect a change that lasts. In Janie's three years here in Stetson University's Marketing (SUM) Department she's quickly taken the reigns of the editorial part of our brand with a drive to navigate a reputation through regional and national media," Carroll says. "Joel's five years at Stetson under his hat has helped transform our brand and position the university for the growth it has seen," Carroll says. "Joel and Janie now both share the titles assistant vice president, and along with Frank Klim, executive director of Communications at the College of Law, they form a great leadership team of complementary key players moving Stetson's marketing efforts to the next level, meritoriously earning these promotions as effective change leaders."
Also in the SUM area, Julie Hunter, former events administrator of Special Projects at Warner Bros. Studios in Burbank, Calif., is Stetson's new director of University Events. During her 12 years at Warner Bros., Hunter coordinated and managed many events and campaigns, some with budgets as large as $1 million.
by Caroline Skinner