Simon's Comedy "Laughter on the 23rd Floor" opens Stetson season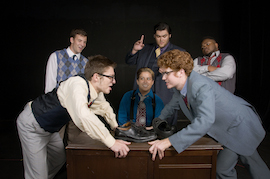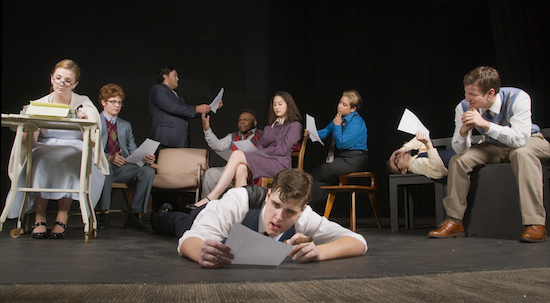 Stetson University begins its 110th season with Neil Simon's wacky comedy "Laughter on the 23rd Floor" on Oct. 1-3, at 8 p.m. and Oct. 4 at 3 p.m., in Stetson Theatre Arts' Second Stage in DeLand's Museum of Art.
Set in 1953 on the 23rd floor of a tall building in New York where NBC does its business, the play is introduced by Lucas Brickman, a young writer who has just been hired to work on actor Max Prince's hit TV variety series, alongside six other writers and a secretary. As Max and his writers feel the pressure of censorship from the network and from Joseph McCarthy's communist witch hunt, they compete, or collaborate, with each other to crank out jokes and sketches. The play is presented as a window into the creative processes of some of the most talented minds in television comedy, and includes the highlights of some of their most hilarious, and unbelievably true, moments.
The characters in the play are based on the real-life comedy greats who worked alongside Neil Simon and his brother Danny on Sid Caesar's live television variety shows, "Your Show of Shows" and "Caesar's Hour." These include Mel Brooks, Carl Reiner, Larry Gelbart, Aaron Ruben, and Sid Caesar. With a plot based on actual people and events, the result is not only stranger but funnier than fiction.
According to the play's director, Ken McCoy, Ph.D., Stetson professor of Theatre Arts, "Like any work of theatre, this play is first and foremost about entertaining the audience. As he has done in others of his plays, Neil Simon has managed to take part of his life experience and translate it into very funny characters in a very funny story. In a way, it is a form of 'Reality TV' – just in the theatre instead."
McCoy's comments are echoed by Vasilios Loparnos, the junior Stetson student playing the character based on Mel Brooks. "I enjoy the humor in this play," says Vasili. "It's very rare that I actually laugh at a show's written humor, sometimes the jokes are outdated or just not funny, but if this show can make me laugh, it will make everybody laugh."
"Laughter on the 23rd Floor" does contain some strong language, which may not be suitable for some audiences.
The cast of "Laughter on the 23rd Floor" includes: Nick Bouwmans (Val), Reagan Fejfar (Milt), Monika Lamud (Carol), Vasili Loparnos (Ira), Roman Mina (Lucas), Alex Schelb (Max), Andrew Townes (Brian), Elijah McCoy (Kenny), and Samantha Williams (Helen). Understudies are: Jodi Cothron and Anders Hammerstrom.
Two professional theatre artists who are working on the production are AJ Garcia (costumer) and John Kiselica (lighting designer).
Stetson Theatre Arts' Second Stage is located inside the Museum of Art, 600 N. Woodland Blvd., adjacent to the DeLand campus. Free parking. Admission for this produiction is $12 for adults, and $10 for seniors and students. Stetson students, faculty and staff are admitted free with a valid ID. Tickets will be available at the door and reserved tickets must be picked up 30 minutes prior to the start of the show. Box office will be open one hour prior to curtain. For information or reservations, call Stetson Theatre's "Second Stage" box office at (386) 822-8700.
To see the full schedule for Stetson's Theatre Arts 2015-16 season, visit Stetson's Department of Creative Arts. To see the university's full calendar online, visit Stetson Today.