November Science Café at Stetson: Sandhill Ecosystem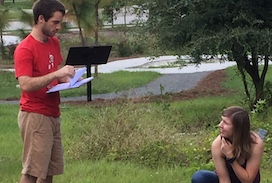 Restoration and Research in the Gillespie Museum's Sandhill Ecosystem.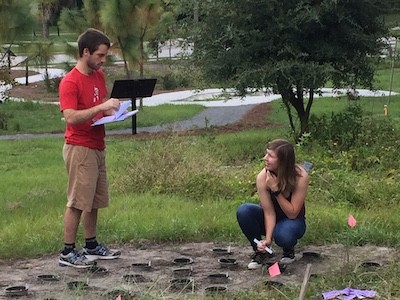 Stetson University's Gillespie Museum's Science Café will focus on science in the sandhill, 7 p.m., Thursday, Nov. 19. It will include a presentation on the Volusia Sandhill Ecosystem. A one-acre, dry, sandy slope of the DeLand Ridge, located behind the Rinker Environmental Learning Center and part of the Gillespie Museum grounds, this teaching landscape is in its fourth year of restoration.
Project directors Cindy Bennington, Ph.D., professor of Biology, and Karen Cole, Ph.D., director of the Gillespie Museum, will report on the newest developments on site, including the installation of walking paths, interpretive signage and a wildflower study site. Senior undergraduate researchers Stephanos Alichos, Ben Chase and Tabitha Petri, will give updates on their ongoing experiments on site. Petri, a biology major, commented: "This site allows for innovative research in ecology by allowing students to explore the ways in which sandhill flora and fauna interact while in the early stages of restoration."
"The Teaching Landscape is a place for all to learn about an ancient ecosystem, an important part of Volusia County's natural history," explained Cole. "It provides an interactive museum display, engaging the campus and community as visitors and as volunteers." The restoration also supports the undergraduate curriculum in a range of disciplines. Bennington noted that "in serving as an on-campus outdoor laboratory for undergraduate research and class projects, the site provides hands-on opportunities for students to apply their ecological training to a habitat restoration on a scale where an individual's impact makes a noticeable difference."
There will be a special twilight walk through the grounds, beginning at 6:30, with refreshments on the south porch of the Rinker Environmental Learning Center, adjacent to the Gillespie Museum. In the museum galleries, visitors may also view "Sandhill Symphony: A Natural History of High Pine," more than 300 images of the flora and fauna of this vanishing ecosystem, taken by Peter May, Ph.D., professor of Biology. In addition to publishing on ecology and the behavior of reptiles, May posts wildlife photography to Volusia Naturalist (http://volusianaturalist.com/ ) along with significant sightings, field reports and other bits of Florida natural history.
The Gillespie Museum's Science Cafés help to promote scientific literacy by encouraging relaxed, open discussions among scientists and nonscientists of all ages. This event is free and open to the public, and offers cultural credit for Stetson undergraduates. The museum is located at 234 East Michigan Ave., on Stetson's DeLand campus. For more information about the Volusia Sandhill Ecosystem, visit the museum's website (https://www2.stetson.edu/sandhill ) or call or email (386.822.7330; [email protected]).