Diversity and Inclusive Excellence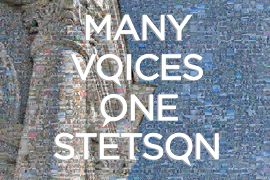 Take the Campus Climate survey! 
Starting Feb. 2, Rankin & Associates Consulting will conduct a climate survey on Stetson's campus.
Part of the university's initiative toward inclusive excellence, the anonymous survey will collect information on prejudice on campus, and ensure that every student, faculty and staff member has the opportunity to address issues without obstruction.
Ultimately, the survey asks an all-encompassing, complex question: how do you feel in your community?
"Diversity and inclusiveness is not a goal you check off," said Beth Paul, Ph.D., executive vice president for Academics, provost and co-chair of the Diversity and Inclusive Excellence Task Force. "It is something you always have to work toward."
The survey will be open throughout February. After it closes at the end of February, the consulting firm will analyze the data and provide an objective report. An open forum will be held to present the results. Administrative action initiatives, based on those results, will follow.
"We're not just going to be reactive," said Luis Paredes, Ph.D., newly appointed director of Diversity and Inclusion. "We're going to be proactive."
The campus climate survey is completely confidential, and responses cannot be traced back to an individual. The data is collected through a secure server by an external agency so the university never sees the raw data.
"It is meant to be an open, honest assessment of where we are as a community," said Paul.
Created by Stetson President Wendy B. Libby, Ph.D., in 2014, the Task Force was central to the university's Strategic Map 2014-2019. Libby appointed Paul and Jim Morrissey, J.D., professor of law, to lead it.
"The top goal of the strategic map is to graduate students ready to solve complex world problems," said Lua Hancock, Ed.D., vice provost for Campus Life and Student Success. "If we don't do this work, students aren't ready. Right now, if [students] cannot figure out how to work across differences through acceptance and value those differences, then we have not prepared them properly."
Stemming from the values of personal growth, intellectual development and global citizenship, being able to celebrate one another's differences is core to Stetson's mission and values.
"As a community, we are confronting what we want to be," said Paul. "This way we get the momentum moving to get visible action."
We capitalize on our sense of community at Stetson. When we step foot on this campus, we become family and this becomes home—we should all feel welcome here.
The difficult truth is, however, not everyone does. Students and others face intolerance, discrimination and ignorance, and minority voices often go unheard. But it is time to listen.
The Multicultural Student Council has led the student discussion on micro-aggression and racism on campus, however, part of the Task Force initiative is to get all students, faculty and staff—minority and majority—involved in this important dialogue.
Two roundtable discussions this week broached the subject of diversity and inclusiveness, but "We don't want to be just be preaching to the choir," said Hancock. "How do we get people to come who need to be there? How do we get all the voices to the table?"
"Our programming shouldn't just be events—we need to talk about the cultural significance of those events," continued Hancock. "We're not entertainers. We're educators."
Despite national headline news regarding racial tension on college campuses, this survey and initiative should not be dismissed as reactionary politics.
"One of the biggest issues in institutions is that administrators take the role of solving the issues without the voices of the students," said Parades. "That is my job here—to bridge that gap."
The survey is an important means of getting student, faculty and staff input before administration action, but it should not deter immediate progress.
"Action doesn't have to wait for a survey to be done," said Paul. "Action happens now."
"Frankly, we should be better," said Paul. "As an interactive community, we should be better at having open dialogue that helps us commit to this value of being humane."
Some are critical stating that there is a lack of direct result or visible progress, and that Stetson should be doing more than just facilitating conversation.
"Dialogue is an action," said Paul. "But we need to make sure that the conversation has a direction, and that we are always orienting that dialogue to something we can do."
Diversity and inclusiveness are not mere buzz words to be used carelessly; it is part of Stetson's Fabric.
"You have evolutionary change and you have revolutionary change," said Hancock. "I am very comfortable with revolutionary change."
By Veronica Faison