Stetson University In the News, Jan. 22- 28, 2016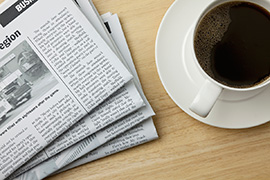 Top Stories:
• The article, "Stetson University graduates find success after college," was picked up Jan. 28, innews media outlets, including WTRF.com and KTEN.com.
• Chris Ferguson, Ph.D., associate professor and chair, Department of Psychology, Los Angeles Times, Jan. 28: "Are Video Games Too Violent?"
• Law Professor Paul Boudreaux wrote the opinion article for the Jan. 22 Washington Post, "D.C. should learn from Europe's approach to walking and cycling."
• Law Professor Peter Lake spoke with WTSP 10News for the Jan. 25 story, "Sexual assault, Title IX, and college campuses." Professor Lake is also quoted in the Tampa Bay Times  Jan. 25 story, "FSU, Jameis Winston accuser reach $950 k settlement." On Jan. 20, the Columbia Spectator quoted Professor Lake in an article titled  "Debate brews over role of anonymous Title IX-related complaints in course evaluations."
• John Pearson, Ph.D., Stetson professor of English, was hired as Point Park University's new provost, as announced by The Point Park Globe and Pittsburgh Post-Gazette on Jan. 26.
• Law Professor Charles Rose spoke with the Tampa Bay Times for the Jan. 26 story, "Pinellas judge rejects death penalty request after Supreme Court ruling."
• Elder Consumer Protection Fellow Brandon Robinson spoke with WUSF NPR about Stetson's free upcoming Wills for Warriors program for a Jan. 22 news story.
• Law Professor Tim Kaye is quoted in the Legal Newsline article, "Law prof says plaintiffs in Char-Broil grill class action could have tough road ahead."
Other News:
• Stetson students and alumnus, Brian, Manny, and Michael Rodriguez, the "Trio of Brothers" all singers, were featured in a Jan. 24 article in The Daytona Beach News-Journal.
• On Jan. 21, Free Republic quoted Law Professor Joseph Morrissey in an article titled "IRS: homosexuality is a choice, no tax deduction for gays contracting surrogates."
• On Jan. 20, TBN quoted Law Professor and Dean Emeritus Bruce Jacob in an article titled "Legal battle between Largo, nonprofit reaches Supreme Court."
• The Jan. 20 Tutorial Finder reported that Law Professor Roberta Flowers will be speaking at the NAELA Summit Jan. 28-30 in California.
• Three Hatters selected to A-Sun preseason baseball squad, reported Jan. 27, in the Daytona Beach News-Journal.
• Two art exhibitions open with public receptions at Stetson's Hand Art Center: Bluemner and Gunderson, in the Orlando Sentinel, Jan. 21.
• The Martin Luther King Jr. Annual Community Breakfast, hosted by Stetson University, received good coverage in Daytona Times, Jan. 21.
Alumni in the News:
• On Jan. 21, Noodls reported that Law alumnus Marcos Marchena was reappointed to the University of Central Florida board of trustees.
• Paul Granello '90, graduated Stetson with his M.S. in mental health counseling, is now associate professor of counselor education at The Ohio State University, and an expert in suicide prevention. He is currently the recipient of the $1.5 million in federal funds for suicide prevention under the Garrett Lee Smith Act.
• 1945 science graduate Leta Mitchell Wright. The Ledger, Jan. 26: "Nonagenerian brings Fort Meade history to life."
• On Jan. 22, PrBuzz reported that Law alumna Julia McGrath has been selected for membership to the American Society of Legal Advocates, a nationwide organization of elite lawyers.
• On Jan. 25, Smith Anderson reported that Law alumnus Stephen T. Parascandola was named a 2016 North Carolina Super Lawyer.
• On Jan. 26, Flagler Live reported that Law alumnus Doug Scott Williams joins Chiumento Selis Dwyer as partner.
• According to a press release, Law alumni David M. Kalteux and Daniel K. Miles joined the Tampa office of FordHarrison LLP as associates.
• On Jan. 23, The St. Augustine Record reported that Stetson University alumnus, William A. Watson, Jr., founder of Watson Reality Corp., recently celebrated his company's 50th anniversary on Dec. 16.
• Caroline Brazelton, recent Stetson music graduate, was featured in a review of the current musical, "Ordinary Days," in EUJacksonville.com, Jan. 24.