Brianti Saunders Named Atlantic Sun Co-Player of the Week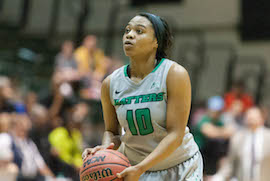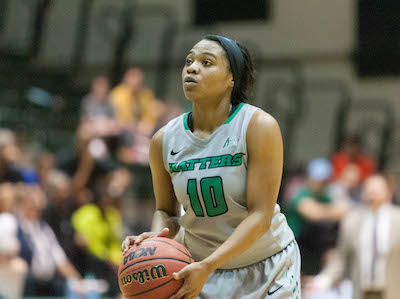 Following a 53-point scoring week, Stetson University junior guard Brianti Saunders has been named Atlantic Sun Conference co-Player of the Week, the league announced on Monday.
It is the third time this season and sixth time in her career that Saunders has earned the league's Player of the Week honor.
A native of Hilliard, Fla., Saunders scored 35 points in Stetson's 83-62 win at Lipscomb last Monday. She was 10-for-14 from the field, 4-for-7 from the arc, and a perfect 11-for-11 from the free throw line. It was the second highest scoring game in the A-Sun this season, behind Saunders' own 40-point performance against Georgia Southern.
Saunders then scored a team-high 18 points in Stetson's loss at Jacksonville on Saturday. For the week, she shot 55 percent from the floor, 35 percent from 3-point range, and 100 percent (13-for-13) from the free throw line.
Saunders currently leads the Atlantic Sun and ranks 37th in the NCAA with a 19.4 points per game scoring average. She has scored in double figures in all 20 games, and she now ranks 11th in school history with 1,273 career points scored.
The Hatters (12-8, 3-3 A-Sun) will host UNF at 7 p.m. Thursday.