Hatters Host Stetson Beach Invitational This Weekend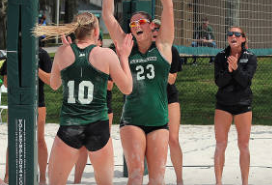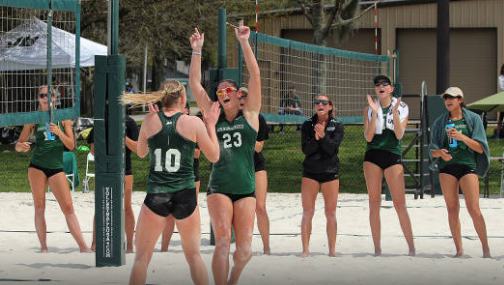 Stetson University will host one of the premier collegiate beach events in the nation this weekend as five Top 10 teams will compete at the Stetson Beach Invitational.
No. 2 Florida State, No. 4 UCLA, No. 5 Hawaii, No. 9 Stetson, No. 10 Florida International, and Florida Atlantic will compete in a two-day, round-robin event at the Cooper Beach Volleyball courts in the heart of Stetson's campus.
Following Wednesday's split with over UNF, the Hatters enter the tournament with a 14-2 record and the highest win-total in the nation.  Stetson has two Top 20 wins under its belt, but this weekend's competition is sure to give the Hatters their toughest challenge of the season.
"Obviously it is a big weekend for us, especially to have all these teams here," Stetson head coach Kristina Hernandez said. "It is going to test us. If we can play like we did in the first round (vs. UNF), I think we can be really competitive. We have to make sure we play big, because we are playing some big teams. It is the first time we have played any west coast teams during the regular season, so it will definitely let us know where we are compared to everyone else."
Stetson's top seed of Sara Putt and Vendy Strakova enter the weekend with a 16-0 pairs record.  The duo will have the opportunity to match-up against some of the No. 1 pairs from out west.
"I think we are going to see much more hitting," Strakova said.  "Even against UNF, it was a little different game than we saw before. They were much more aggressive on offense, and I feel we can expect something similar this weekend. (UNF) was a good test for us, so I think we are ready for the weekend."
If the Hatters are successful on their home courts this weekend, it could enhance their chances to earn an at-large berth to the NCAA tournament down the road.
"I think it is an amazing opportunity for us to play some good teams and get some high-level competition," Putt said.  "We wanted to have a hard schedule, so we are really excited for it."
Stetson's home matches are played at the Cooper Beach Volleyball courts, on East Minnesota Avenue across from the ATC fields. Admission is free.
Food trucks from Arrested Appetites and Frenchy's Crepes will be on site both days.  There will also be promotional giveaways of Stetson sunglasses and T-shirts.
Fans can also get updates with live stats at StetsonStats.com, the Stetson beach volleyball twitter feed at @StetsonBeach, and on the HatCheck text messaging system, presented by Orlando Sanford International Airport.
Tournament Schedule:
Friday
9:00 am – FIU vs. UCLA
10:30 am – Stetson vs. Hawaii
12:00 pm – Florida State vs. FIU
1:30 pm – Florida Atlantic vs. Hawaii
3:00 pm – Florida State vs. UCLA
4:30 pm – Stetson vs. Florida Atlantic
Saturday
9:00 am – Stetson vs. FIU
10:30 am – Florida State vs. Hawaii
12:00 pm – Florida Atlantic vs. UCLA
1:30 pm – FIU vs. Hawaii
3:00 pm – Stetson vs. UCLA
4:30 pm – Florida State vs. Florida Atlantic