School of Music Upcoming Events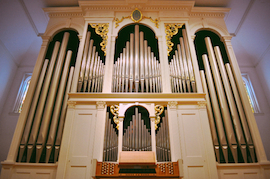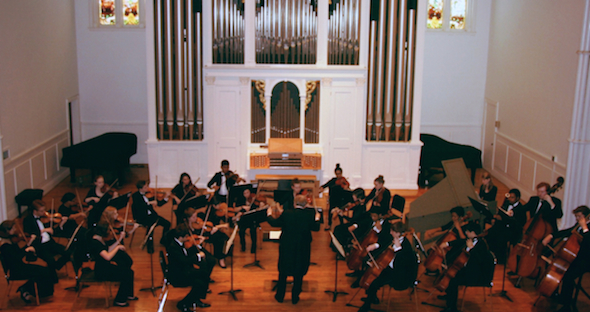 The Stetson University School of Music presents the following concerts from Mar. 29 – Apr. 3:
Chamber Orchestra – Anthony Hose, conductor
Ticketed Event
Pre-concert talk by Daniil Zavlunov | 6:30 p.m. | Presser Hall room 112
     Tuesday, March 29 – 7:30 p.m., Lee Chapel, Elizabeth Hall
This concert program includes three works. The great baroque composer, Antonio Vivaldi, wrote many works for strings, and his Concerto Grosso Op. 3 No. 11 in D minor is one of his most famous. Written for two solo violins, solo cello, strings and harpsichord, it displays baroque composition at its best. The other two works in the program are serenades, both written in 1892. Elgar's three-movement serenade is one of the staples of the string orchestra repertoire and a work that he wrote on returning to his hometown of Worcester after an unsuccessful stay in London, which he found foreign to his more countrified upbringing. The other serenade is by the Czech composer, Josef Suk, who was only 18 when he wrote this beautiful work in four movements. (Six years later he would marry Dvořák's daughter, Otylka.) The first movement is typically bohemian, the second a wonderful, tripping dance followed by an elegiac slow movement. The youthful effervescence of the creator bursts out in the final movement; a joyous ending to the program and a significant challenge for the orchestra.
Guitar Ensemble – Stephen Robinson, director
Complimentary Admission
     Wednesday, March 30 – 7:30 p.m., Lee Chapel, Elizabeth Hall
The guitar studio, led by Dr. Stephen Robinson, will present their spring concert featuring Cavatina by Stanley Meyers; Cuatro Madrigales Amatorios by Joaquin Rodrigo; I'll See You In My Dreams by Django Reinhardt; Mahler Lieder by Stephen Goss; and Picture on a Train by Matthew Denman. The concert concludes with In the Mood by Glenn Miller.
Sounds New XI: First Glimpse
Music by Stetson Composers
Complimentary Admission
     Friday, April 1 – 7:30 p.m., Lee Chapel, Elizabeth Hall
This concert features new music by young composers. The compositions on the program include Discussions and Arguments by Bobby Abbott; Perspectives of a Man: Mvts II, III by Erik Ferguson; Two Scenes for String Trio and Piano by Kristian Gonzalez; the deepest blue by Maggie Nicks; The Harmony of Time by Matt Bardin; and Jekyll's Final Hour by Anthony Virgilio.
Great Pianists at Stetson series: Kosumo Morishita, piano
Complimentary Admission
     Sunday, April 3 – 3:00 p.m., Lee Chapel, Elizabeth Hall
Kosumo Morishita, the final performer on the Great Pianists at Stetson series, presents a program featuring Drei Klavierstücke, D. 946 by Franz Schubert; Préludes, Book II (selections) by Claude Debussy; and 24 Preludes, Op. 11 by Alexander Scriabin. After moving to the United States from Japan at age 20, Ms. Morishita earned Bachelor of Music degree summa cum laude from Stetson University, studying with Michael Rickman, and her Master of Music degree from California State University, Sacramento studying with Richard Cionco and Natsuki Fukasawa. Ms. Morishita is currently pursuing a Doctor of Musical Arts degree at the University of Texas at Austin under the tutelage of Anton Nel.
Woodwind Ensembles: Saxophone Quartets, Flute Choir, Clarinet Choir
Complimentary Admission
     Sunday, April 3 – 5:00 p.m., Lee Chapel, Elizabeth Hall
The Saxophone Quartets will perform Trios Pièces by Isaac Albeniz; Saxophone quartet by Pierre Max Dubois; and Ungroup by David McDonald. The Flute Choir will perform Night by Franz Abt; Piccolo Concerto by Eric Ewazen, arranged by Dr. Tammara K. Phillips; Capriccio by Gottfried Veit; and Capriol Suite by Peter Warlock. The concert will conclude with the Clarinet Choir performing three pieces: Rialto Ripples Rag by George Gershwin; Allegro from Concerto No. 1 in G minor by J.S. Bach; and New York Counterpoint by Steve Reich.
Brass Ensembles: Trumpet Ensemble, Horn Ensemble, 
Trombone Ensemble, Tuba/Euphonium Ensemble
Complimentary Admission
     Sunday, April 3 – 7:30 p.m., Lee Chapel, Elizabeth Hall
This program features student ensembles performing arrangements of great works including Jesu, Joy of Man's Desiring by J. S. Bach; Bravura by Charles Duble; Holy is God the Lord by Felix Mendelssohn; Fantasie by Eric Ewazen; Blockbuster for 12 Horns by John Dickson; Salvation is Created by Pavel Tchesnokov; Canzon VI and Exaudi Deus by Giovanni Gabrieli; and Elsa's Procession to the Cathedral by Richard Wagner.
Unless otherwise noted, admission to our concerts is complimentary. For ticketed events, general admission tickets are $10 for adults, $8 for senior citizens and $5 for area students. Tickets can be purchased at the door or online at Ticketreturn.com. You can print your tickets at home or have them waiting for you at the concert. More information, contact Stetson University School of Music.