Stetson's Vis team wins multiple awards at worldwide competition in Vienna, Austria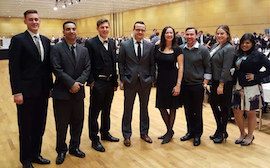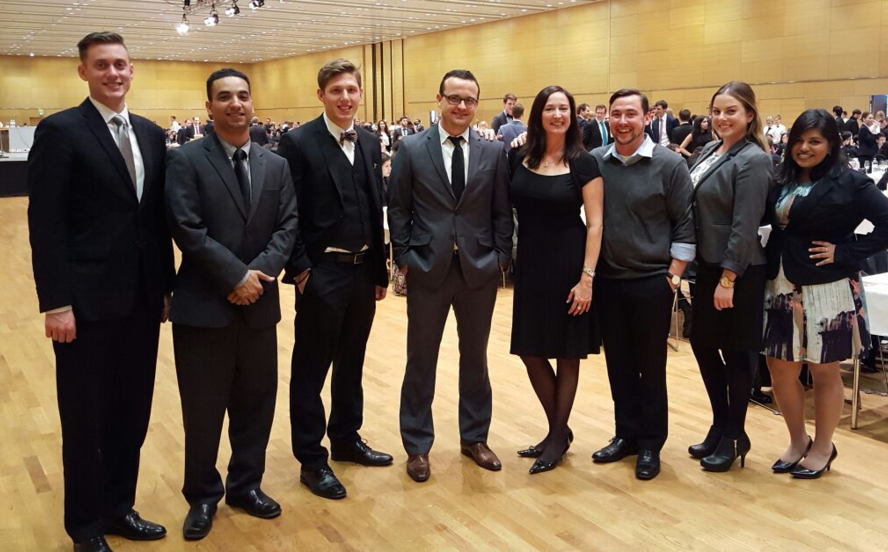 Stetson University College of Law's Vis International Arbitration Moot team won multiple awards at the 23rd Annual Willem C. Vis International Commercial Arbitration Moot in Vienna, Austria, March 18-24. Stetson's team of Sadiya Hashem, Leon Innerkofler, Taylor Ryan, Brien Squires, Kaelyn Steinkraus and student coach and team member Jonathan Diamond received two Honorable Mention Awards, one for the Respondent's Memorandum and one for the Best Oralist.
Ryan placed in the top 50 of nearly 2000 oralists. Stetson was among only six of 49 student teams from the U.S. who advanced to the top 32 teams in the worldwide competition. There were a total of 311 teams competing from 47 countries.
"Our student Vis team demonstrated in Vienna that they are prepared to advocate on the world stage," said Dean and Professor of Law Christopher Pietruszkiewicz. "Our student and faculty accomplishments in the areas of advocacy, research and writing are remarkable around the world."
"This accomplishment is truly astounding," said Associate Dean for Student Engagement and Professor of Legal Skills Stephanie Vaughan. "Stetson's oral advocacy skills have always been considered among the very top in our country, but we are delighted to show the other universities around the world, represented in Vienna, that our students are just as outstanding in complex research and written expression."
Vaughan and Stetson Vis alumnus Alex Zesch J.D. '13 traveled to coach the team in Vienna. Professor Joseph Morrissey also coached the team.
Stetson also won an Honorable Mention Award for Best Oralist in last year's competition.