Stetson University Professor T. Wayne Bailey to Retire After 53 Years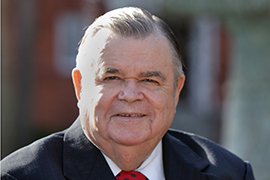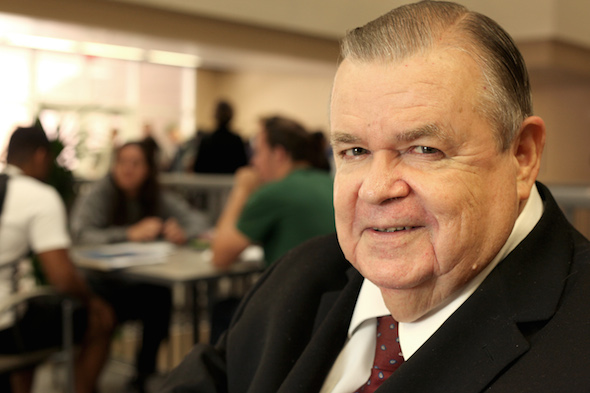 Stetson University political science Professor T. Wayne Bailey, Ph.D., will retire May 15 after 53 years of teaching at the university. The announcement was made today by Provost and Executive Vice President of Academic Affairs Elizabeth Paul, Ph.D.
"I am awed by the significance of Wayne's tenure at Stetson University," said Paul. "I am confident that his deep relationship with the university as a celebrated faculty member will continue." Paul indicated the process is underway for Bailey to be honored with professor emeritus status.
"Alumni all across the country cite Wayne as the inspiration for their careers in public service, higher education and public policy development," said Stetson University President Wendy B. Libby, Ph.D. "It is simply remarkable how many lives he has touched and careers he has launched. And our graduates have stayed in touch with Wayne throughout the years and continued to benefit from his wise counsel."
Bailey began teaching at Stetson in 1963, when he founded the university's Department of Political Science. He was honored for his 50th anniversary at Stetson's 2013 Silver Circle celebration and was celebrated as "A Florida Original" during Homecoming Week.
"When I was a student at Stetson, Wayne Bailey took me under his wing and became my mentor," said David Hill, Ph.D., associate professor and chair of political science, recalling his long association with Bailey. "Now that I am a member of the faculty, he is my colleague, a dear friend, and in many ways he remains my mentor."
"More than a few students have said that Wayne believed in them when they didn't believe in themselves," said political science Professor Gene Huskey, Ph.D., a long-time colleague and friend of Bailey's. "He wasn't just their teacher or advisor, or even their mentor; he was their champion. For me that is the essence of Wayne Bailey: a champion for generations of Stetson students."
Bailey is co-founder of Stetson's Model Senate, directs the Washington Semester at American University program and serves on Stetson's Pre-Law Advisory Committee. He has held leadership positions in the Florida Democratic Party and was a delegate to the Democratic National Convention, attending 10 national conventions between 1972-2012.
(This archival video was produced in 2011 when Dr. Bailey was named Volusia County Citizen of the Year.)
Bailey has done extensive work with cities and counties, upgrading their charters and reforming their governments. He was vice chair of the Volusia County Charter and Study Commission that created the Volusia County Constitution. He chaired the first two Charter Review Commissions and served as a member of the commissions in 1995 and 2006. In 2011, Bailey was named Volusia County Citizen of the Year.
An active member of the American Lung Association for more than 35 years, in 2004, Bailey was the first person in the United States to receive the Discovery Health Channel Medical Honor. He also serves on the Florida Hospital DeLand Foundation board of directors.
"For more than five decades Wayne Bailey has demonstrated an extraordinary dedication to undergraduate teaching," said George C. Edwards III '69, Distinguished Professor of Political Science and Jordan Chair in Presidential Studies at Texas A&M University. "He provided the foundation for my scholarly career with his own scholarly approach to teaching and learning. More importantly, he has touched the lives of thousands of students in fundamentally important ways."
"Dr. T. Wayne Bailey had a tremendous influence on me as a young man from Georgia who was a student at Stetson and who later became administrator of the U.S. Veterans Administration and a U.S. Senator from Georgia," said Max Cleland '64. A decorated Vietnam veteran, Cleland's collection of personal, military and political memorabilia is on display, along with the distinguished collections of other Stetson alumni, in the T. Wayne Bailey Politicos Room in duPont-Ball Library.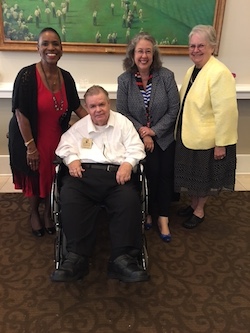 Update: 
T. Wayne Bailey, past president and founding member of the Volusia County Tiger Bay Club, received honorary lifetime membership in the Tiger Bay Club at the May 12, 2016 meeting. The guest speaker was Stetson graduate and former student of Bailey's Florida Senator Jack Latvala, R. Pictured with Bailey: (l to r) Stetson alumna Gwen Azama-Edwards, President Wendy B. Libby, and Stetson alumna and current Stetson University Trustee Betty Johnson.