Big Plans Create Summer Prep for Student Government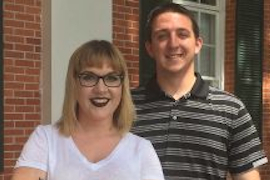 The new faces of the Student Government Association at Stetson University might just look a bit weary this summer. With ambitious plans, they have their work cut out for them.
Just don't feel bad for them. Both are exactly where they want to be in what can be described as quintessential student transformation at Stetson.
Jeff Hahn walked on to the campus with no intention of being a leader. As the first in his family to attend college, he was more concerned with making the adjustment from living in Fort Myers, Fla., his entire life. About getting involved in any form of leadership: "Absolutely no, not at all."
Arriving from Riverview, Fla., Alyssa Morley only knew she wanted to get involved. Leadership? Not necessarily.
Yet, Hahn, a rising senior and the incoming SGA president, and Morley, a rising junior and incoming vice president, have done much more than fit in at Stetson.
This summer, they're busy on campus in DeLand, Fla., preparing to carry out the platform promises made during last winter's elections. Atop their agenda are greater campus communication, diversity and appropriate use of student activity fees. Hahn, a social science major with concentrations in political science and sociology, has the "big picture" as his priority. Morley, a political science and economics major, will run the student senate. The SGA at Stetson, the student governing body, was formed in 1981, although since 1907 student governance has existed at Stetson in one form or another.
Each has taken on a personal mission, too. Hahn already is spending extra time to enhance the experience of students who are military veterans, while Morley is working to ensure physical accessibility throughout campus. In May, she had a cast put on after fracturing her right foot and didn't want to waste an opportunity to explore the topic.
Additionally, as a FOCUS coordinator, Hahn is helping to lead Stetson's five-day orientation program for new students in August. (FOCUS is short for Friends On Campus Uniting Students and marks the start of the new school year, Aug. 20-24.) Morley is interning with Stetson's Student Governance and Organizations.
They're busy, yes. More so, they're eager to begin making a difference come August. They've taken quite circuitous routes to the executive office of student government. Stetson has changed them. Now, they're hoping to change Stetson.
By Michael Candelaria
Note: For more about the transformations of Jeff Hahn and Alyssa Morley on campus, along with other stories of leadership at Stetson, read the upcoming issue of Stetson University Magazine, scheduled for publication this fall.