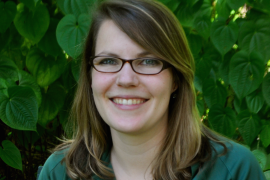 When it comes to community engagement, Savannah-Jane Griffin is very much a part of Stetson University's past and present.
Walking on to campus, Savannah-Jane Griffin already possessed a passion to help in her community. As a student at Maritime and Science Technology (MAST) Academy, a public magnet school in Miami, she interned at a local hospital, working in pediatrics.
A career in medicine didn't pan out — she couldn't take the sound of crying babies — but she did maintain her interest in experiential learning and service. Her Stetson education only broadened that appeal. When she graduated in 2007 earning a Bachelor of Business Administration with a focus in Management, she was promptly hired to become part of Stetson's official community-engagement efforts. By the time she received her M.B.A. a year later, she was entrenched as a campus go-to.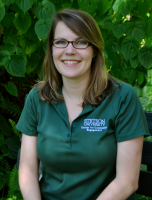 Not much has changed since then, except her circle of influence and the boundaries of her impact continue to stretch.
This summer, Griffin is helping lead the charge as 29 students in Stetson's Bonner Scholars Program participate in a summer of service, one of two summers they must complete as part of the program's requirements. The national Bonner Scholars initiative, established by the Corella and Bertram F. Bonner Foundation in 1990, is designed to provide students with "access to education and an opportunity to serve" and has grown to become the largest privately funded, service-based college scholarship program in the country. Stetson, starting its program in 2005, has the oldest, largest and only endowed Bonner program in Florida.
Students, many of whom have high financial need, receive scholarship dollars. In return, they commit to what essentially is a four-year internship of community service, locally or abroad. The exchange is not a difficult sell, Griffin says.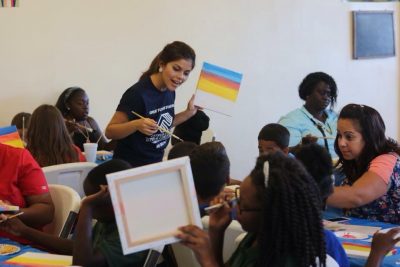 Currently, Stetson students are serving as far away as Brazil, Germany, Indonesia, Japan, New Zealand and Peru. They're also in Arizona, Georgia, Oregon, Tennessee and Pennsylvania. Florida, of course, is well represented too. A few of the agencies being served: Asian Americans Advancing Justice, Free Arts Northwest, Habitat for Humanity Restore, Hope CommUNITY Center, Osaka University Photonics Education Center, National Park Service and Salvation Army.
Judging from Griffin's time as a student, past efforts were fruitful. Yet, she concludes they're even better now.
"This generation, more than any, is excited about this kind of work," she says. "They want to make a difference in our community."
By Michael Candelaria
Photo on Stetson Today Homepage: Sonia Chang (back row, fourth from right), serving this summer with Asian Americans Advancing Justice in Atlanta.