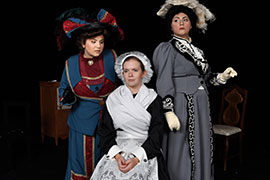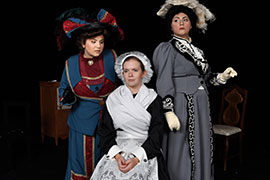 Note: Due to Hurricane Matthew, the schedule for "Boston Marriage" has changed to Thursday through Saturday, Oct. 20-22 at 8 p.m.
When student Cori LaPinsky first heard of the play, "Boston Marriage," she had no idea what the term meant.
Pulitzer-Prize winning playwright David Mamet uses the term from a Henry James novel that describes two women who live together in an intimate relationship during the Victorian era.
"I was curious, so I looked it up," LaPinsky said, remembering her surprise at the answer. "Given how conservative some people are today, I couldn't imagine back in the day that they had an accepted term for this."
The play is described as "scandalously witty and devastatingly intimate … (and) provides a glimpse into the relationship between two turn-of-the-last-century women, who are devoted to each other even as they involve others in their sexual schemes," writes Theatre Arts publicity manager Kathrine Pulling.
The show opens Thursday, Oct. 6, at 8 p.m. Other performances follow on Friday and Saturday at 8 p.m., and Sunday at 3 p.m. in the Stetson Theatre Arts "Second Stage," inside the Museum of Art, 600 N. Woodland Blvd.
Anna, played by LaPinsky, is madly in love with Claire. She also is having an affair with a married man, so he will provide money to support her and Claire. Problem is Claire has designs on a pretty young woman. What begins as jealous banter between the women turns to chaos and then spirals completely out of control.
"I really wanted to get a part in this play because the humor in it is very quick," said Lily Desenberg, a sophomore and Theatre major who plays Claire. "It's the kind of humor I'm attracted to."

The play unfolds in the drawing room of Anna's house. Claire returns after an absence and finds Anna has become the mistress of a married man, who has given her valuable jewelry and other gifts. But Anna is the one who becomes insanely jealous when Claire asks a favor: Can she use one of Anna's bedrooms for a "vile assignation?" In the middle of their antics is Anna's Scottish parlor maid, Catherine, played by Caitlyn Carey.
Professor of Theatre Arts Ken McCoy, Ph.D., said he's wanted to put on the 1999 play for a long time. Auditions were held the first day of class this term and the cast has been rehearsing five or six days a week, for three hours a day, since then.
McCoy said Boston marriages actually existed in the Victorian era and referred to "two women who live together without the support of a man."
"They could have been sort of old maids, sisters," he said, "but usually they were younger and it was presumed to be a lesbian relationship. It was a respectable veil under which they could live."
For LaPinsky, who plays Anna, the play explores a timely theme.
"It really lends itself well to this generation that accepts (the gay, lesbian, bisexual, transgender lifestyle) fully and doesn't really care," said LaPinsky, a Port Orange sophomore majoring in both theatre and digital arts.
Added Desenberg, "It's interesting now how it's not so taboo. It's so much more open and so much more accepted."
Admission is $12 for adults, and $10 for seniors and students. Stetson students, faculty and staff get in free with a valid ID. Parking is free. Tickets will be available at the door and reserved tickets must be picked up 30 minutes prior to the start of the show. The box office will be open one hour prior to curtain.  For information or reservations, call Stetson Theatre's "Second Stage" box office at (386) 822-8700.
-Cory Lancaster