Helping Others During the Storm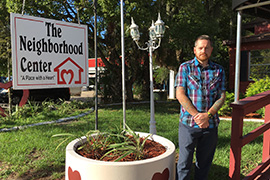 With Hurricane Matthew bearing down, Stetson University student Kevin Ndahiro wondered last week where he would seek safety. A native of Toronto, Canada, he doubted he could book a flight home before the university closed its residence halls last Thursday. Then one of his teammates on the Stetson Hatters basketball team offered to take him home to Mobile, Alabama, an eight-hour drive away.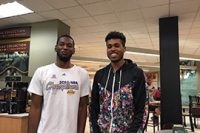 "If it wasn't for my teammate, I would have been stuck," said Ndahiro, a junior majoring in Communications and Sports Business.
Just days after the hurricane passed, Stetson reopened all of its residence halls as students, faculty and staff returned to the DeLand campus. Besides crews cleaning up tree limbs and other debris, the campus is operating pretty much as normal.
In the aftermath, stories emerged, like Kevin Ndahiro's, of the Stetson community reaching out to help others – donating a truckload of fresh produce from the Commons cafeteria to a local food bank, feeding families stranded in a local hotel without power, and sheltering students with no place to go.
The emergency response and careful planning are what Wendy B. Libby says she will remember most about her first hurricane as Stetson President.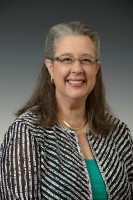 Libby scrapped plans to travel with the Hatter football team to Providence, Rhode Island, last Thursday to play Brown University. (Stetson defeated Brown 31-21 on Saturday.)
"I decided to stay on campus because we were facing a potential emergency," Libby said. "As a key member of the emergency team, it was more important for me to be here and work with (Stetson Public Safety Chief) Bob Matusick and others to decide whether and how to close our campus and then direct our cleanup activities and reopening."
Staff members from Facilities Management, Public Safety, Housing and Residential Life, Academic Affairs, Marketing, Information Technology, Dining Services and others worked throughout the weekend to assess the damage, help get the power restored and reopen the campus. The staff from Facilities Management conducted building-by-building inspections to make sure each one was structurally safe.
"I remember most the professionalism and the wisdom of all the people on our team," Libby said. "We also were extraordinarily lucky the storm stayed 20 miles off the coast."
Helping Others
In the Commons last week, workers received a delivery of fresh produce just as senior college administrators decided to close the campus and evacuate approximately 2,000 students in residence halls to find safer accommodations.
"All of the fresh produce was going to go bad," said Lindsey Bishop, Director of Marketing for Dining Services. "We knew other people were going to need this and we didn't want to just waste it."
Executive Chef Patrick Smallen called several charities and the Neighborhood Center of West Volusia, which operates a food bank, said it could give the food to the needy. The Stetson dining staff delivered about 112 cases of assorted fruits and vegetables Wednesday evening as the storm's projected path put it right off the coast of Daytona Beach, about 25 miles away.
The donation couldn't have come at a better time, said Waylan Niece, grant administrator and housing director for the Neighborhood Center. The hurricane knocked out power for most of DeLand and people had to throw out everything in their refrigerators when the power was restored days later, he said.
"After the hurricane, people were definitely more in need of food," Niece said. "This has been a real blessing."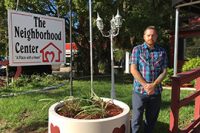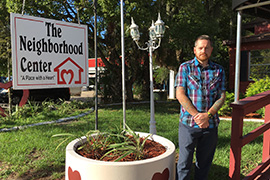 The Neighborhood Center provides up to five bags of canned goods, meat, produce, breads and pastries to 350 families a week, plus it houses families in transitional and emergency housing. Stetson's donation of 112 cases of fresh produce filled the agency's walk-in cooler, which was purchased two years ago with a $10,000 grant from Stetson's annual Greenfeather fundraiser for charities.
"The cooler is no longer filled," he said Wednesday, "so that's how much we have distributed in just less than a week."
The senior director of Stetson's Dining Services, Barbara Stolz, lives in New Smyrna Beach and evacuated last Friday with her husband just before the bridges to the mainland were shut down. They checked into the Hampton Inn in DeLand, but lost power there that same day.
"By mid-day, we were all looking for food," she recalled. "We were getting a little tired of chips and candy bars."
In the Commons cafeteria at Stetson, there was plenty of prepared food that was going to spoil, such as sandwiches and cold cuts, she said. So, Stetson donated it to the Hampton Inn, which was sold out of rooms and had more than 100 guests staying there, some with small children.
"We took ham, turkey, fresh fruit, peanut and jelly … so everyone had something to eat. There's no sense in throwing away food when you can feed people," she said.
The Dining Hall, which has backup generators for its freezers and cooler, was operating as normal on Tuesday as students returned to campus.

'Really Well-Prepared'
Erica Kok, a sophomore majoring in Computer Science, was eating lunch there and had just returned from a technology conference in Seattle – which was good timing given last week's hurricane, she said.
"Stetson was really well prepared for the hurricane and getting students out," she said. "Being from the Philippines, I'm so used to the government being unprepared."
Of the 2,000 students who live on the DeLand campus, only five ended up reporting to college officials that they had no place to go. Other students and people living in the community offered to take those students in, said Larry Correll-Hughes, executive director of Residential Education and Housing for Stetson's Department of Housing and Residential Life.
One student decided to stay at the nearest emergency shelter, DeLand High School, and joined three other Stetson students there who live off-campus, he said.
"One of the things we've decided emphatically is that we will not shelter (students) in place," he said. "Our buildings are not hurricane-rated and the public shelter provides food and water and a lot of other necessities."
Students began moving back into residence halls on Monday as power was restored and the last three housing facilities reopened Tuesday. Stetson commended DeLand City Manager Michael Pleus and other city officials for their help with the cleanup and getting the power restored. Duke Energy got power back quickly, given the number of oak trees and tree limbs that took down electric lines around the city, Stetson officials said.
"Wow, what a great effort!" John Wimer, manager of Energy Conservation and Technical Support in Stetson's Facilities Management Department, wrote to Duke Energy in an email. "The neighborhoods surrounding our campus were a real mess with line damage in every direction. What really impressed me as I drove around … were the out-of-town crews who seemed to be everywhere."
Chief Matusick with Stetson Public Safety praised the efforts of the essential personnel who worked to reopen the campus.
"The recovery phase is the hardest part because you're walking into the unknown," he said. "Problems came up, as they always do, but we were able to knuckle down and take care of them."
Getting Back to Normal
President Libby and her husband, Richard, stayed on campus in the President's Home through the hurricane. Libby said former Stetson President H. Douglas Lee and his wife, Margaret, told her that they'd stayed in the President's Home through a number of hurricanes.
"We were comforted by that," she said.
The home is equipped with a backup generator, which kicked on when the electricity went out in DeLand on Friday. But even the generator quit for a few hours on Saturday, forcing Libby to get out candles and flashlights.
Classes will resume on the DeLand campus on Monday, Oct.17, after fall break Thursday and Friday, Oct. 13-14. Makeup days and a new mid-term exam schedule already have been announced.
"We're about 99.9 percent back to normal," she said Tuesday.
-Cory Lancaster