Stetson University in the News, Sept. 30-Oct. 13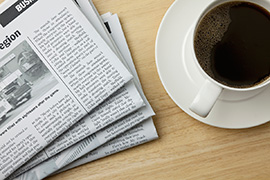 Top Stories
Stetson University's School of Business Administration will launch the Centurion Sales Excellence Program as a major and minor in Fall 2017. Sales are the source of business profits, and graduates of sales programs have more than a 90-percent rate of job placement. These graduates are in high demand, posted by Times Union and several outlets Oct. 4.
Stetson University is hosting the third annual Poverty and Homelessness Conference. Dana Godek, Ph.D, director of Federal and State Programs for the School District of Palm Beach County, was scheduled to be the keynote speaker. The conference provides educators with the tools to create an equitable learning environment by understanding the complexities of poverty, posted on The Daytona Times, Sept. 29. (The conference later was canceled, due to Hurricane Matthew and local schools scheduling a makeup day on the same day.)
Christopher Ferguson, Ph.D., Psychology associate professor and department co-chair, was interviewed for "Academic Minute: Sex on TV and Teen Behavior," on Inside Higher Ed on Oct. 13 and said his meta-analytic study found "exposure to sexy media appeared to have little real relationship with teen sexual behavior.  Beliefs that sexy media shape teen sexuality appear to be more myth than reality."
Law Professor Jason Bent and Professor Ciara Torres-Spelliscy are both mentioned in an article about professors awarded tenure in the Oct. 7 Inside Higher Ed. Professor Torres-Spelliscy discussed her new book Corporate Citizen? at a book review being held on Oct. 7, according to the Public Citizen pressroom in Washington, D.C. The Oct. 13 American Prospect features an interview with Professor Torres-Spelliscy in the article, "How One Law Professor Fights Growing Corporate Power Post-Citizens United."
Law Professor Peter Lake is quoted in the Chronicle of Higher Education article, "What a Landmark Finding in a Title IX Case Means for Colleges Wrestling With Sex Assault." Professor Lake is quoted in the Oct. 10 Columbia Spectator article, "Administrators defend policy prohibiting students from recording gender-based misconduct proceedings."
More News
Christopher Ferguson, Ph.D., Psychology associate professor and department co-chair, was also quoted in the article, "Social Media Perpetuates Clown Threats." Ferguson explained how social media fuel urban legends in the article posted on NBC 10 Philadelphia, Oct. 3.
Scott Jones, Ph.D., Sports Marketing professor, was quoted in the article, "Broadcaster's partnership with DraftKings ends in suit." In respect to a new all-fantasy sports network, Jones states that if it cannot differentiate itself from other fantasy sports outlets, use will be minimal, posted by the Toronto Star, Oct. 5.
K.C. Ma, Ph.D., chair of applied investments at Stetson University, was quoted in the article, "The Presidential Candidates and the Right ETFs to Buy," saying any ETFs (exchange-traded funds) that are built on stocks that have done well under the Affordable Care Act would falter if Donald Trump is elected because he has said he will repeal the act, posted on The Street, Oct. 3.
Ricky Hazel, Stetson University's associate director of Athletics, was quoted in The Daytona Beach News-Journal on Oct. 10, saying the college's sporting events would go on as planned in the week after Hurricane Matthew had passed.
Law Professor Louis Virelli joined the Bay News 9 In Depth live on Oct. 11 to discuss a Hernando sheriff appealing a county commission's decision to under-fund his budget.
Law Professor Charles Rose spoke with Vox for the Oct. 11 story, "Here's how the law decides when 'locker room talk' describes sexual assault."
Law Professor Carol Henderson is quoted in the Digital Journal article, "Stetson University's National Clearinghouse for Science, Technology and the Law Awarded New Grant, Director Honored." The news ran via 24/7 Press Release newswire in multiple media outlets.
Stetson University College of Law was mentioned in WhereEvent visiting at the Philadelphia Law School Fair at Drexel University on Oct. 12. WhereEvent also mentioned Stetson will be at the University of Texas at Austin on Oct. 20.
Alumni News
Dean Hollis has been appointed to the Board of Directors of SunOpta Inc., as part of its strategic partnership with Oaktree Capital Management, according to an article on Packaging Network.com on Oct. 7. Hollis presently serves as a senior advisor for Oaktree Capital and Chairman of the Board at AdvancePierre Foods Holdings, Inc. He is a graduate of Stetson University.
Louis DeJoy was featured as part of the University of North Carolina at Pembroke's School of Business Distinguished Speaker Series. Graduating from Stetson with a bachelor in Business Administration, DeJoy took over his father's trucking business in 1983 and transformed it into a multi-million dollar logistics company that he sold to a larger company in 2014, posted by The Robesonian, Oct. 4.
According to the Oct. 12 Business Wire, Law alumna Ellyn Theophilopoulos, who is an MD, JD, FAAP, has been named the new Corporate Senior Medical Director at eQHealth Solutions, a leader in population health management for government and commercial clients.
Law alumnus Chris Sprowls is featured in the Oct. 13 Tampa Bay Times article, "Democratic newcomer challenges Republican incumbent in race for Florida House District 65."
Law alumnus Scott J. Sternberg's editorial, "New Florida Workers' Compensation Bill Will Change Penalties" was published in US Official News.
Law alumnae Diana N. Evans has joined Bradley Arant Boult Cummings LLP Tampa and Ashley Ward-Singleton and Viktoryia Johnson joined FordHarrison LLP Tampa, according to the weekend Tampa Bay Times Legal section.