5 Minutes with … Bob Matusick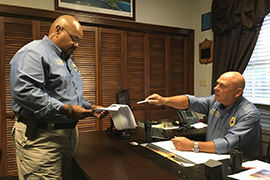 Tell us about your job at Stetson?
I am responsible for the safety and security of Stetson University and all of our guests who may visit. This includes reviewing policy to make sure we are staying ahead of our required responsibilities and being proactive with outside agencies who may need to assist the university during times of concern.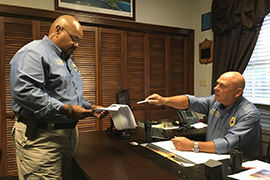 I have a wonderful staff who's dedicated and passionate about their jobs – 16 officers, four dispatchers, a captain, a lieutenant and an assistant. We staff four shifts 24/7 with three officers and a sergeant per shift. They can respond anywhere on campus in two minutes. In addition, each sergeant has an 800 MHz (police) radio for instant communication with the city of DeLand Police Department. We handle investigations, parking enforcement, crime prevention, security patrols — you name it, that's our job. If it wasn't for the students, faculty, staff and visitors, they wouldn't need us.
How long have you worked here?
I started at Stetson in June of 2008 after retiring from a 30-year career with the Volusia County Sheriff's Office.
What do you like most about your work?
The challenge of making sure we do good work supporting our university and not forgetting the "why we are here" reason for our service to the Stetson community. I want students, faculty and staff to know we provide a professional service 24 hours a day, seven days a week.
What's the most important thing you've learned while working at Stetson?
After a career in Law Enforcement, it has been refreshing to learn how to work with students at a young age.  No longer is my job a decision of the issue being relegated to a factual black or white issue, but now it has become many shades of grey. To be honest this was a challenge for me when I first arrived at the university and took a few months for me to realize the difference from where I came from to how it applies in the private sector.
What do you enjoy doing in your free time?
Golf and camping … spending time with my grandson, both daughters and my wife of 35 years.
Bio
Education: Bachelor's of Arts degree in Organizational Management from Warner Southern College
Hometown: Native Floridian raised in New Smyrna Beach
Family: Wife, Leigh; daughters, Kayla, 28, and Jennifer, 32; and grandson, Ethan, 6.