Stetson Jazz Ensemble to Play Athens Theatre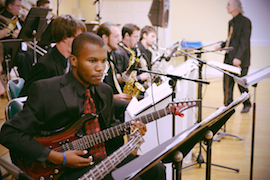 The Stetson University Jazz Ensemble continues its concert season with an evening of big band jazz at the historic Athens Theatre in DeLand on Wednesday, Nov. 16, at 7:30 p.m.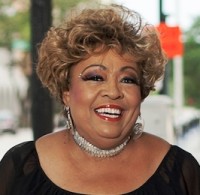 "We are excited to be performing at the Athens again and proud to be sharing the stage with Linda Cole, jazz vocalist extraordinaire," said Patrick Hennessey, Ph.D., director of the Jazz Ensemble and adjunct professor of music at Stetson. "In line with Linda's commitment to the legacy of jazz, our audience can expect to hear an array of selections from the best in big band jazz."
The 19-piece jazz band will pay homage to great American songwriters while performing some of the best in big band jazz such as Concerto for Cootie by Duke Ellington; Quincy Jones' arrangement of the Ray Charles hit, I Can't Stop Loving You, as recorded by the Count Basie Orchestra; and George Duke's composition, Brazilian Love Affair. Other selections from the Count Basie Orchestra include two Sammy Nestico compositions, Tall Cotton and Magic Flea.
Sharing the stage will be Cole with selections that include George Gershwin's How Long Has This Been Going On?, Cole Porter's You Do Something to Me, God Bless the Child by Billie Holiday, and the Rogers and Hart classic, The Lady is a Tramp. Duke Ellington's Satin Doll and Take the "A" Train, rounds out the program for this can't-miss event.
With this line up and the vocal stylings of Cole, "the evening promises to hit all the right notes," said Hennessey.
Tickets are available at the door or at www2.stetson.edu/music-tickets: $10 adult, $8 senior, $5 youth and student, no charge for 12 and younger. 
Future concert dates for the Stetson University Jazz Ensemble: March 1, and April 26, 2017, at the Athens Theatre; April 21-22, 2017, at the Lakeside Jazz Festival, Port Orange City Amphitheater.
About Stetson University
Founded in 1883, Stetson University is the oldest private university in Central Florida, providing a transforming education in the liberal arts tradition. Stetson stresses academic excellence and community-engaged learning, and consistently earns high marks in national rankings. Stetson encourages its students to go beyond success to significance in their lives, the lives of others and their communities. Stay connected with Stetson on social media.